Launched at AWS Global Summit
Earlier this year, Extrica was launched on the AWS Marketplace, offering global enterprises advanced data management capabilities.
Built on world-leading AWS infrastructure and AWS Athena, Extrica allows businesses and their data-teams to source data from any on-prem or cloud source; productize it for repeatable and personalize use by different users; publish it in a unique "Netflix of enterprise data" marketplace experience and consume in visualization platforms such as AWS Quicksight, Power BI, Tableau, Qlikview, or AI and ML channels such as AWS SageMaker.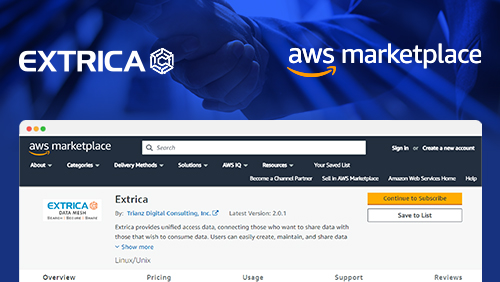 EXTRICA IS NOW AVAILABLE ON AWS MARKETPLACE
Trianz Extrica is now available on the AWS Marketplace, providing organizations with a streamlined and secure pathway to leverage the platform's capabilities.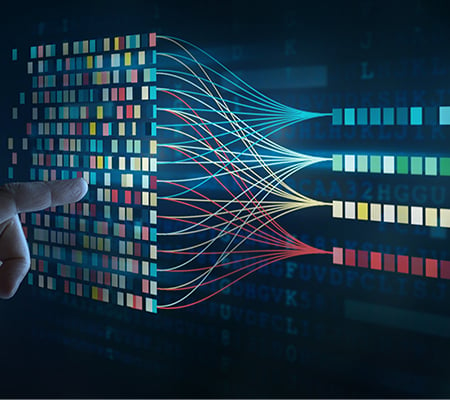 Experience the Power of Extrica: Unifying Data Mesh Management for Seamless Insights
Single tool for complete data mesh management

Access data from multiple sources (on-prem/cloud)

4-click data product creation and discoverability

5 layers of Data security, including RBAC, ABAC, FGA, data sensitivity, and encryption

Consumption of data products across tools of choice

Data Governance and expansive rule engine
Leading American Life Insurance Company
Multinational Financial Services Corporation
American Diversified Global Insurer
Global Leader In Logistics Real Estate
American Shipping & Packing Supplies Company
Leading Foodservice & Beverage Company
Danish International Pharmaceutical Company
Large-Scale Insurance Benefits Administrator
Multinational Medical Technology Company
Multinational Fast Food Holding Company
Largest Mutual Life Insurance Company
Leading Auto Glass Replacement Services Company