SEAMLESS
Intuitive Interface
UNDERSTANDABLE
Single Language
INTEGRATION
3rd Party Tools
As a unique end to end, 'zero-code' and fully configurable/customizable data-mesh platform that can reach data anywhere, Extrica changes the analytics life cycle. With exceptional data connectivity capabilities, Extrica seamlessly integrates with a wide range of enterprise data sources. Whether it's SAP, Oracle, Teradata, AWS Aurora, Snowflake, S3, SQL Server, Redshift, Google BigQuery, or any other on-premises or cloud-based system, Extrica ensures a comprehensive and unified view of your data landscape.
Connect with Your Data Anywhere and Create Reusable Data Products
Extrica is a single portal for platform management (users, policies, catalogues, domains, sources) with Direct query arch (federated + ingest) & Automated user sync SSO, AD, IAM, Secrets Manager etc.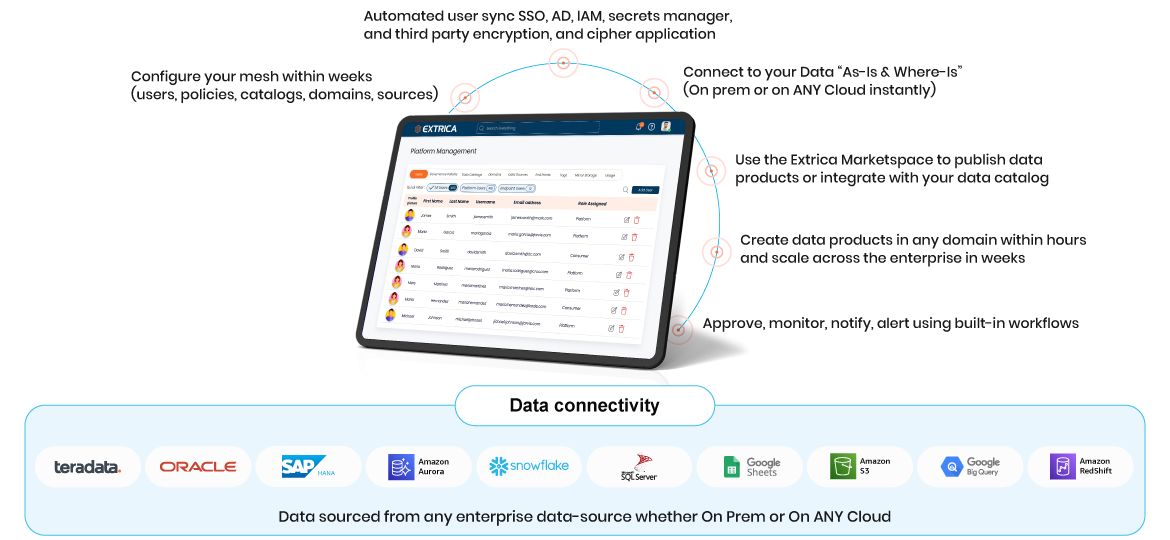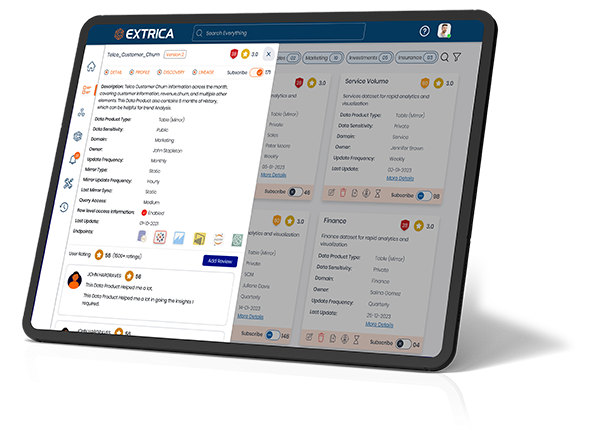 Reduce Your Data Governance Burden
Organizations spend more than 30% time on data governance, with 47% of data having integrity issues. Extrica can integrate with 3rd party encryption tools, inherit enterprise rules or enable creation of governance at a domain or an individual data-product level, empowering ownership of data governance across data privacy, security, quality, enrichment, and transformation.
Publish Data-products in an Enterprise Data Marketspace
Organizations spend 81% of their time looking for trusted data. Extrica's state of the art user experience includes a marketspace with an easy-to-use interface to explore and understand data products across the enterprise, whilst also enforcing compliance during execution.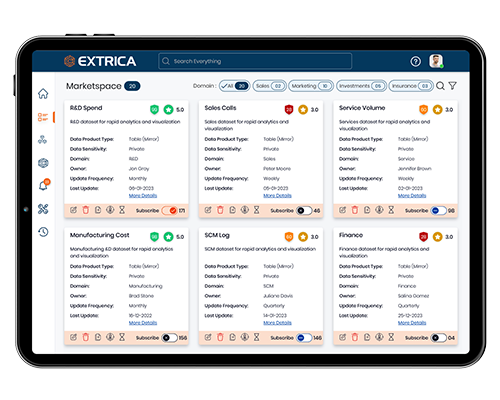 Consume Data Products in a Platform of Choice
Consumers of data-products in an enterprise can generate analytics or integrate with AI platforms of their choice. Extrica provides default integrations with popular business intelligence tools, including AWS QuickSight, minimizing the costs and time to implement a new data platform, which in turn accelerates user adoption and analytics.