How to Get There Faster at Less Cost
---
Digital transformation can be tricky, expensive, and create massive operational risk. The art and science of digital transformation requires a data-driven approach and strong analytics capabilities for making empirically based decisions. With a lot of moving parts and competing options in the marketplace, where does one start?
Trianz Analytics Accelerators provides tools to quickly evaluate different products and help you identify the pros and cons of each. Once you decide on a path, whether it's a data mesh, data warehouse, or data monetization opportunity, our Analytics Accelerators will help you get there faster and at less cost.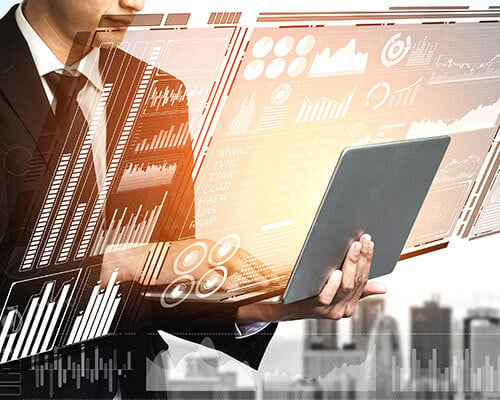 Reports based on data collected from thousands of Business and IT decision makers globally
16
Business and IT Leadership Roles

18+
Industries

5000+
Unique Companies

6
Regions Worldwide -
N. America, S. America, UK, EU, ME & Africa, APAC, and Australia & New Zealand

9000+
Respondents
Source: Trasers
Digital Transformation and Data Monetization Strategy Accelerators
---
Using our digital transformation methodology, we can help you determine which cloud platform(s) is best suited for your organization, considering:
ELT vs. ETL

Data mesh vs. data warehouse

A single cloud vs. hybrid cloud vs. multi cloud
The graphic below illustrates our approach to digital transformation.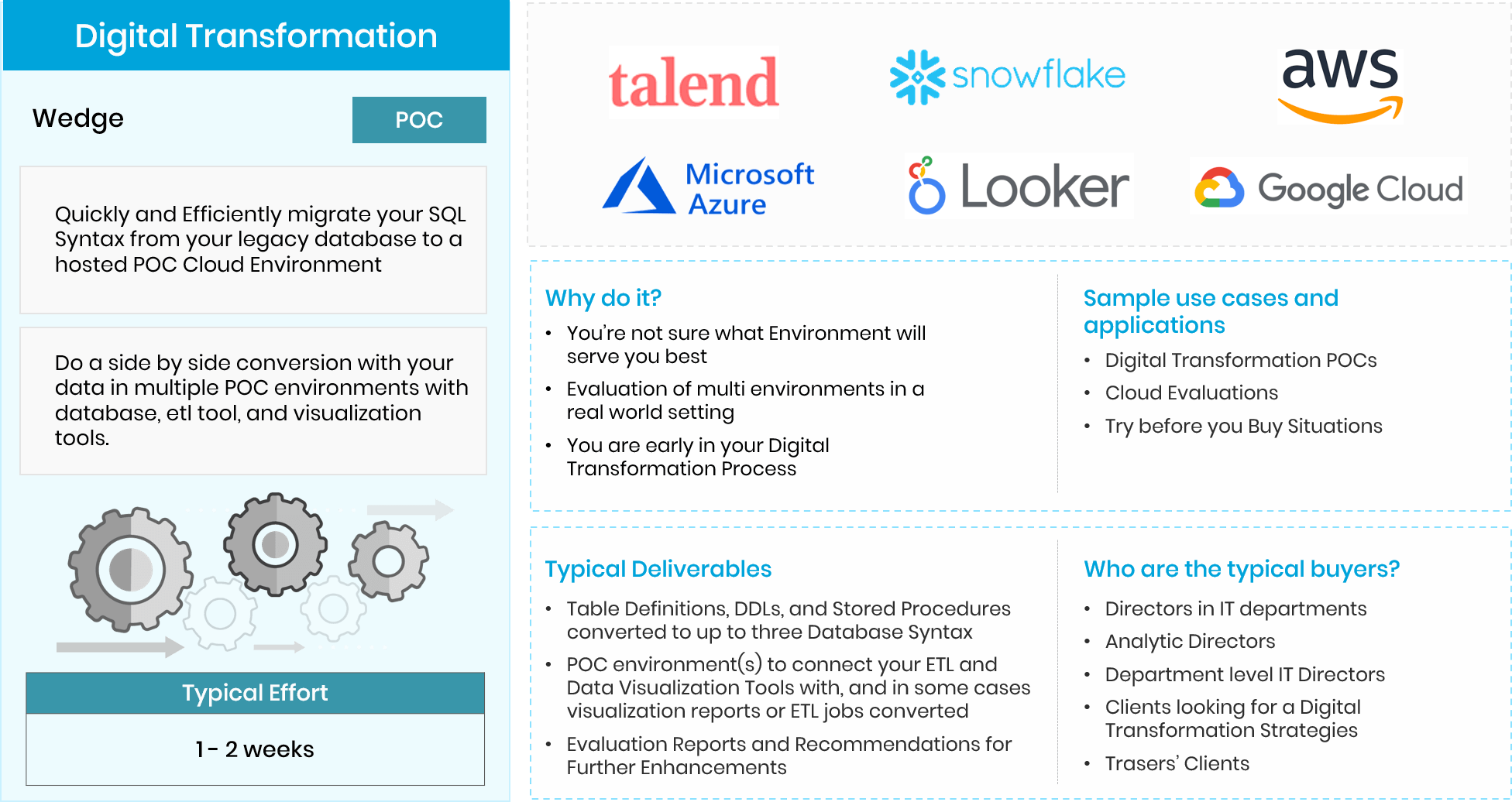 Copyright © 2022 Trianz
Trianz has long-standing partnerships with major players in the analytics space. This allows us to provide an unbiased, objective, vendor-agnostic view on which tool set makes sense for your initiative.
We can also help you with data monetization strategies by developing a series of low-cost Minimum Viable Products (MVPs) to determine the options available using your existing data, and what solutions you will need to create during digital transformation.
MVP Accelerators
---
With our proprietary EVOVE methodology and toolset, powered by CompilerWorks, we can help you test multiple database management providers at the same time. Want to know if Snowflake, Redshift, or BigQuery will meet your data requirements for digital transformation? How about Looker versus your legacy reporting tool?
The graphic below shows the EVOVE methodology.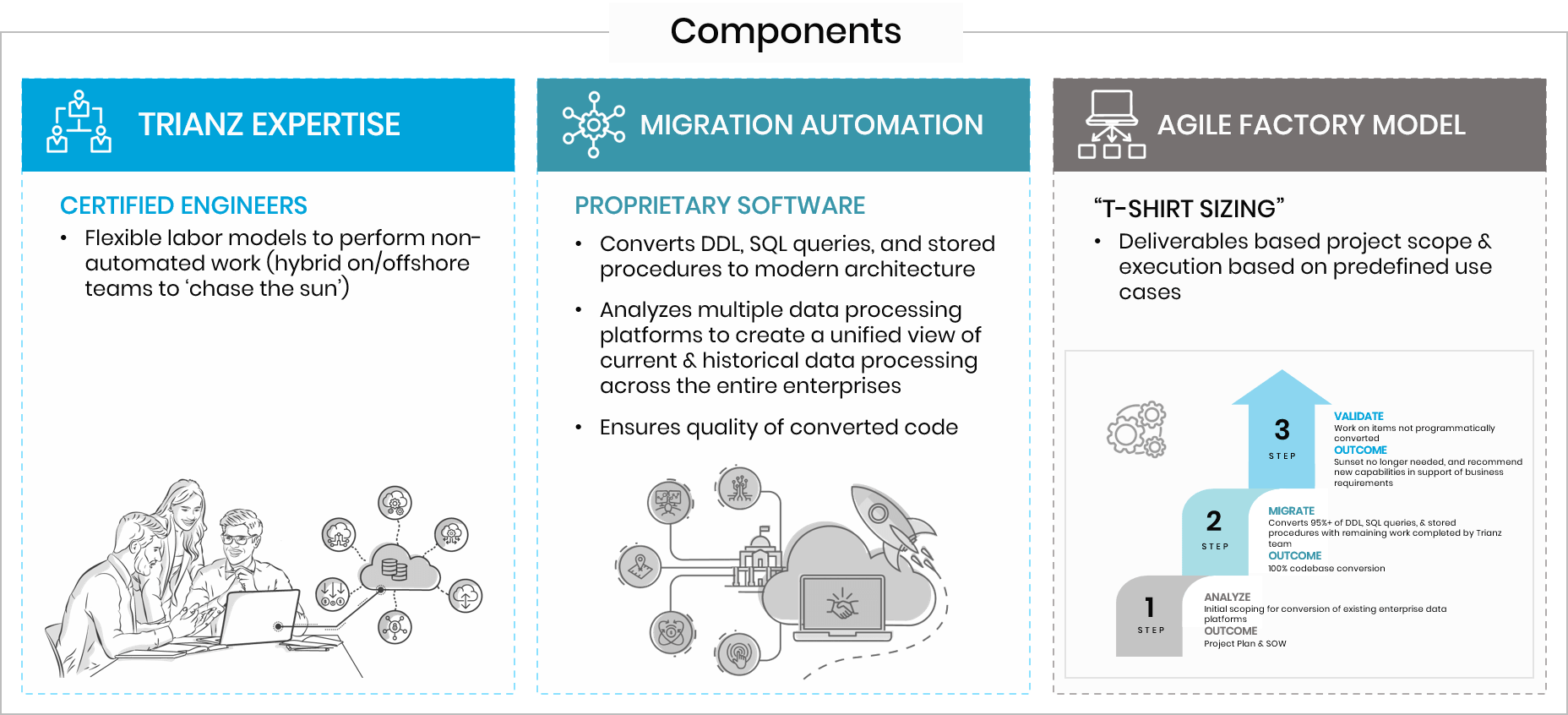 Copyright © 2022 Trianz
---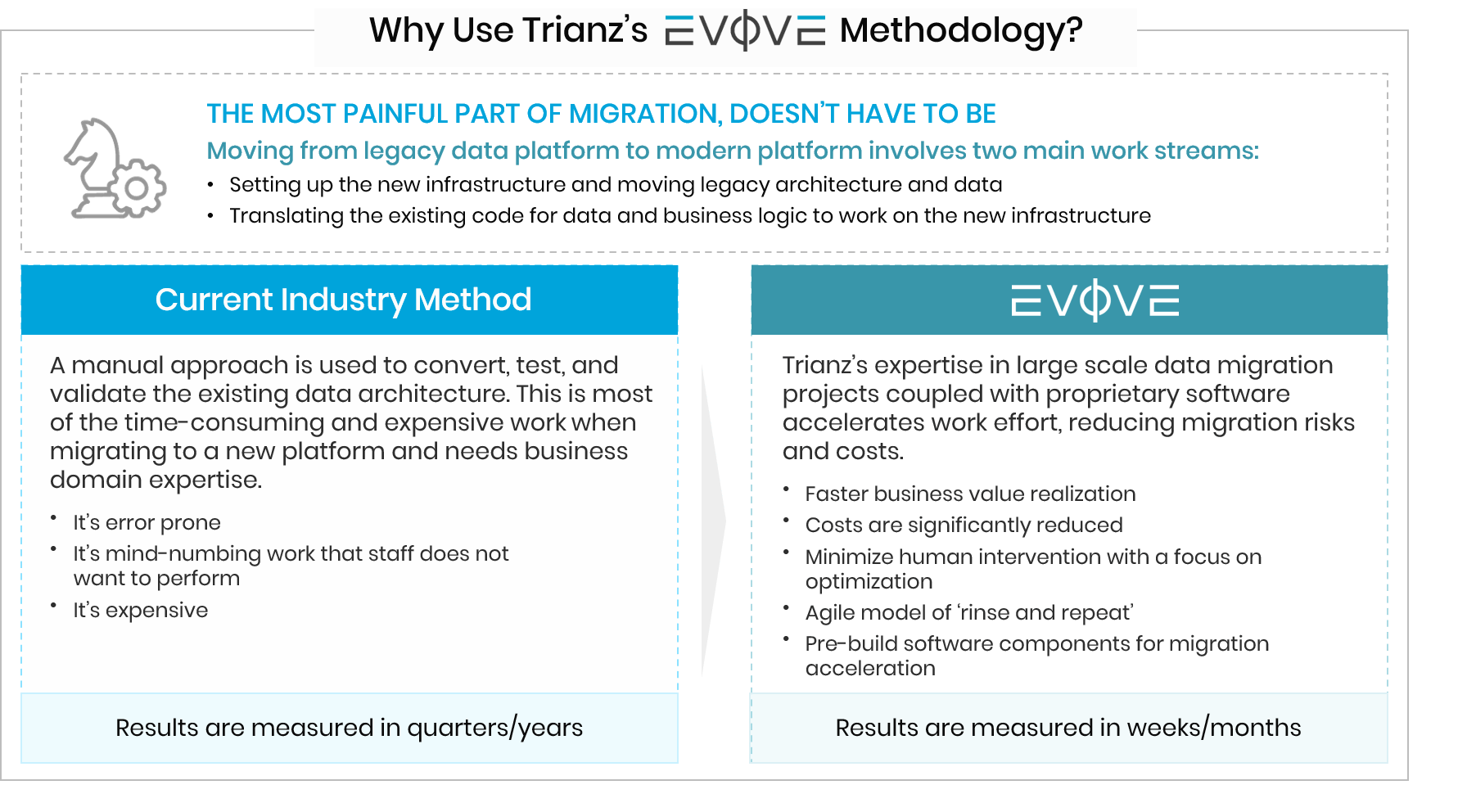 Copyright © 2022 Trianz
To help you make informed decisions, we can use MVP Accelerators to quickly build out a digitally transformed prototype based on your current analytics architecture and demonstrate the pros and cons of various technology stacks before investing.
Migration Capabilities
---
After completing the discovery process, it's time to start working on your migration with Trianz's world-class accelerator, EVOVE, powered by CompilerWorks.
EVOVE, our primary migration methodology, converts your SQL code. wherever it resides (databases, BI tools, ETL tools), into a new Syntax Cloud Database. Whether you need to convert Oracle PL SQL to AWS Lambda or Glue; re-platform Teradata DDLs with Snowflake; or migrate SQL Server Instances to BigQuery, EVOVE can help you with at least 90 - 95% of your SQL Code programmatic conversions.
The graphic below shows the EVOVE data migration acceleration methodology.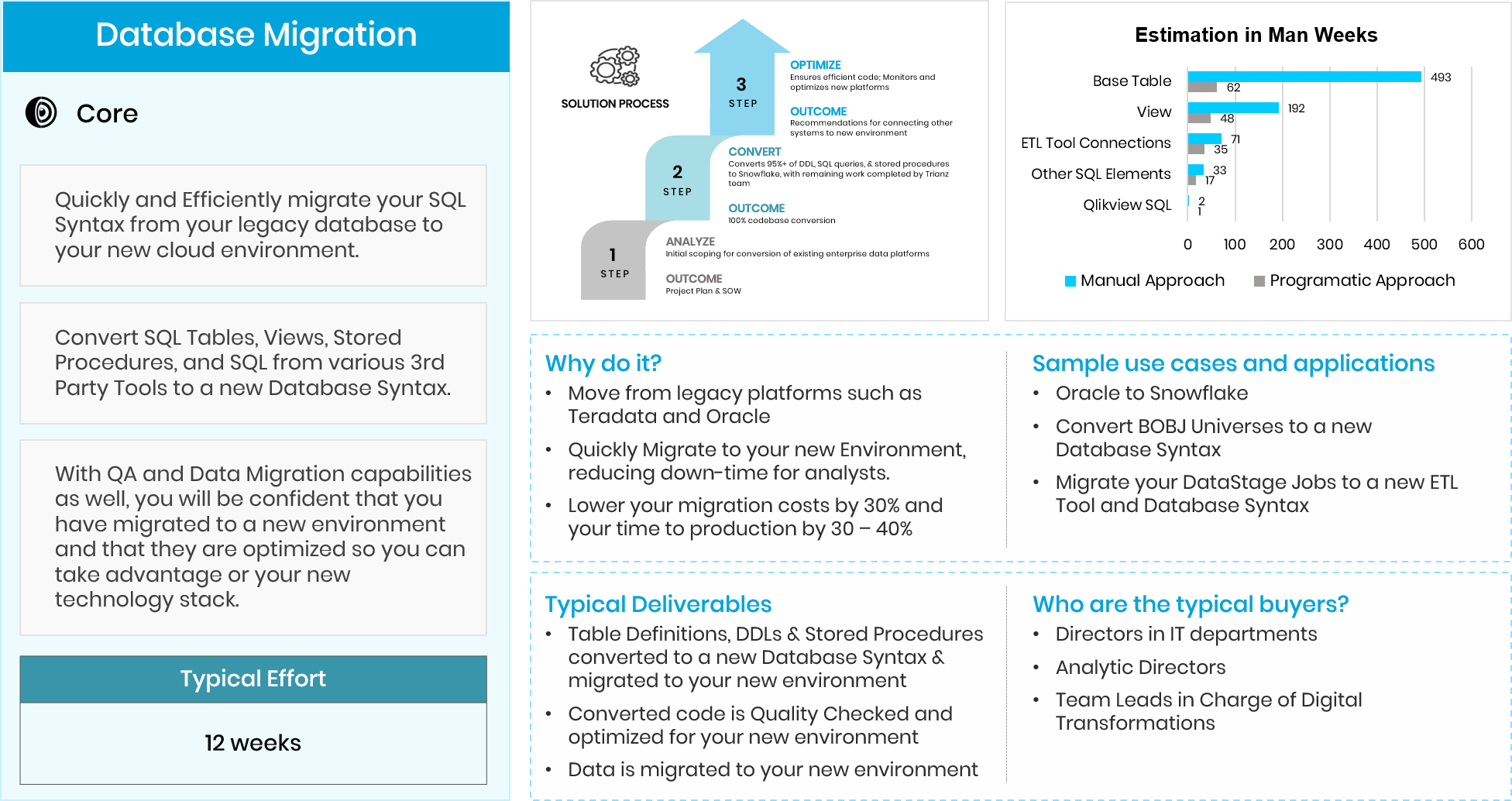 Copyright © 2022 Trianz
Legacy to Modern Visualizations
---
Moving to a cloud database might be great for digital transformation, but your analysts probably won't care. That's why we developed a series of programmatic tools that bring the semantic layers you've built in Business Objects or OBIEE and helps you convert them to Looker, Quicksight, or Azure Analysis Services programmatically. No more worries about re-creating your current business logic, or struggling to make your visualizations quick, responsive, and beautiful.
The graphics below show a Legacy to Looker migration methodology and associated implementation timelines.
Big Data Analytics Process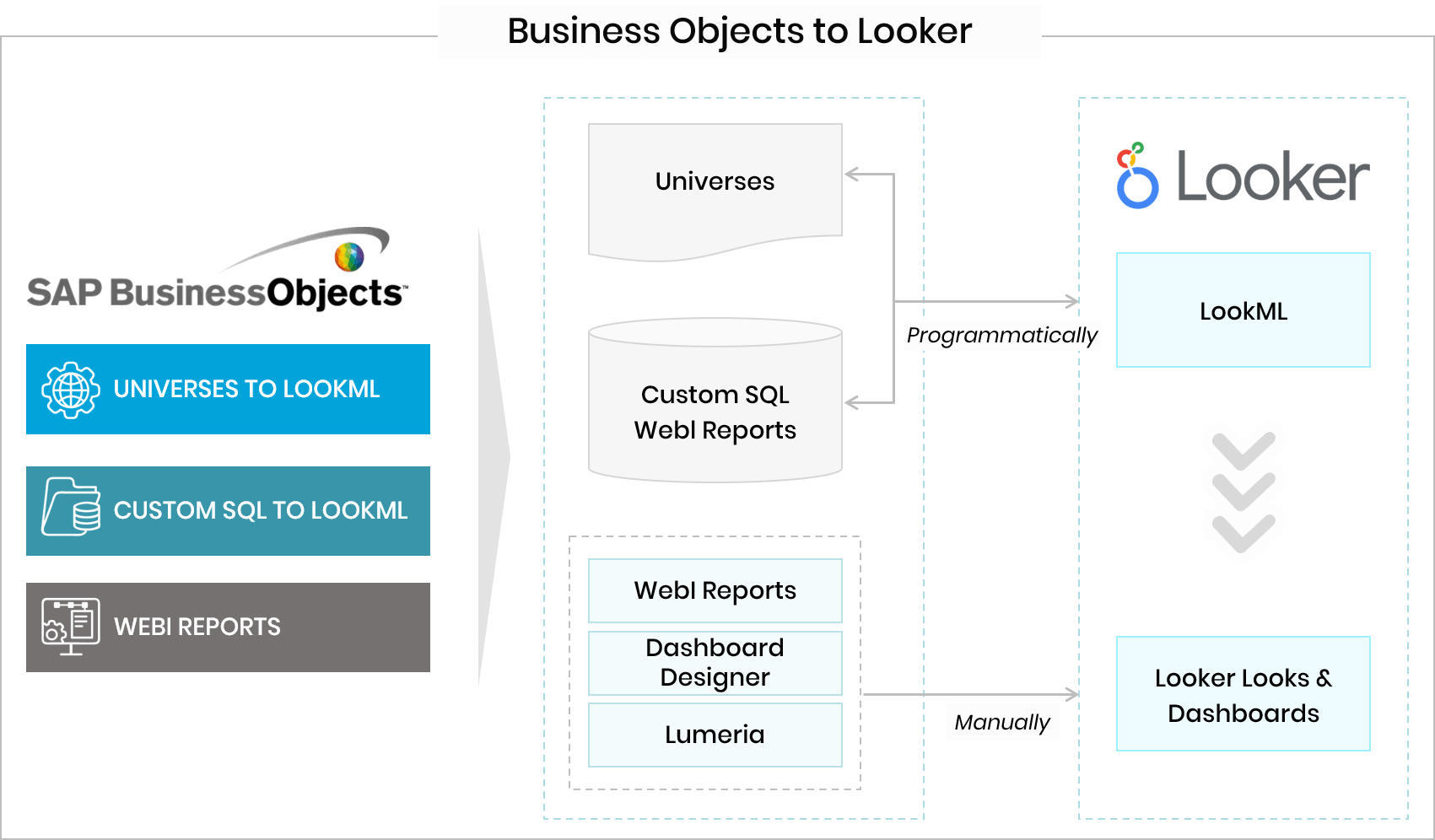 Copyright © 2022 Trianz
---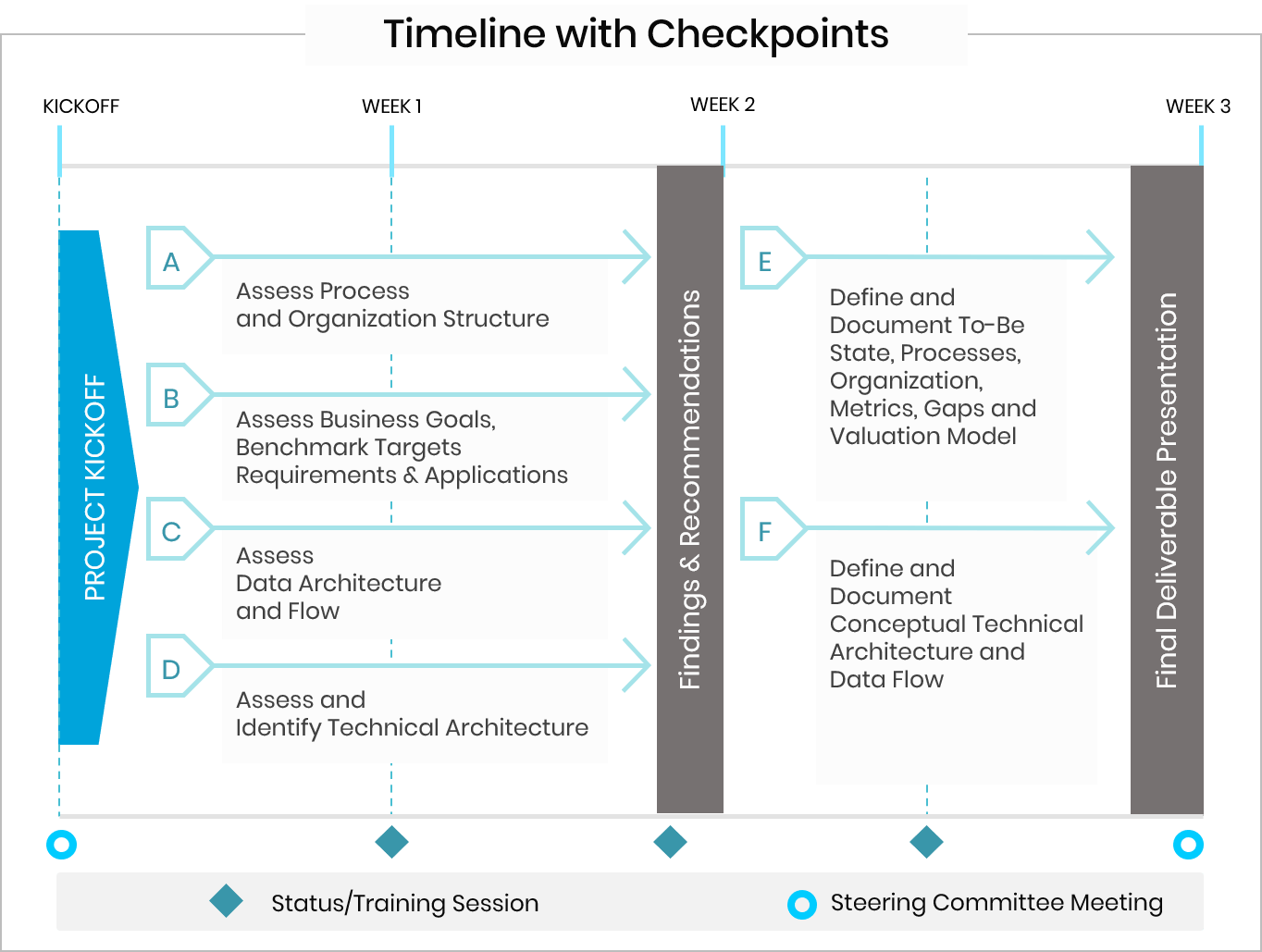 Copyright © 2022 Trianz
Bespoke Migration Solutions
---
Whether you're migrating your on-prem applications, expanding your data science capabilities, or simply want to leverage the considerable advantages of the cloud, Trianz has an accelerator that will get you there. Based on our broad migration and re-platforming experience, we build programmatic solutions that save time and make QA and UAT sessions a breeze. Often our clients see at least a 60% reduction in production cycles with our technology-assisted Digital Transformations.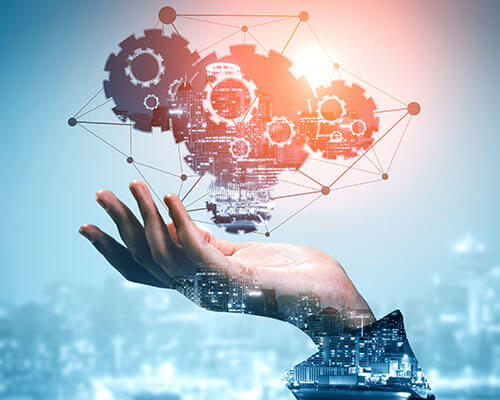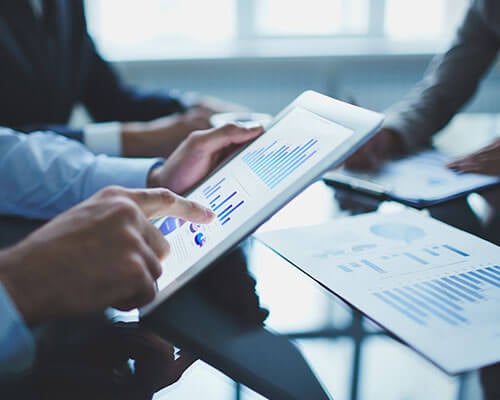 Data Monetization and the Future
---
As your analytics platform grows, you'll want to ensure that you're getting the most out of your environment. Whether it's using a chatbot to increase customer engagement, employing our Customer 360 Application to gain an actionable, holistic view of customers, or simply monitoring workplace health and resilience, Trianz has a solution to help you get the most out of your analytical architecture.
Some examples:
Customer 360 for a large retail company

A customer service portal chatbot for a Fortune 500 brand

Our custom Cloud Architecture Monitoring Solution (Concertio.io)

Our award-winning Health and Workplace Resilience Application

Our upcoming Internal Employee Portal Application
×