What is an Enterprise Data Strategy?
---
In the digital era, data is the enterprise's most valuable asset. The number one question we encounter is how to turn the volumes of data pouring into an enterprise's business ecosystem into a value-generating asset. The answer lies in developing an enterprise business strategy and enterprise data strategy in parallel.
Enterprise data strategy begins with effective data management and intertwines it with business strategy – the data is the fuel that drives sustainable growth.
In order to compete at a new level in the digital age and avoid disruption, a game plan to collect, analyze, and draw objective insights from a company's data universe has become a top priority in the CEO suite. Monetizing data as the engine of growth has emerged as the critical link between your business strategy and the specific actions that your organization takes to execute it.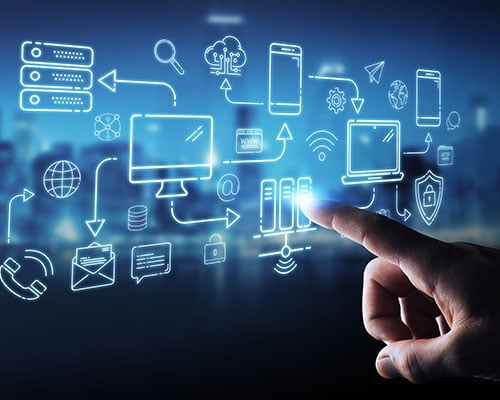 ---
Building a Holistic Enterprise Data Strategy
---
Digital evolution has made the continuous generation of big data a constant. Structured and unstructured data from both internal and external sources must be ingested, organized, stored, and leveraged by applying advanced analytics.
A holistic enterprise data strategy leverages multidimensional capabilities to deliver the desired impact from all data generated in your ecosystem. An effective strategy prioritizes the maintenance and improvement of data quality, integrity, and accessibility. Data management, when aligned closely with business objectives, significantly drives the execution of the strategy.

Copyright © 2022 Trianz
Enterprise data strategy consists of:
Data ingestion and storage

Offensive and defensive use of datasets

Establishment of a single source of truth (SSOT)
Also, in today's security-conscious world, data security has emerged front and center. Many companies are balancing their desire to monetize their enterprise data with the rigor of data security, especially when it comes to customer information.
Your company's data storage ecosystem should enable you to extract the maximum value from your datasets to gain solid insights while also being secure enough to protect the integrity of customers' personal information.
Organizations such as financial institutions and hospitals use datasets more defensively, and we can learn from these industries. Companies should prioritize stringent risk assessments to safeguard information. In the age of mass data breaches, securing customer data is not only important for their privacy, but also for your reputation as an enterprise.
In addition to security, there is also the matter of master data management (MDM) and the creation of an SSOT, the subject of another thought leadership paper. These two essentials form the foundation of enterprise data strategy because they clean and centralize all business data and improve 1) access to facilitate proper data governance and 2) the ability to apply advanced analytics and extract insights.
This ensures that all your enterprise data is high-quality and streamlined, enabling your business to generate valuable, actionable insights.
×