Experience Matters
---
Trianz offers tailor-made cloud advisory services to meet our client's corporate strategy and business objectives. Using a comprehensive roadmap, we help large enterprises and SMEs identify and deploy cost-effective cloud strategies backed by two decades of experience in digital transformations.
With our data-driven approach, we safely and securely migrate all existing legacy infrastructure and applications into a robust cloud hosting platform.
---
We Go Beyond Modernizing Your Cloud Infrastructure
---
At Trianz, we work closely with clients to develop migration planning and cloud adoption throughout a full life cycle of engineering, integration, testing, and rollout.
If you have already adopted the cloud and need a more holistic approach to data management and processing, our cloud advisory services can provide you with the tools and technicians to help you with every step in developing an effective cloud strategy.

Cloud-first strategies are your business's key to constant adaptability in a continually advancing business landscape, enabling longevity and growth well into the future.
KC Sreeram,
VP and Practice Leader - Cloud and Infrastructure

---
Cloud Advisory Services Offered
---
From strategy to managed services, Trianz provides end-to-end cloud services across AWS, Azure, and Google Cloud.
Cloud Migrations and Implementations
What sets Trianz apart from the competition is that we conduct every phase of cloud migration using IP and automation to drive efficiency, cost reduction, and faster time-to-market. With EVOVE, Trianz proven software that enables migration via automation, we convert the highest quality of converted code, saving the migration process hundreds of manual hours. In the final validation phase, we recommend new capabilities in support of your unique business requirements.
Cloud Benchmarking
Trianz will help you develop a seamless vision for your organization based on strategic priorities, ROI, as well as develop cloud roadmaps and plans. By enabling your business with powerful benchmarking tools, you will gain best-in-class industry insights, know exactly where you stand among the competition, and track your digital maturity across different segments of your organization.
Whatever your digital benchmarking needs, we help our clients bridge the gap between where they are, where they need to be, and prioritize effectively to help you gain a competitive edge in a hyper-competitive cloud ecosystem.
Cloud Managed Services
We can work with you throughout your cloud journey to implement an effective cloud service model that ensures your business objectives are being met, evaluated, and corrected as your enterprise evolves. With Concierto.cloud, our state-of-the-art integrated cloud and infrastructure operations management platform, you can easily track and report on critical business metrics and key performance indicators (KPIs) with a comprehensive dashboard view of infrastructure, as well as manage workloads in IaaS and PaaS.
Cloud Security
We will ensure critical operations are secured with response workflows, patching, control automation, security incident management, SIEM, perimeter security, compliance tools, and help you become fully certified with cloud security standards. At every point throughout the security consultation, we perform acute analysis and recommend actionable changes in IT strategies. In addition, Trianz will develop a 360° data protection plan, ensuring that you are on the cutting edge of security in the cloud.
A Cloud Security Model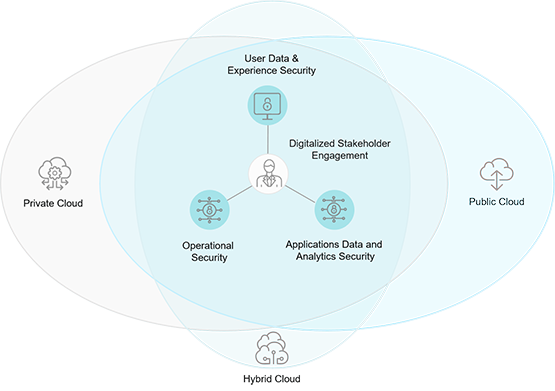 Copyright © 2022 Trianz
DevSecOps Strategy
As a leading DevSecOps management consulting firm, Trianz is experienced in helping our clients overcome DevSecOps integration challenges. We understand the integration of DevSecOps and cloud adoption is not just about building better software — it is about bringing significant value and agility to business operations with no compromise to Security.
By partnering with a proven DevSecOps team, we will help you create a strategy that facilitates greater communication, collaboration, and integration across your organization. Not only will our services significantly improve the agility of your IT service delivery, but by automating the low-level tasks in your software development life cycle (SDLC), we will also help to expedite IT management and optimize human resource costs.
DevOps Workflow Model

Copyright © 2022 Trianz
While not a comprehensive list of the services we offer, we hope this helps you start deciding what is most important for you and your business – wherever you are in your cloud journey.
×