What Is Security Strategy?
---
Every organization creates and stores an unprecedented amount of data. This data is often sensitive in nature, either because it is intellectual property or personal information on customers or employees.
Protecting data against attacks from adversaries must be a fundamental and integral part of any organization, and requires a sound security strategy. Security strategies are the plans-of-action designed by organizations to protect data from access by unauthorized personnel, or prevent data from exposure to unauthorized uses that can have negative consequences for an organization.
An effective security strategy prioritizes and defines the security initiatives and information assurance that an organization must carry out to strengthen the protection of related technology and information. Often, organizations consolidate their previously executed and identified projects, provide their scope, and define all associated efforts.
An effective security policy also assists in detailing the general risks addressed by the initiative, and lays down a foundation which the company's C-suite then refines. A comprehensive security strategy recognizes and highlights the key dependencies regarding any initiative, which also facilitates higher-level evaluation of initiatives as needed.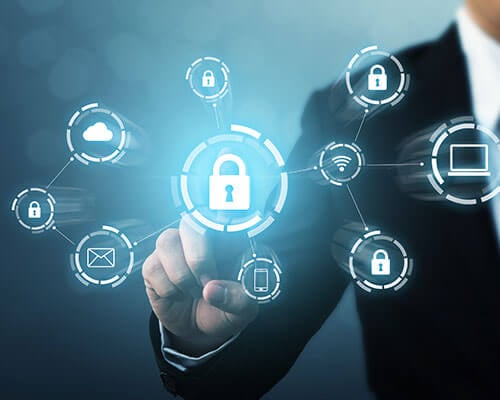 ---
Why Is Security Strategy Important?
---
As dependence on IT increases day by day, protecting it against attacks from adversaries – which have increased both in frequency and sophistication – must be a core responsibility of the digital organization. Security strategies increase the resilience of the organizational systems against cybersecurity attacks because they provide detailed actions and measures that should be taken within a specified timeframe to deal with threats.
Organizations must prioritize and execute these measures promptly, otherwise critical infrastructure will be compromised and a security breach could cause irreparable damage to their reputation.
To secure a corporate environment, your company must manage and monitor all connected devices. Remote devices like physically connected devices must be controlled, patched, registered and observed. This is especially true during extended remote management needs, such as the COVID-19 crisis.
Trianz Has Built One of the World's Largest Databases on Digital Transformation
---
Trianz has invested in creating Trasers, one of the world's largest databases on digital transformations with data from over 5,000 companies spanning 20 industries. We understand the state of digital transformations, investment priorities, the latest technologies and the best security practices used by the most successful companies in the world.
Our research showed that appropriate response requires dynamic monitoring, which was available in 94% of digital champions. Endpoints are a major consideration within cybersecurity because they pose a unique challenge to an organization's cybersecurity.
In simple terms, endpoint security is an issue because laptops and wireless devices create potential entry points to the organizational network.
Digital Champions are Fully Prepared With 94%
Enforcing Tight 'Endpoint Management'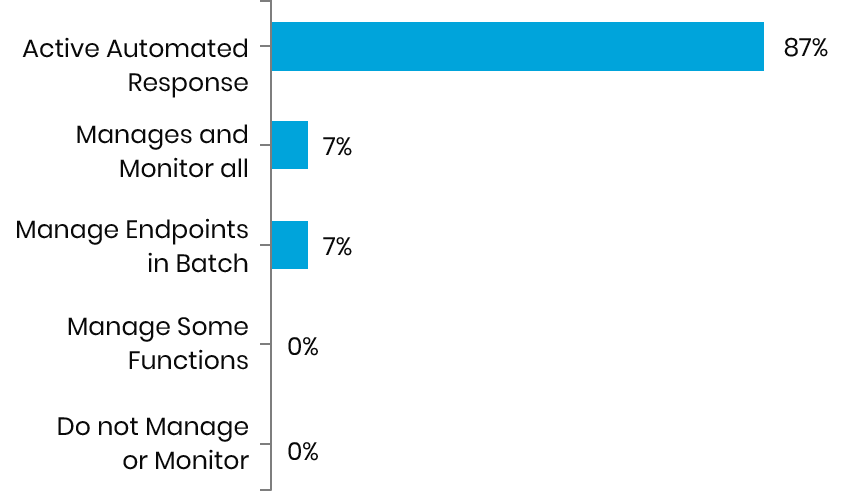 Source: Trasers
---
Components of Security Strategy
---
To effectively protect an organization through a well-planned security strategy, the IT team or department in an organization needs to be enabled by leadership. IT is a mission-critical enabler to attaining success for any organization, irrespective of industry. Efficient and effective security initiatives require strong alignment, commitment, and effort from personnel and the company's leadership.
Cybersecurity and information assurance are intertwined functions that need effective collaboration across an enterprise. It is very important for security experts to have total buy-in from teams that understand the value of the assets they are responsible for, and to help determine the real cost of breaches.
The security strategy requires the following essential components for real-time protection and continued success:
Understanding your current state and defining goals

Performance Gap analysis

Understanding your resources and defining constraints

Setting control objectives and evaluating control choices

Modeling your controls with available resources

Setting monitoring and metrics for controls

Developing project management plans
The Process of Security Strategy Development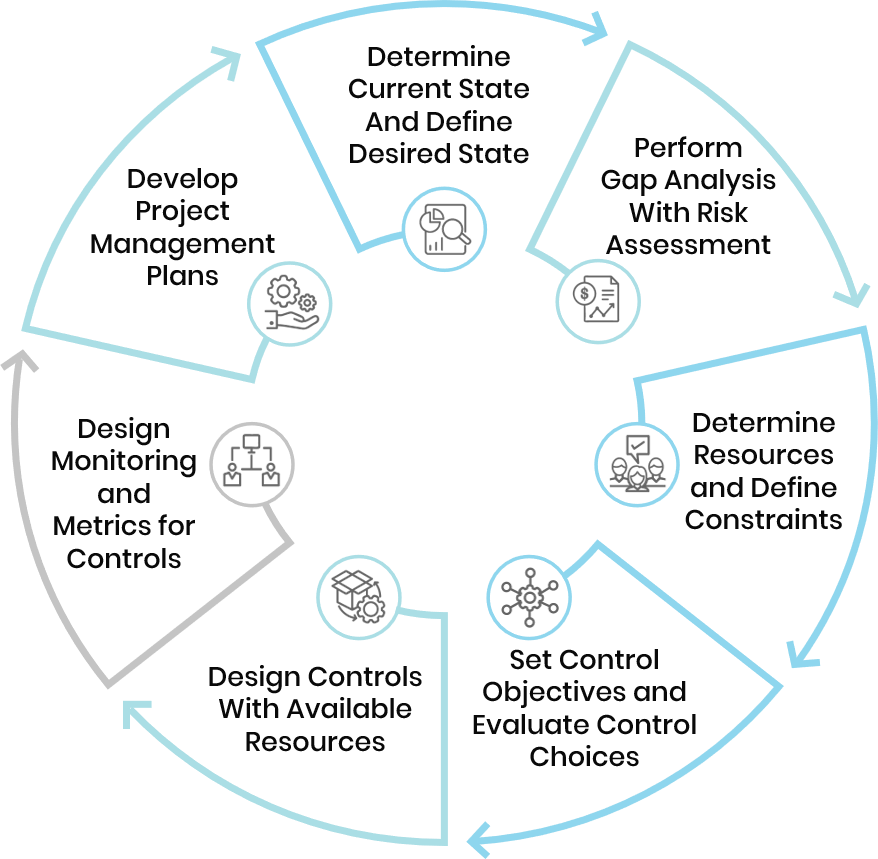 Copyright © 2020 Trianz
Strategy reviews, testing, implementation, and associated activities should be planned and carried out as a component of organizational development. Leadership and personnel in an organization need to understand the importance of security initiatives, while also being held responsible for the success or failure of their assigned tasks.
An effective security strategy is not a once-a-year activity to check off and be done with. To have a lasting impact on the business, quarterly assessments should measure the performance of the implemented initiatives. The security strategy should be examined thoroughly and revised periodically to reflect changes in technology, business, and legislation.
---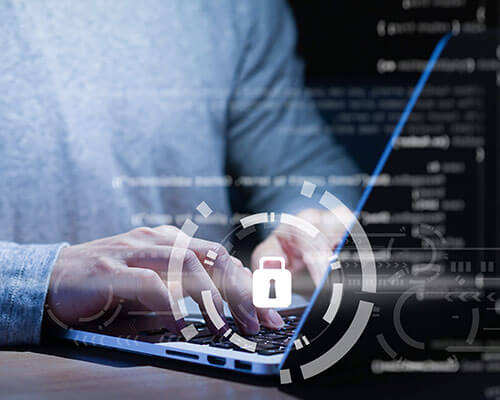 Ongoing Security Support
---
Security is not a one-off project or a "set it and forget it" endeavor. It's an ongoing project – one that needs to adapt to and overcome threats for long-term success.
Our security strategy team is always available to assist you further, including integrating new applications securely, auditing your network, and educating your workforce to practice good data hygiene.