Why Invest in Modernizing Mobile Apps?
---
Mobile technologies are changing and developing new capabilities constantly. All existing apps - whether commercial or enterprise - must keep up or get left behind. Apps and organizations that don't consistently reflect evolving customer demands and modern design trends are quickly ignored.
In theory, the solution to this is quite simple - mobile apps should be designed, optimized, and refreshed regularly to ensure usage, adoption, and user-friendliness.
In practice, however, organizations need to strategize their new app launches. For companies that are new to mobile development, it may be hard to think in a mobile framework. But now the need for customers and employees to access tools in a remote environment is motivating organizations to create mobile apps.
To go that extra mile, organizations need perspective from a mobile-first partner who will guide them effectively through a transition. That's where Trianz comes in. We have helped clients create mobile apps for numerous use cases – to improve business, competitive edge, operations, and employee engagement.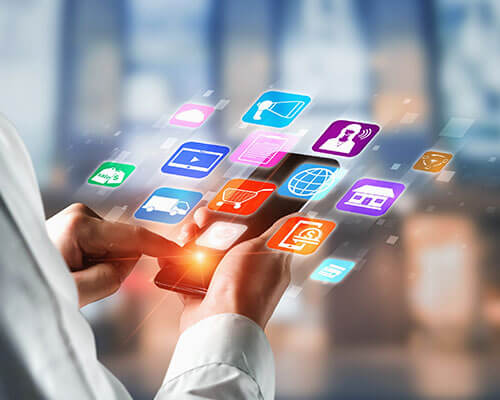 What Types of Mobile Apps Best Fit Your Needs?
---
There are three main types of mobile applications, each with different purposes, designs, and target users, to consider:

Enterprise Mobile Apps
With the work-from-home model becoming more mainstream in the pandemic-accelerated digital era, enterprise apps that support intranet and workday management tools, not to mention social networking, are growing in prevalence.
Employees are empowered on the go in remote settings with effective mobile apps. These apps grant employees the flexibility to easily perform field operations, pull information, collaborate, get remote support, and perform mundane administrative tasks without being tied to a computer.
Professionals find it incredibly liberating to manage their workflows from the car or at the supermarket. Apps like this support work-life balance by connecting teams throughout the day from almost anywhere.

B2B Mobile Apps
A good mobile app can establish and strengthen relationships between critical stakeholders, whether connecting with solutions partners, contractors, consultants, or field specialists.
If services are delivered through a third-party partner, then a mobile app impacts your partners' success by keeping the focus on end-consumer needs, while also allowing your business to be optimized for consistency

B2C Mobile Apps
Studies show that the average American checks their phone every 12 minutes, with 10% of people checking them as often as once every four minutes. What's everyone doing on their phones? That's easy – 90% of mobile time is spent on apps.
Mobile apps are expected to generate $200 billion in revenue in 2021. If you want to compete and claim your share of this multibillion-dollar channel, it's essential to have a better understanding of exactly how people are downloading and using mobile apps.
We help clients identify markets, market needs, users' thought processes, and competitive differentiators.
What Goes Into Developing a Mobile App?
---
What are the most important things to consider when embarking on creating a mobile app? The approach should primarily factor in user-centric design and agile development. This starts with understanding customer and stakeholder needs, the competitive landscape, and current trends. Deep knowledge in these areas will help establish a baseline and a clear direction that are vital to developing project requirements.
We apply our product design and development methodology explained here to develop state of the art mobile applications that will balance all perspectives and inputs to deliver a fast and agile timeframe.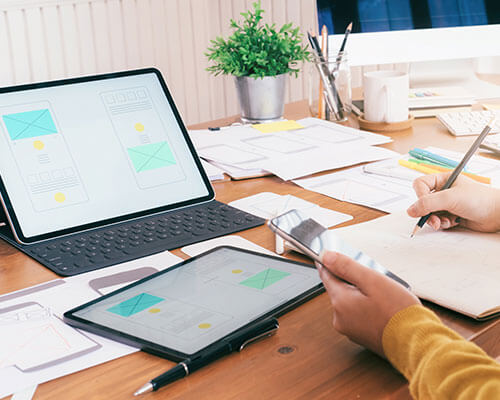 ×