Break the Cycle of Spending for Static Support
---
IT spending on run operations – mostly application management – often outweighs spending to change the business. The lights are kept on by vendors who don't have an interest in improving the applications, automating responses, or leveraging modern technologies. Cycles persist unendingly, starving resources that could be used to truly transform IT.
Transformative Application Management (TAM) services uses an innovative, data-driven applications management model to reduce costs and increase efficiency, while concurrently identifying root causes and assessing how to apply transformative capabilities along an execution roadmap.
Our research shows that digital champions – what we call the 7% of organizations that are successful with their digital transformations – spend more capital on transformation than on maintenance and support. The impetus behind TAM is to help clients transition away from ineffective legacy vendors and transform application management to both improve performance and free up capital for new investments.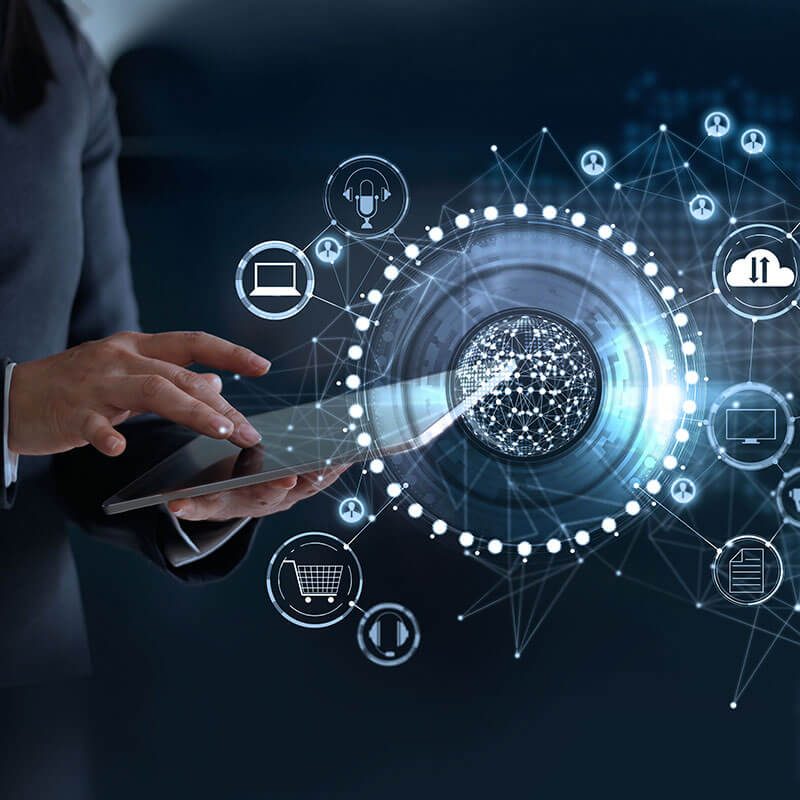 We Understand Digital Champions' Approach to Applications Management Services
---
Trianz has invested in creating Trasers, one of the world's largest databases on digital transformations, with data from over 5,000 companies globally. We understand how the success of a business is tied to the way applications are managed. As business models, products, and services become more technology centric, applications have the power to drive differentiation.
Our study has shown that digital champions are freeing up much needed capital from application maintenance and support in order to modernize their foundation. This has not only accelerated their transformation journey but has also insulated their business from COVID's disruptive effects.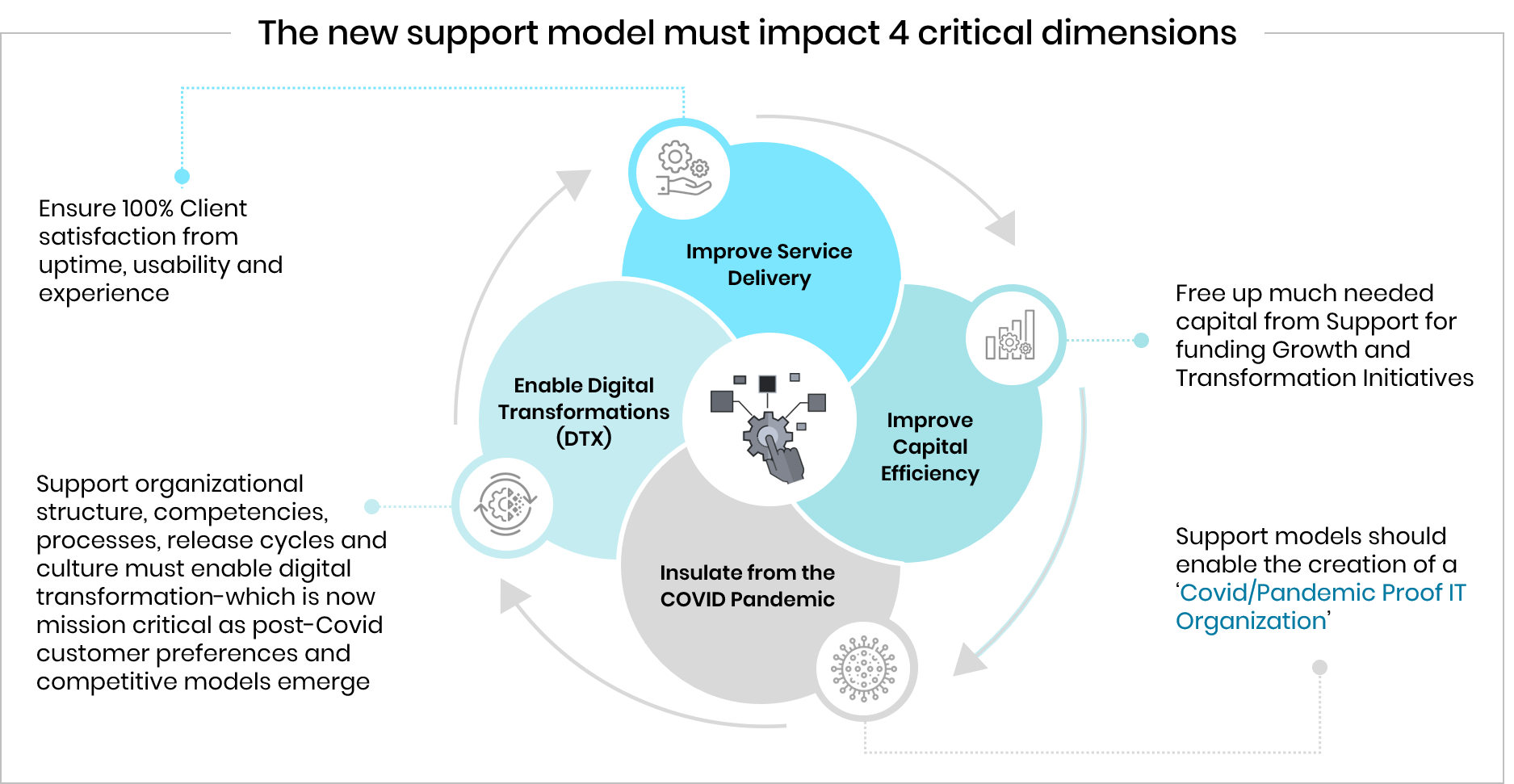 Copyright © 2022 Trianz
Our Transformative Application Management Services Offering
---
The applications management service model we have developed is comprehensive, using support process standardization, support analytics, and automation to address and understand underlying causes. Our offering includes a transformation assessment that combines both a data-driven approach and interviews with client stakeholders to determine how best to apply transformative capabilities along an execution roadmap.
The assessment generally requires four to six weeks, resulting in both a clear end-state and a roadmap for execution. Based on our findings, we will offer process and organization recommendations, along with a roadmap to achieve key goals including a reduction in run spend and overall support complexity, as well as an increase in speed response times.
---
Taking a Closer Look at the Transformative Applications Model
---
Based on a study of 1,000 IT organizations and responses from 3,000 IT leaders including CIOs, CTOs, CISOs, and heads of analytics, applications, cloud, infrastructure, and security, Trianz has designed an applications management model that helps IT free up capital while simultaneously preparing processes and talent for eventual digital transformation.
Trianz Transformative Applications Model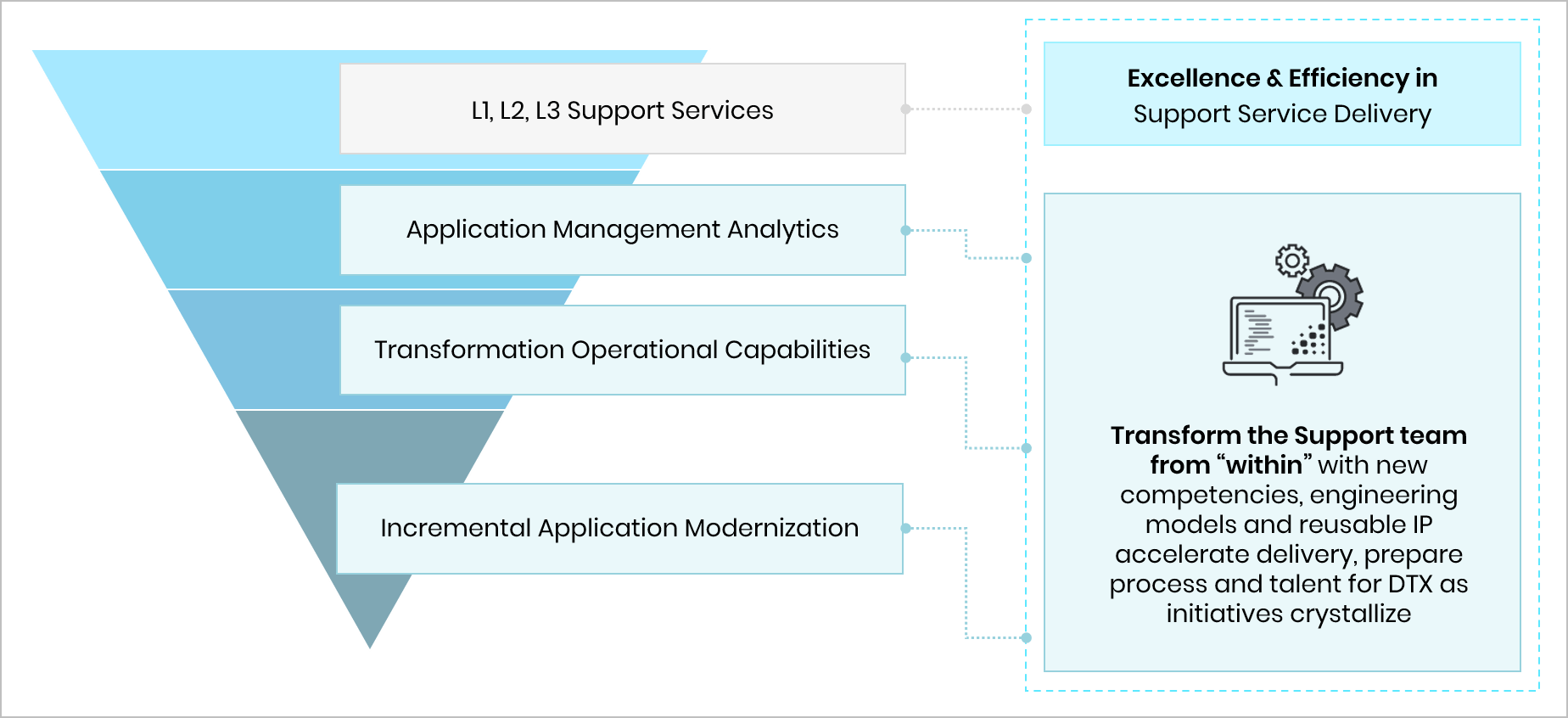 Copyright © 2022 Trianz
As a result of engaging our Transformative Application Management services, our clients reap the following benefits:
New support processes relying on automation to deliver higher velocity, throughput, and less reliance on manpower

Proactive and preventive measures that follow a "fix once, follow everywhere" model to continuously reduce support incidents – resulting in cost reduction and higher user satisfaction

Collapse of processes and proactive sunsetting of applications while preserving business – leading to a reduction of the number of applications managed

An overall reduction in application management costs for you to invest in new initiatives

New UX/UI wherever possible, resulting in higher velocity, user productivity, and satisfaction
---
How We Transform the Applications Management Services Model
---
Through our Transformative Application Management services, Trianz brings a multitude of strategies, capabilities, and approaches to transform application management at scale. These include:
Review of application architectures

Establishing service analytics to enable data driven decisions

Foundational capabilities for monitoring, AIOps, DevOps and automation

Incident analyses to enable the "fix once, apply everywhere" model

Refactoring and migrating applications to the cloud

Renegotiating client software costs and new engineering models, such as CICD and DevSecOps

Iterative improvements in process, automation, and visibility
---
What a Transformed End State Looks Like
---
Our goal is to deliver superior application management services while reducing costs sustainably. Cost-reduction and efficiency are throughputs of changing the way services are organized, monitored, and delivered while enabling digital transformation readiness.
End-state benefits include:

Better end-user experience
Improved MTTD and MTTR
KM-driven self-service
Shorter SLAs and fewer issues

Anticipating issues before users notice
Outcomes driven by AI and data analytics
Advanced application monitoring and AIOps capabilities
DevOps processes smooth release handoffs

Reduced spending on run operations
Improved capacity planning
Consistent best practice processes that improve efficiency
Data-driven decisions that drive incremental improvements

Teams and applications prepared for the future
Provision of training necessary for existing teams to make the jump to digital
Application portfolio that is modernized for long-term maintainability
Savings on run spending that can be leveraged for IT transformations
Our Proposal
---
Let's have a conversation to develop a strategy for transitioning three major applications to the TAM model. We will work with you on a fixed-fee basis to develop the strategy in three months or less, taking over these three applications and delivering services while modernizing the entire support model as described above.
×