What Is Competitive Benchmarking of Infrastructure?
---
Digital transformation has become an urgent need and the window of opportunity is rapidly closing. This puts a strain on financial resources, giving many companies just one shot to get it right.
Our infrastructure benchmarking helps clients understand where their capabilities lie on the maturity curve, both in absolute and competitive terms. The insights, based on survey data, benchmark a client's capabilities against industry peers and the best in class across industries, or digital champions. This helps clients know where gaps are vis-à-vis the competition, and where to invest their time, efforts and resources, so that returns are maximized.
Digital Enterprise Evolution Model™ - Infrastructure Capability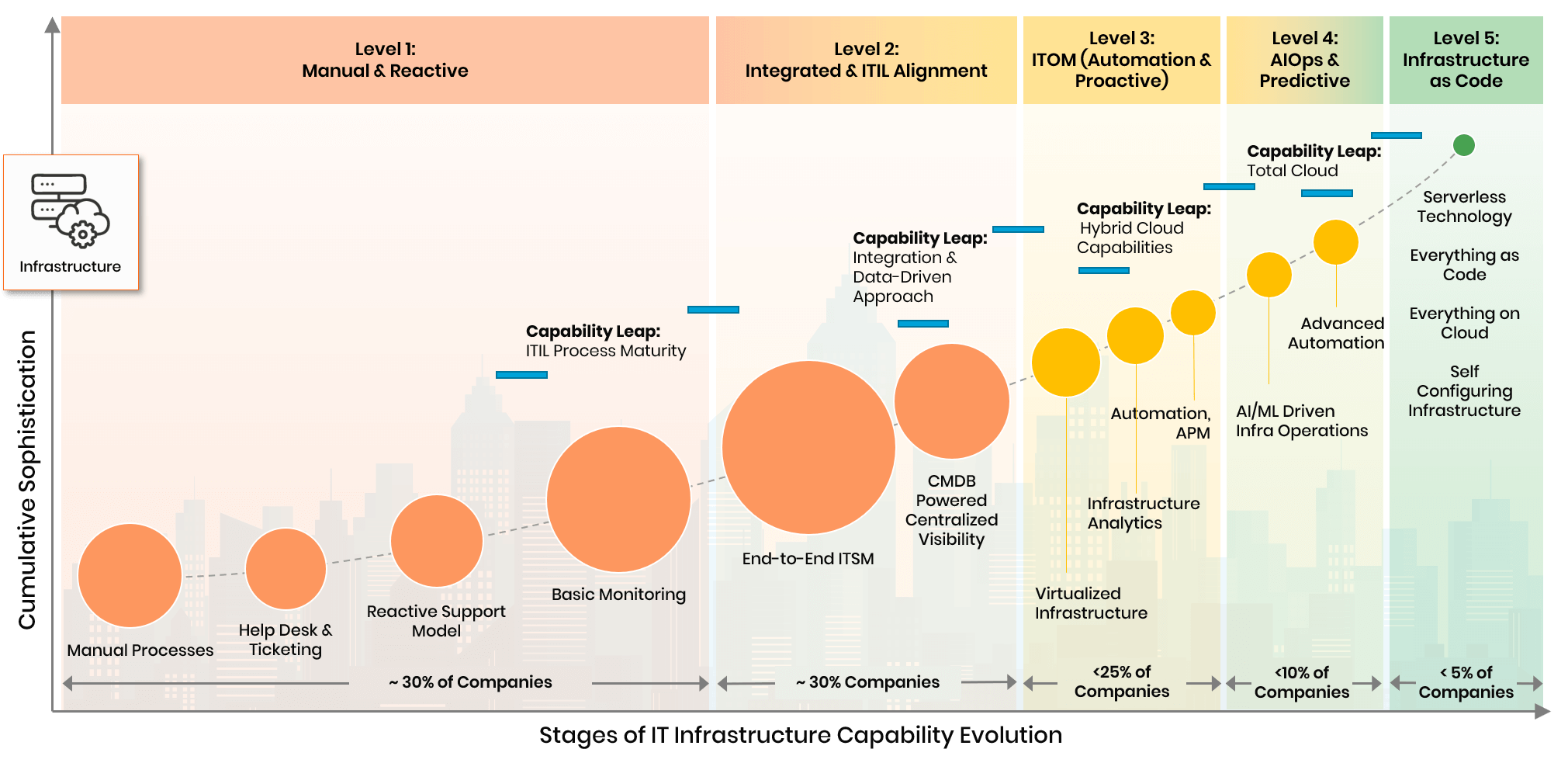 Copyright © 2021 Trianz
Through a series of exhaustive surveys, we benchmark capabilities in the following areas:




Hybrid cloud capabilities


AI Ops & predictive models

Infrastructure as code (IaC)
The Most Successful Digital Transformations Are Powered by Infrastructure Capabilities
---
Just about 7% of companies are fully delivering on the promise of their transformational initiatives. We call them 'digital champions.'
Digital champions are extensively leveraging the cloud for infrastructure by prioritizing enterprise-wide transformation initiatives. 66% of them are using hybrid cloud or have fully migrated to public cloud to drive digital transformations.
Find out what digital champions are really investing in by double clicking specific capabilities they target to learn what's really making the difference.
Each industry and business is unique, so we help you understand what infrastructure capabilities to target given the nature of your specific business, competitors and peers.
Current Infrastructure Landscape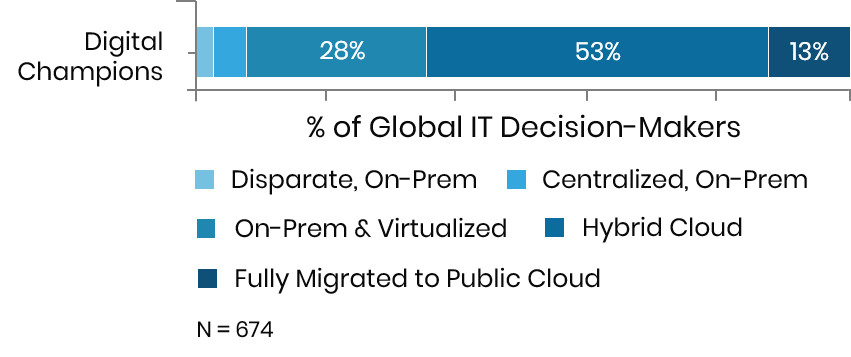 Source: Trasers
Our Digital Benchmarking Data and Research Capabilities
---
Our benchmarking services are powered by over 1.5 million datapoints that we have already collected, along with our primary research and further data collection capabilities. With access to leaders across more than 40,000 companies from various- sized segments, industries and geographies around the world, we are able to gather additional data very quickly to address company- and industry-specific questions.
Reports based on data collected from thousands of business and IT decision makers globally


Source: Trasers
Based on data collected from more than 5,000 companies across 20 industries, Trianz has developed a multi-stage model to measure where companies are on the digital continuum and how they have evolved before becoming a leader. We call it the "Digital Enterprise Evolution Model" or DEEM. It is crafted at the level of a business function or a digital technology discipline. Benchmarking tells you where your organization is on this continuum relative to peers and the best in class.
Know Your Digital Maturity Within Weeks
---
Our benchmarking process is a combination of digitally collected data and interviews with leaders in your organization. Data is entered into the Trasers repository and analyzed in comparison to peer companies and leaders across industries. For a business or an IT function, we are able to complete our process and provide you with a customized report within 6-8 weeks.
Benchmarking Engagement Approach and General Timelines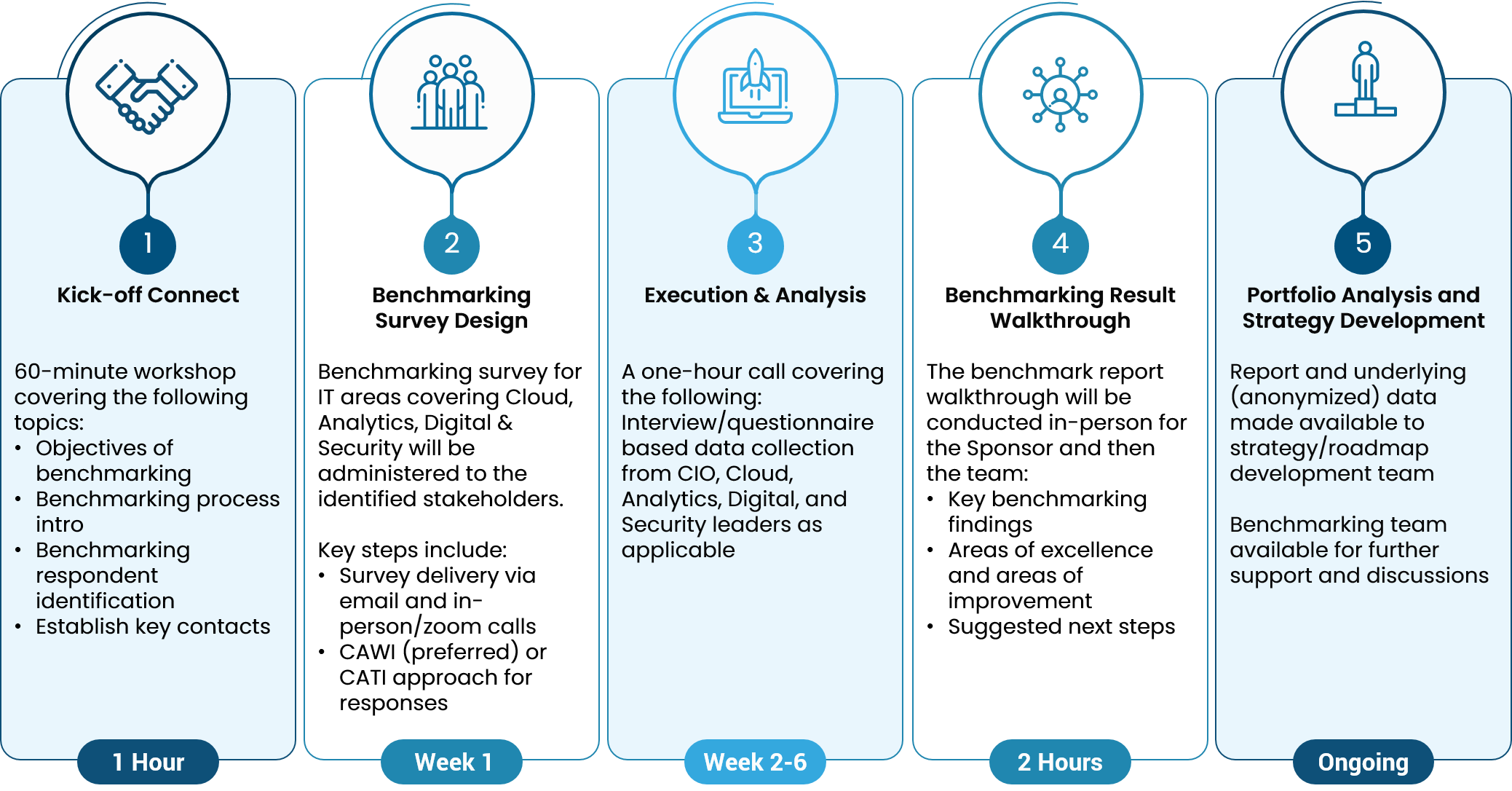 Source: Trasers
Output from our benchmarking process is used to crystallize a vision for your organization based on strategic priorities, ROI, as well as to develop execution roadmaps and plans.
×