Accelerate and Enhance Analytical Capability Via Data Mesh
---
In today's hyper-competitive environment, companies are increasingly opting for data lakes with real-time stream processing and data availability. Organizations are opting for this with the intent to ingest, enrich, transform, and serve data to a centralized platform. However, for a majority of organizations this architecture has a few shortcomings:
Teams have less control over enormous sets of distributed data via a central ETL pipeline.

Organizations today generate new, vast sets of data and this requires different types of transformation for different data use cases. This scenario puts huge pressure on the central platform.
Chaotic lakes of data result in impatient and disconnected data consumers and backlogged data teams. Our data mesh services offer domains or business areas with the capability to perform enhanced analytics without the need of a centralized data lake. This system puts control in the hands of your domain teams, making them responsible to manage their data quality and pipelines.
Data Mesh Principles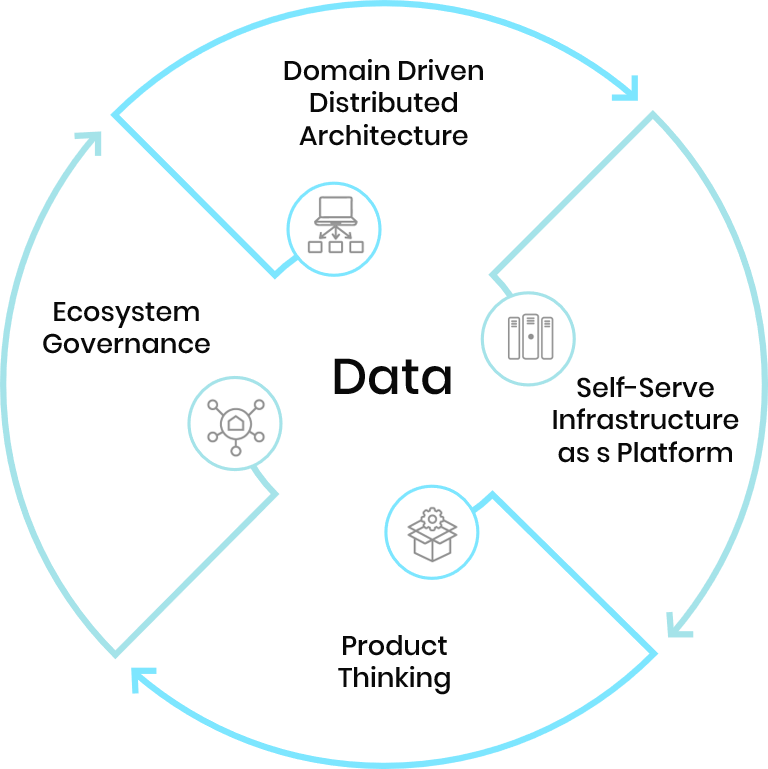 Copyright © 2021 Trianz
---
Trianz Has Built One of the World's Largest Databases on Digital Transformation.
---
Trianz has invested in creating Trasers, one of the world's largest databases on digital transformations with data from over 5,000 companies spanning 20 industries. We understand the state of data and digital transformations, investment priorities, the latest technologies and the best practices followed by the most successful companies in the world.
We found that 40% of the digital champions – companies that have successfully transformed digitally – have full management alignment, which is critical for the success of data mesh.
Leadership should align with end-to-end cloud initiatives for successful deployments of services such as data mesh. The involvement of leaders becomes critical during the conceptualization of these initiatives. Even though cloud technologies require new investments and write-off of yet-to-depreciate on-premise investments, leadership must align with the fact that the cloud generates massive acceleration of digital transformation.
37% of digital champions that are deploying data analytics on the cloud report that management is fully aligned, funded, and undergoing transition.
Percentage of IT Decision Makers, Globally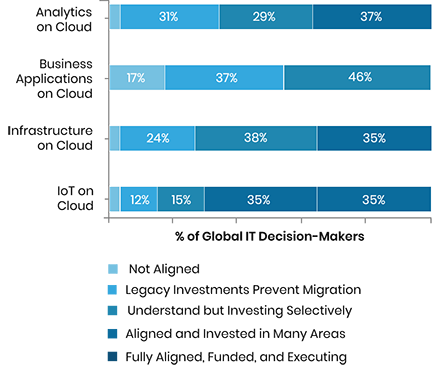 Source: Trasers
×