Accelerating Growth Through Hybrid Architectures and Private Cloud Alignment
---
Virtualization is increasingly propelling enterprises to move towards hybrid cloud computing architecture solutions. The question is: Have you taken the leap of faith to embrace this transition?
At Trianz, we understand that businesses need an experienced guide to help with these migrations. That's why our cloud planning services encompass both private and hybrid cloud implementations, making the process that much easier for you.

Copyright © 2022 Trianz
---
Trianz Has Built One of The World's Largest Databases on Digital Transformation.
---
Trianz has invested in creating Trasers, one of the world's largest databases on digital transformations with data from over 5,000 companies spanning 20 industries. We understand the state of digital transformations, investment priorities, the latest technologies and the best practices followed by the most successful companies in the world.
More than 70% of these digital champions are crediting cloud to be a game-changer to their business model with cloud usage being considered highly relevant with respect to competition.
Over 70% of Digital Champions are Crediting Cloud to be a
Game-Changer to their Business Model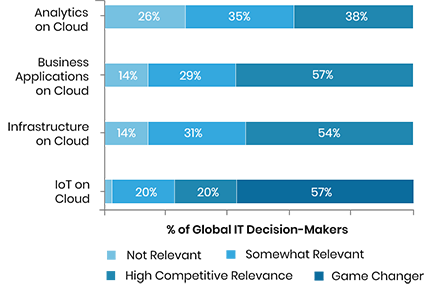 Source: Trasers
---
What is Cloud Architecture?
---
Cloud architecture encompasses various components such as applications, software capabilities, and databases, among others. These components are engineered to harness the power of cloud resources to resolve complex business problems. Hence, cloud architecture assists in formulating a relationship between the various components. These include:
Middleware

Software components and services

Cloud resources

On-premise resources
The purpose of cloud architecture is to allow users to have uninterrupted access to their data and applications, enabled with high bandwidth. Good cloud architecture should provide users access to an on-demand agile network and the flexibility to move seamlessly between clouds or servers, while at the same time providing enhanced network security.
There are multiple cloud-based services available today and all have their unique cloud architectures:

Software as a Service (SaaS)
Software as a Service (SaaS) is maintained on the internet and involves a software host. While employing SaaS, users can opt-out of installing software locally.

Infrastructure as a Service (IaaS)
Infrastructure as a Service (IaaS) provides hardware and infrastructure such as storage devices, networks, and servers, among others. These services are offered to users on a pay-per-use basis.

Platform as a Service (PaaS)
Platform as a Service (PaaS) provides users with databases and application platforms, which are equivalent to services provided by middleware.

Desktop as a Service (DaaS)
Desktop as a Service (DaaS) provides a virtual desktop that is hosted in the cloud. Since it is held separately in a remote server, it is different from other physical accessories.
×