Transforming your organization to digital has become table stakes in the age of digital transformation. To win in the marketplace and avoid being disrupted by both traditional and non-traditional competitors, a very high degree of digitalization is required. The foundation of a successful digital transformation lies in having a flexible, agile, and integrated data supply chain—one that enables advanced analytics and seamless data access across heterogeneous networks and that leverages your firm's most valuable assets: customer, product, channel and external big data.
Based on our research, we define "digital champions" as the top 7% of organizations that achieve industry-leading success through their digital transformation initiatives. Digital champions tend to lead their competitive peer group in key operating metrics across marketing, service, sales, and internal operating processes. These enterprises plan and execute their new data-driven business models with flair, promoting loyalty in their customer base and driving growth in profitability at a rate faster than their competitors'. Embedding analytics ubiquitously across the entire business operation drives this digital success.
Trianz enables enterprises of any size in any industry to become digital champions. That is why we are proud to offer the Trianz Analytics on Cloud Ecosystem, or ACE, the industry's first fully comprehensive solution approach that expedites analytics implementation on cloud platforms such as Amazon Web Services (AWS).
---
Trianz ACE – Monetize Your Cloud Platform Implementations Quickly
---
Trianz ACE is a game-changing, industry-leading solution that enables enterprises of any size in any industry to benefit from "Analytics on Cloud" business models.
Analytics on Cloud leverages advanced cloud-based analytics processing, streamlining business intelligence (BI) processes, data integration and analysis, and the visualization of data insights for decision-making purposes. Digital champions weave advanced analytics into the heart of their operational processes and work culture—molding and guiding their strategy, business requirements, business model design, data structure, measurement, and reporting to digitally transform their operations. Trianz ACE uses proven analytics from digital champions to help our clients replicate their success.
What is Trianz ACE?
---
Trianz ACE is an Analytics on Cloud implementation service for cloud platforms such as AWS. It is an offering that combines methodology, technology, and people as shown in the graphic below. The ACE methodology involves focusing on business-driven data transformation to deliver rapid, repeatable bursts of incremental success using agile and DataOps delivery frameworks. Our experts deliver transformations with unparalleled speed and accuracy by completing the implementation in successive small batches using this approach.
Underlying technologies include the full suite of AWS data and analytics services, combined with Trianz's own proprietary assets and tools that expedite go-to-market with reduced risk.
To deliver Trianz ACE, we rely on our thriving practice of cloud platform experts that have decades of combined experience delivering large-scale data transformations using cloud-based analytics.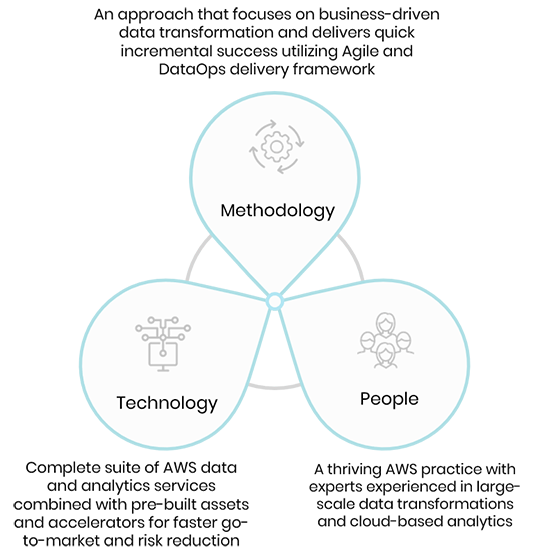 Copyright © 2022 Trianz
Trianz ACE Assets, Tools, and Services
---
Trianz ACE integrates the following components to deliver our end-to-end AWS Analytics on Cloud service:
×