Data Analytics and the Digital Tide
One of the keys to succeeding in your digital transformation journey lies in a flexible, agile, and integrated data supply chain that enables advanced analytics and seamless data access across diverse networks. This will help your organization leverage its most valuable asset – customer, product, channel, and external big data.
Our research practice has gathered over 1.5 million data points on all areas of digital transformation, and our data shows that only 7% of organizations achieve industry-leading success through their transformation initiatives. We call this select group "Digital Champions." Digital Champions plan and execute their new data-driven business models effectively to promote loyalty in their customer base and drive profitability growth at a rate faster than their competitors.
Constructing these strategies requires a powerful, streamlined data pipeline and analytics apparatus. To empower enterprises to become digital champions, our experts have created the Trianz Analytics on Cloud Ecosystem for Azure, the industry's first fully comprehensive solution approach that expedites analytics implementation on the Azure cloud.
---
Monetize Your Azure Implementations Quickly
---
Trianz's analytics can enable organizations of any size and industry to leverage cloud analytics processing, streamline business intelligence (BI) processes and visualize insights using more integrated, accessible data.
The Trianz approach uses proven strategies of digital champions to put your enterprise on the same transformational path.
Our offering combines methodology, technology, and people. The Trianz methodology focuses on business-driven data transformation to deliver rapid, repeatable bursts of success using agile and DataOps delivery frameworks. Our experts deliver transformations with speed and accuracy by completing the implementation using this approach.
Azure cloud is readily integrable into enterprises already using the Microsoft suite of applications. It has a range of data warehousing services(e.g., Azure Data Lake Storage, Azure SQL Database, Data Factory, and Cosmos DB), which can be used to process and present data to solve your unique business needs.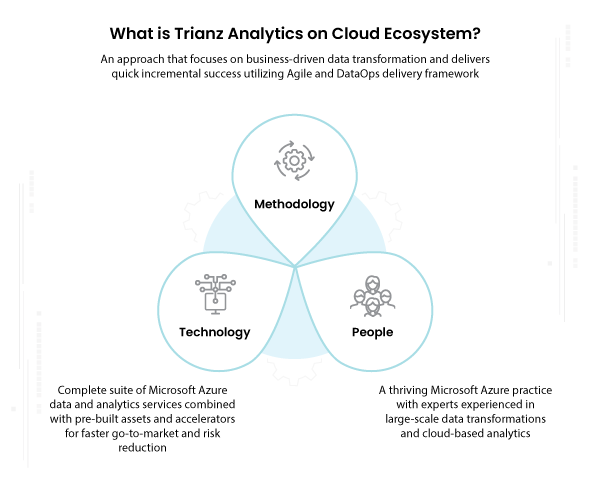 Copyright © 2022 Trianz
Adopting Azure has many advantages:
Virtually limitless data storage

Access to data lakes

Highly customizable data security

An ever-expanding product suite of tools to help manage cloud data
Combined with Trianz's own proprietary assets and tools, the analytics program can help expedite go-to-market with reduced risk. To deliver our end-to-end service, we rely on our thriving practice of Azure experts, who have decades of combined experience executing large-scale transformations of unstructured data using cloud-based analytics.
---
Trianz Assets, Tools, and Services
---
Trianz integrates the following components to deliver our end-to-end Azure analytics on cloud service:

Copyright © 2022 Trianz
×