Go from IT-Led Reporting to Business-Led Self-Service Analytics
---
Migrating legacy reporting platforms to a modern BI solution can enable your business with the trustworthy, self-service insights required for faster data-driven decision making. However, improper migration processes risk disrupting the business and compromising data security.
Before embarking on a BI migration journey, it is crucial to understand which BI solution fits your business needs, the frameworks used for migration, and if the tools and platforms meet your specific security and data governance requirements.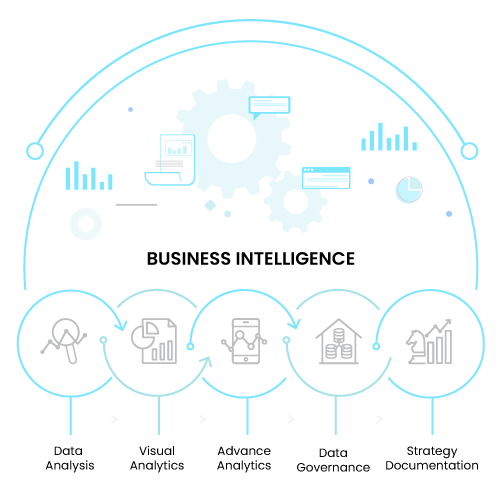 ---
Benefits of Migrating to Modern BI
Propel your business with a high-performing, secure, and cost-effective platform that enables seamless collaboration.

Agility
Enable your users to co-exist in a single system that provides fast access to data, without creating data silos or inconsistencies.

Cost-Efficiency
After migration, there is zero infrastructure maintenance. You only pay for the subscription model that fits your business.

Data Visualization
Create a data-driven culture with easy to read, easy to explore, modern BI visualization.

Self-Service
With a fully managed BI service in the cloud, users can run ad-hoc queries and receive answers instantly, without the need to prepare data in advance.

Scalability
With no need to commit to a specific level of resources, you can easily scale up or down as your storage or processing requirements fluctuate.

Security
With powerful security standards built-in and continuously updating, you can ensure your single source of truth in the cloud remains secure and compliant.
---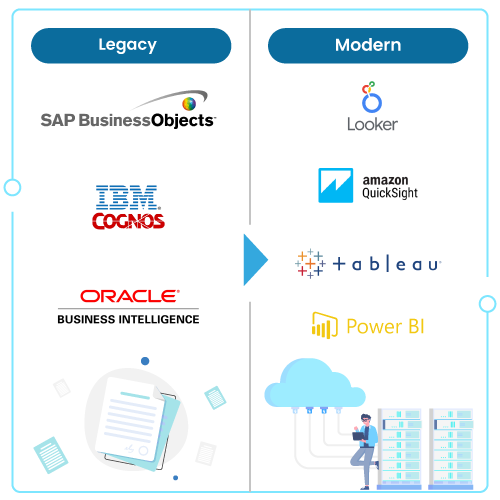 Trianz' Approach to BI Migration
---
As a leader in digital transformation consulting, Trianz has invested heavily in developing automation migration frameworks that maintain data governance and accelerate the cataloging of legacy tool metadata for rapid transformation in BI applications. Our migration approach enables our clients to realize the following:
Up to 75% reduction in time to convert using automation vs. manual process

Up to 30% decrease in overall dashboards

Data-driven collaboration among stakeholders

Faster time to insights discovery
Secure data governance across the platform

Unlocking big data with self-service data preparation

Accelerated business decision making with self-service analytics

Simplified data management with options for cloud and on-premise deployment
---
Migrating from Legacy to Modern BI
---
When migrating from legacy to modern BI, Trianz employs a rapid approach to designing and accelerating the migration process. Our toolkit is powered by proven IPs, accelerators, and frameworks that are designed to drive migrations of multiple datasets simultaneously.
With over two decades of helping enterprises modernize their business intelligence systems, we have never limited a client to a single BI tool or vendor. At Trianz, our goal is to help you leverage the right technologies that fit your exact budget, customer expectations, and business needs.
Trianz Migration Framework
Assessment
---
Interview stakeholders to fully understand business goals, resources, and pain points

Align stakeholders on business requirements to support change management initiatives

Identify areas that are not suitable for automation or self-service

Provide PoC for chosen tools and platforms
Migration
---
Help build and implement an appropriate data governance framework

Apply Trianz migration accelerators

Iterate to address areas for improvement

Implement data security to ensure appropriate user data access
Validation
---
Optimize the performance of the BI environment to maximize reporting speeds

Help prepare for and support the shift to a data-driven community

Provide ongoing maintenance and tuning
---
Custom BI Dashboards
Trianz can help you build a custom embedded analytics and dashboard solution that fits your reporting and compliance requirements. Don't take time and resources away from IT. Let us empower your business with the end-to-end self-service analytics needed to create a data-driven culture.
---
BI Migration In Action
---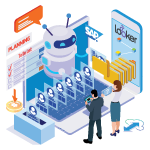 Report Migration from Oracle
A major league baseball team wanted to reduce their enterprise reporting costs, increase data availability to their analysts, and lower the entry barrier for their data scientists.
To learn how Trianz helped the MLB team reduce reporting costs and decrease time to insight by migrating from OBIEE to Looker, read this case study on Legacy Report Migration to Looker.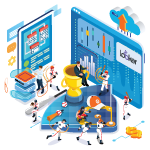 Report Migration from SAP
A financial services company was looking to reduce costs, increase talent availability, and eliminate disruptive upgrade cycles by migrating 121 active subject areas and 800+ SAP Business Objects reports to Looker.
To learn how Trianz slashed migration costs to a mere fraction of the original plan, read this case study on Legacy Report Migration from SAP Business Objects.
---
Why Trianz for Your BI Migration?
---
As a leader in business intelligence solutions, Trianz will create a tailor-made migration plan that fits your unique business needs. When choosing our services, we provide in-depth knowledge into your current and future-state architectures to help our clients realize the following:
Total Cost of Ownership: Trianz leverages automation to create an inventory of the existing solution. Using our product evaluation framework, a total cost of ownership will be developed for each platform.

Create a Migration Roadmap: Leverage the inventory to identify the dependencies, complexities, and business logic to develop a migration roadmap. The roadmap will then be aligned with your analytics strategy.

Proof of Concept: Leverage automation (where possible) to validate migration effort. We will then finalize the platform selection that caters to your use cases.
Trianz' assessment phase takes about four weeks to complete and focuses on achieving complete buy-in from all stakeholders. We identify all reporting assets and help you understand where to reduce duplication and redundancy. This allows us to ensure the migration focuses on improving governance while helping you achieve the highest ROI possible.
×