Move your applications to the cloud for global reach, standardization and acceleration.
---
The term "application migration" is the method or activity of relocating the organization's application from its source to a new destination or environment. The cost benefits of migration to the cloud are obvious. The cloud also forces teams to rethink, refactor and rearchitect to deliver real business impact from cloud-based solutions.
What is less obvious is the acceleration benefits of migrating applications to the cloud. Our data shows that companies that migrate applications to the cloud on average deliver business solutions 2-3 times faster than their counterparts who still rely on legacy formats.
We understand the best practices of
cloud adoption
---
Trianz has invested in creating Trasers, one of the world's largest databases on digital transformations globally. With data from over 5,000 companies spanning 20 industries, we understand where migrations are, and what migration priorities and strategies the most successful companies are adopting.
As you begin migrating applications to the Cloud at an increasing scale, traditional approaches and support models will not work. Our data helps clients prioritize with an eye on the competition. We also bring a deep understanding of adoption patterns, platforms, IP and process capabilities to help you manage your cloud applications at scale.
Cloud Adoption and Use by Global IT Leaders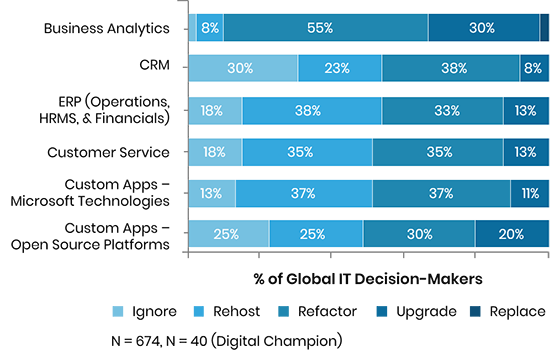 Source: Trasers
×