Exploring Growth Opportunities, Preparing for Disruption
---
As industries reshape themselves, companies need to operate and compete at an unprecedented scale. The pandemic created a new inflection point for business to accelerate their cloud migration because it enables one of the key competitive differentiators that will help them remain relevant in the marketplace: seamless, end-to-end digital transformations.
A Gartner survey projected worldwide public cloud services market to grow 6.3% in 2020 to total $257.9 billion, up from $242.7 billion in 2019. This means companies will be innovating faster, creating new revenue streams, deriving more insights from data, and contextualizing interactions with customers, partners, and employees.
Although cloud's adoption is accelerating, many industries lag when it comes to migrations. Our data suggests industries and companies are moving in a curvilinear path with investment in scalable cloud infrastructure coming first, followed by the migration of applications or analytics.
Through strong cloud partnerships with nine industry leaders, Trianz helps enterprises of all sizes run their businesses in the cloud to launch innovative products and solutions quickly, securely, and cost effectively.
Our diverse clientele includes global Fortune 500 corporations and emerging, innovative companies across industries, and our commitment towards high-quality services and strategic, long-term relationships have earned us the reputation as the 'Partner of Choice' of cloud providers. And one of the ways we have been able to achieve all the above is through data.
The Current State of Cloud and Evolution Path of Industries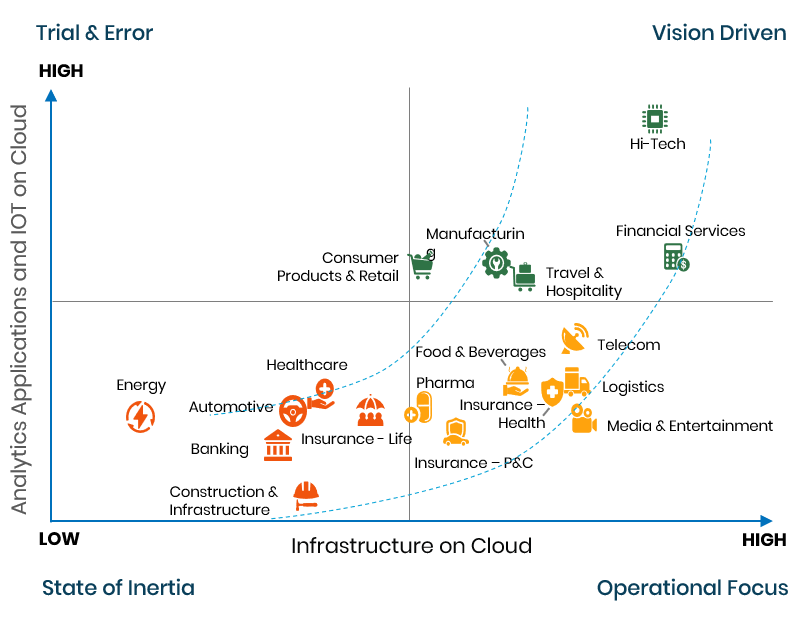 Source: Trasers
Trianz has Built One of the World's Largest Databases on Digital Transformation, and we Understand the Latest Trends and Best Practices in Cloud Management
---
Trianz has invested in creating Trasers, one of the world's largest databases on digital transformations with data from over 5,000 plus companies from 20 industries. We have spoken to business and IT leaders across the enterprise to understand what digitalization means to them, where they think they are, how they execute, and how they are prioritizing when it comes to the cloud. As it turns out, cloud is a game changer.
Figure 1: % of Global IT Decision Makers

Source: Trasers
While fewer than 25% of global companies recognize the disruptive power of cloud, more than 50% of digital champions believe the cloud helps disrupt their business model. 'Digital champions' are the ones most successful in their transformations.
×