Comprehensive remote workplace security from Trianz
---
Trianz offers a variety of scalable services to help you put your digital workplace plan into action. We cover every possible scenario for remote working, with services such as: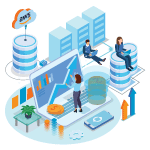 Virtual Workspace Solutions
By building and operating corporate-wide virtual desktops via Citrix/VMWare virtual desktop infrastructure (VDI) platforms, you can allow users to connect remotely and securely to virtual workspaces. These will continue to be managed by your IT department, offering each user a safe and standardized desktop experience on par with their regular office environment.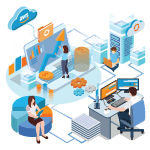 Effective & Secure Enterprise Collaboration
We deploy tools such as Microsoft Teams, Microsoft 365 for Business, Zoom, and Slack. These tools bridge the physical distance of remote working to offer effective communication and collaboration between coworkers. This includes seamless and secure document sharing, presentations, video conferencing, and instant messaging to streamline employee communication.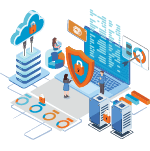 Secure Remote Connectivity Management
Our experts use encrypted and tunneled VPN (Virtual Private Network) solutions like the Sophos XG Firewall, Palo Alto GlobalProtect, ZScaler Private Access to secure your remote connections. This ensures that sensitive traffic between remote users and your internal systems is secured using end-to-end encryption (E2EE). These services use the latest cryptographic and authentication standards, ensuring the security of data-in-transit.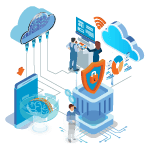 Hardened Endpoint Security Solutions
With remote workers often using their own personal devices for work, tailored endpoint security is a must. To maintain the sanctity of corporate data, we offer solutions that enforce security policies on end-user devices to avoid the leak or loss of important, sensitive corporate or client data. These are applied using administrator policy on Android and iOS devices, and via group policy and domain controls on Windows. For macOS, we use Enterprise Mobile Device Management (MDM).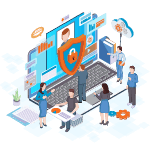 Timely OS and Application Patching Services
Airtight security requires the rapid and large-scale patching of remote applications and devices, as well as prompt removal of EOL (End-of-Life) software from endpoints. With strict policy enforcement on endpoint devices, your corporate data both in-transit and at-rest will be protected by frequent rollouts of security patches.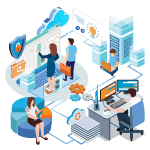 Self-Service for the Virtual Workplace
Your IT department is typically located in the office, but with people working from home this support channel is limited. By implementing self-service portals containing technical documentation, you can provide system and application guidance to employees to supplement your busy IT helpdesk.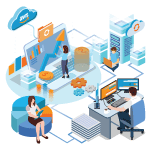 Effectiveness and Security Tracking of Remote Workforce
It is naturally more difficult to keep track of remote employees. To address this, we offer reporting on users and usage patterns to ensure employees are meeting expectations. We can track log-in and log-off metrics to ensure work attendance, as well as application-specific uptimes per user session to help maintain productivity away from the office setting.
Our remote workplace security services offer a one-stop-shop for enterprises migrating to remote working. While short-term disruption is inevitable, our digital workplace solutions can help you expedite the transition period and get back to a state of high productivity in the new normal.

Effectively manage your remote workplace with Trianz technology experience
---
Trianz has a wealth of experience implementing leading offsite workplace tools and platforms. We help our clients overcome remote challenges such as:

Cybersecurity Implementation

Regulatory Compliance Adherence

Employee Upskilling and Training

Virtual Collaboration

Mitigating Network Connectivity Disruption
We also have close partnerships with leading cloud platforms and technology providers, ensuring you get a tailored and best-in-class solution for your specific business needs.
Our end to end capabilities will help you quickly deploy secure workplaces
---
We help companies from mid-sized enterprises to the Fortune 100, in all phases of infrastructure management.

SECURE WORKPLACE STRATEGY AND ARCHITECTURE
Assess, prioritize, architect, and prioritize evolution to a secure workplace.

TECHNOLOGY IMPLEMENTATION AND ROLLOUT
Implement a best-of-breed technology stack and train your teams in operations.

Secure Workplace Managed Services
Monitor and optimize your remote workplace with Trianz managed services.
×