Increased Clarity and Optimized Development Efforts
---
Application lifecycle management (ALM) provides clear direction to the team, speeds up development, and enables your workforce to make intelligent decisions throughout an app's lifespan. ALM has become a critical component of many businesses today.
Procuring the right set of tools to enable a unified front across application development and operations teams is imperative. Every step of the development operations (DevOps) requires tools and the right approach to optimize workflow and cooperation. These include communication and planning tools, as well as tools for continuous development, testing, integration, deployment and post-production support.
DevOps Workflow Model

Copyright © 2022 Trianz
---
Trianz Has Built One of the World's Largest Databases on Digital Transformation
---
Trianz has invested in creating Trasers, one of the world's largest databases on digital transformations with data from over 5,000 companies spanning 20 industries. We understand the state of DevOps and applications management, including the investment priorities, latest technologies and best practices followed by the most successful companies in the world.
Agile design and development is at the center of the new application lifecycle management model. By principle, agile relies on the collaboration between business stakeholders and IT, and in quick successive iterations. IT develops what key stakeholders aim to achieve from the application.
Usage of Agile Methodologies in IT Organizations
during Application Lifecycle Management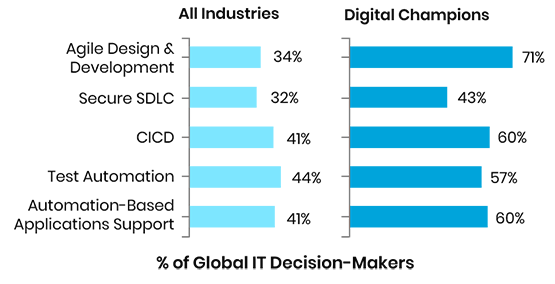 Source: Trasers
×