Competitive Benchmarking of Digital Applications
---
Organizations are under tremendous pressure to get digital transformation right the first time around. One of the most important keys to a successful transformation initiative is the reimagination of products and services from a customer point of view, followed by the reinvention of the organization's value chain to deliver consistent and connected customer experiences for employees and partners.
To accomplish this, organizations need to examine their business applications and determine which of them to prioritize when it comes to modernization. This process must begin with gaining a better understanding of the status of your applications and how they stack up to those of your competitors in your target market, as well as leaders in your industry overall.
This is where digital applications benchmarking comes in.
---
Why Is It Important to Benchmark Applications?
---
Our application benchmarking helps clients understand where their capabilities lie on the maturity curve both in absolute and competitive terms. The insights are based on data from benchmarking the client's capabilities against peers and examining the best across industries.
This helps clients understand where gaps are vis-à-vis the competition, as well as where to invest their time, efforts, and resources to maximize their returns.
---
Applications Drive Digital Transformation
---
Per our research, digital champions – what we call the 7% of companies that are successful with their digital transformations – use digital technology foundations to extensively prioritize enterprise-wide transformation initiatives. More than 60% of them are using app stores, business process management (BPM), enterprise content management (ECM), mobile apps (such as Android and iOS applications), and portals to drive digital transformations
Because of our extensive study of digital champions, as well as our experience working with numerous clients on their transformations, we can offer the expertise, information, and insights to help you determine what digitalization capabilities to target. Also, since each industry and business are unique, we customize your assessment to align with the nature of your specific business, competitors, and peers.
Digital Technology Foundations – Digital Champions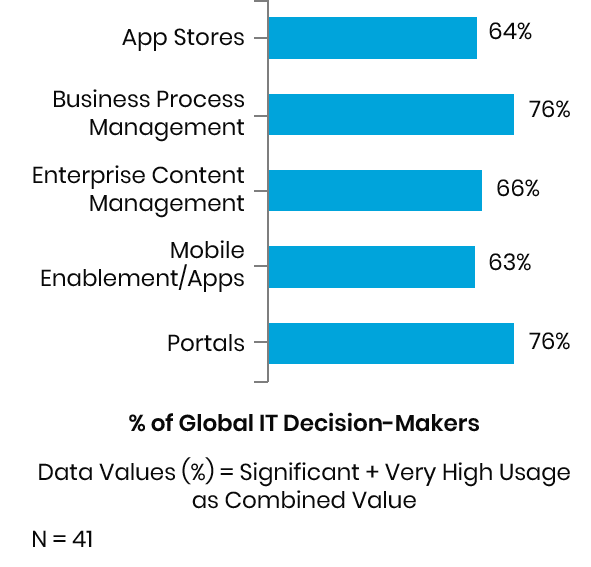 Source: Trasers
Copyright © 2022 Trianz
×