What is ITOM?
IT operations management (ITOM) can be defined as the process of managing and maintaining an organization's network infrastructure. An IT team is typically tasked with this work, covering aspects of computing such as compliance, security, and troubleshooting. This team works with internal and external network users, offering advice and remediation to overcome technical obstacles and maintain effective service delivery.
The proficiency with which IT operations management is controlled will determine your IT infrastructure's overall value against business objectives. However, it is important to note that mismanagement can hinder overall corporate progression and compromise the security and accessibility of your services for customers.
Since IT operations management is an integral function of every organization, it is crucial to understand emerging trends, which strategies to apply, principles to follow, and which technologies will maximize productivity while reducing IT costs and eliminating mistakes.
---
How is the Cloud Changing IT Operations Management?
---
As more businesses move to the cloud, the standards for how we manage our IT systems evolve. By moving from legacy applications to cloud-native software, the processes and procedures that govern your existing workflows must be augmented to maintain high security and efficiency standards.
Even though the benefits of moving to the cloud outweigh the risks and costs in the long term, many CIOs and IT leaders are delaying the digital transformation of IT operations. While digitally transforming IT operations may seem unapproachable if maintaining the current IT infrastructure eats up most of your IT budget, CIOs who choose to pursue digital transformation are experiencing vast improvements in their IT operations, such as: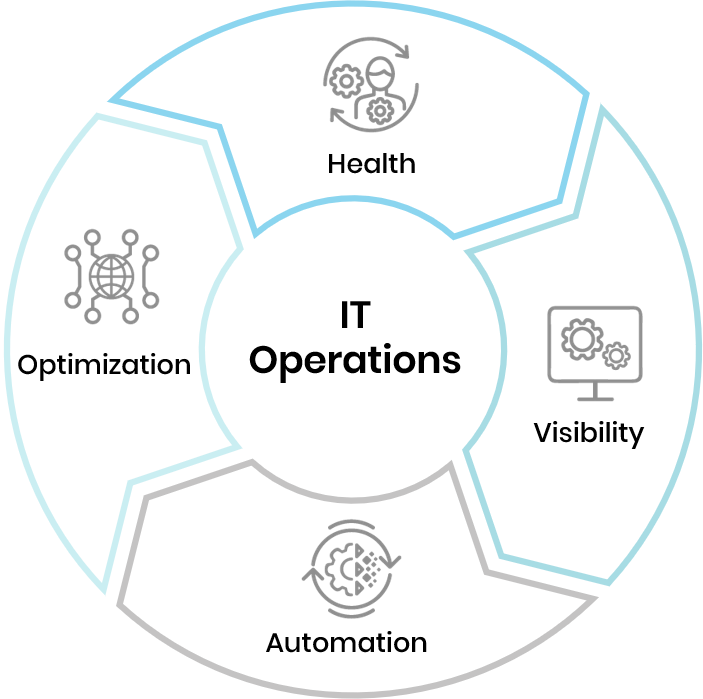 Reduced IT complexity across the enterprise

Improved visibility across the IT infrastructure

Increased ability to make preemptive and immediate corrective actions to minimize risk and increase compliance

Improved efficiency, productivity, and profitability
In addition, with the recent rise of artificial intelligence (AI) and machine learning (ML)-powered ITOM tools, organizations can leverage remediation processes to offload low-level workloads from your IT department. This helps to save costs and free up IT teams to concentrate on handling business-critical ITOM processes.
Case Study: AWS Cloud Managed Services for Financial Services Provider
---
What Comes Under IT Operations Management?
---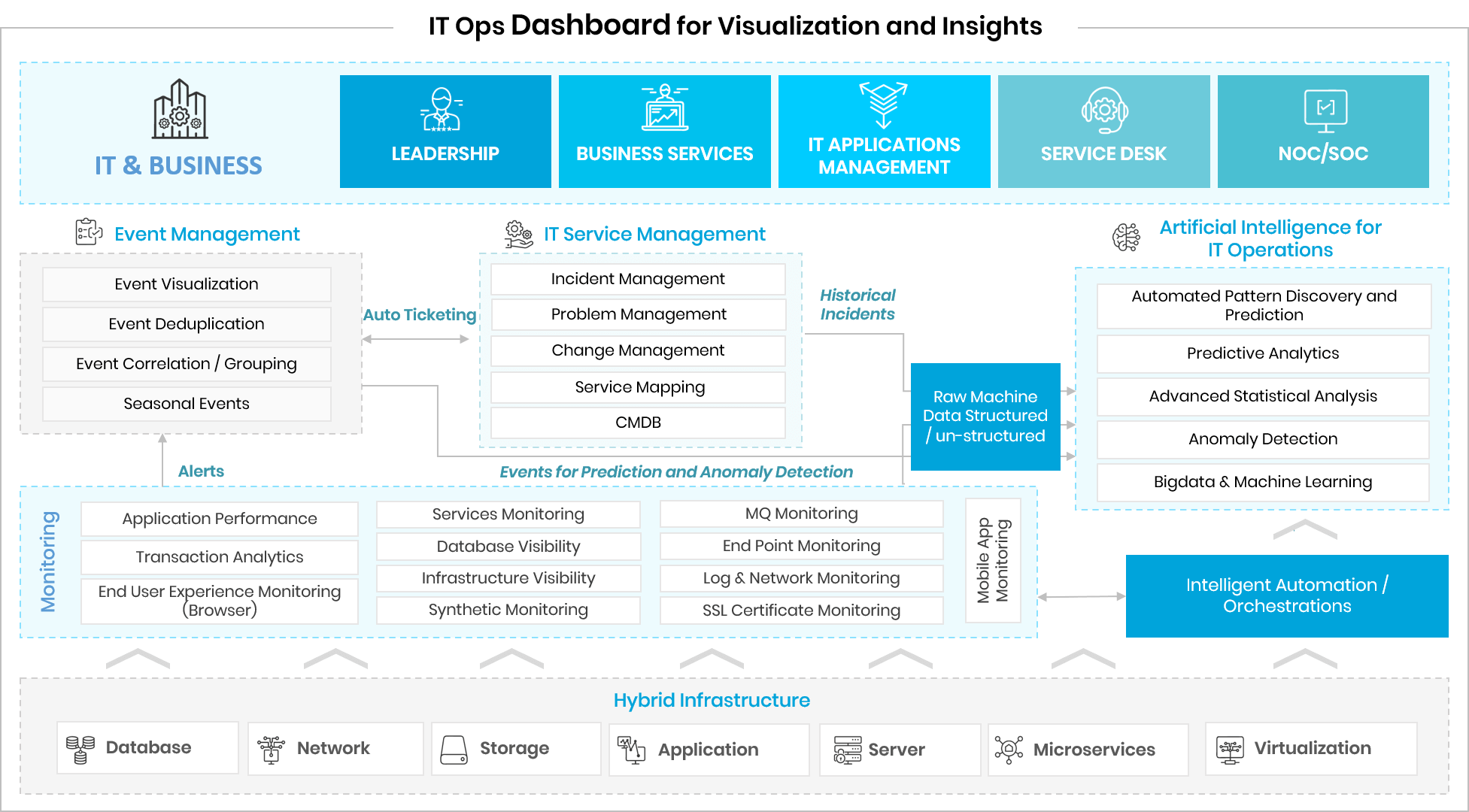 Copyright © 2021 Trianz
There are many individual components of your IT infrastructure that need managing to maintain efficiency and security in the long term. These include:
Internal Hardware Management
Whether your office structure is traditional, hybrid, or remote, devices need to be maintained and monitored to allow your employees to work securely and effectively. By managing these devices with a centralized asset management registry, organizations are enabled to enforce device policy and limit functionality to protect your network's security.
Network Infrastructure Management
Internet and phone services have recently converged thanks to the growing popularity of VoIP telephony. Maintaining internal networks, managing internet service providers (ISPs), and telephony delivery are essential for facilitating communication across your business.
Aspects of network management could include maintaining secure connections between employee computers and virtual desktop infrastructure (VDI) in the cloud. For telecommuters, a corporate virtual private network (VPN) service would need to be maintained to encrypt data in transit and avoid data breaches.
The routing and conversion of both VoIP and plain old telephone service (POTS) connections to your contact center should also be included, with configuration being needed for each new employee.
Job Scheduling
Whether on-premise or in the cloud, you will need a strategy for performing data backups and allocating computing resources.
With customer service, finance, HR, and logistics being digitally processed, it is necessary to integrate and load-balance these individual services to maintain continuous interdepartmental communication across your business. For redundancy, you will also need to manage the scheduling of regular backups to a secure external location, assessing storage requirements, and allocating time to complete these processes.
Internal IT Service Desk
An internal IT service desk would manage the administrative processes relating to your IT infrastructure. The desk would maintain self-service documentation that details how to use your software applications.
Assignment of hardware would be managed, recording who is using the asset and providing assistance with low to mid-level technical queries relating to their use. The desk would also monitor incoming service requests, escalating troublesome queries to development teams and IT engineers so you can proactively manage your various IT infrastructures.
This is crucial as it allows you to analyze operational trends, highlighting inefficiencies in your network that may need transforming to improve operational efficiency.
---
Simplify IT Operations Management with Trianz
---
Trianz is a leading IT operations management consulting firm. With decades of experience in helping clients minimize downtime and maintain SLA adherence, we help CIOs and IT managers identify gaps in their IT operations management workflows and develop roadmaps for consistent long-term improvement. Our strategy focuses on architecture and contributes to realigning IT operations with your overall business strategy.
With our phased approach to IT operations management, we deliver tailored solutions that meet our clients' business needs in a prioritized manner. This includes the implementation and augmentation of existing ITOM capabilities such as asset and configuration management (CMDB), discovery, monitoring, self-service, and automation.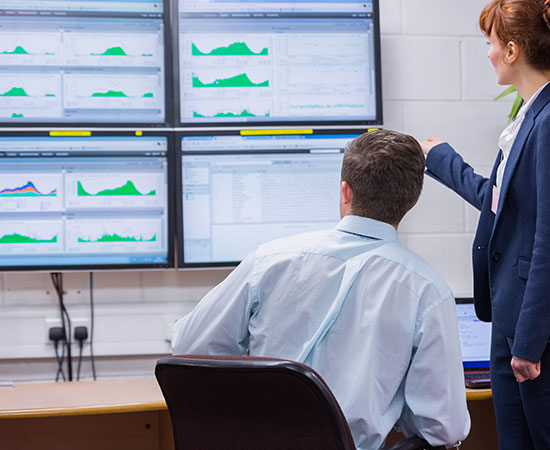 In addition, our clients can leverage 24x7 support for all ITOM-related workloads with a focus on continuous, ITIL-aligned improvement and the automation of low-level workloads. No matter the size or scope of your organization, our IT operations management team is here to provide you with a secure, innovative, and collaborative IT environment.