Simplify IT operations with ITOM
---
Enterprise IT infrastructure carries the vast majority of your business operations, making proper management of it a significant task. Furthermore, this IT infrastructure needs to be tailored to your business and customer needs simultaneously.
As your enterprise evolves, so do its operational requirements, resulting in increasing complexity and dynamism. This is further heightened in hybrid- or multi-cloud environments where the integration of separate hosting platforms becomes much more difficult.
The lack of native integration from leading providers compounds all of these issues. For larger enterprises, global service delivery is made difficult by different geographical locations, latency and bandwidth requirements, and differing laws and regulations across the seven continents.
At Trianz, we help companies of all sizes create frameworks to monitor and proactively remediate operational problems with IT operations management (ITOM).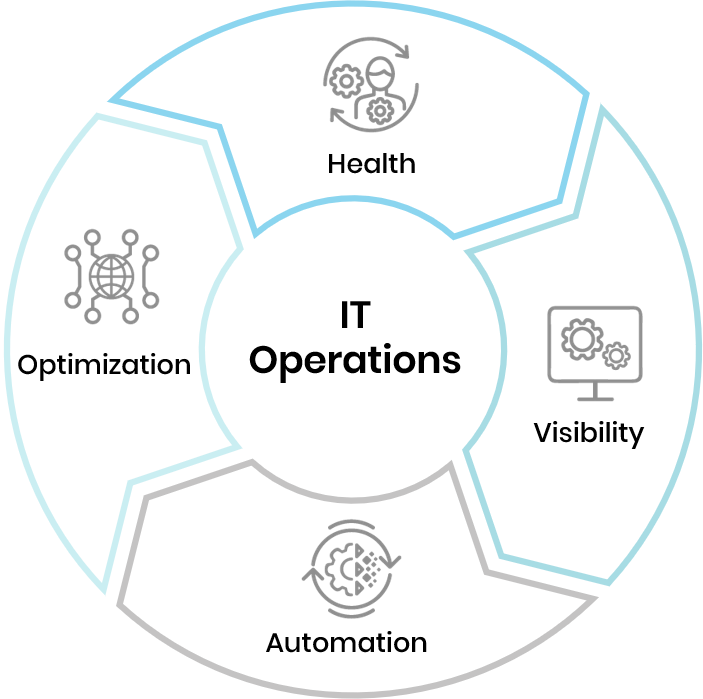 We understand the IT operations best practices of industry leaders
---
Trianz has invested in creating Trasers, one of the world's largest databases on digital transformations globally. With data from over 700 infrastructure and security organizations, we understand what the most successful companies do to secure their workplaces.
Industry leaders invest in nearly 15 different capabilities to ensure a stable infrastructure operation essential for a pandemic-proof remote workplace.
How Industry Leaders Secure their Workplaces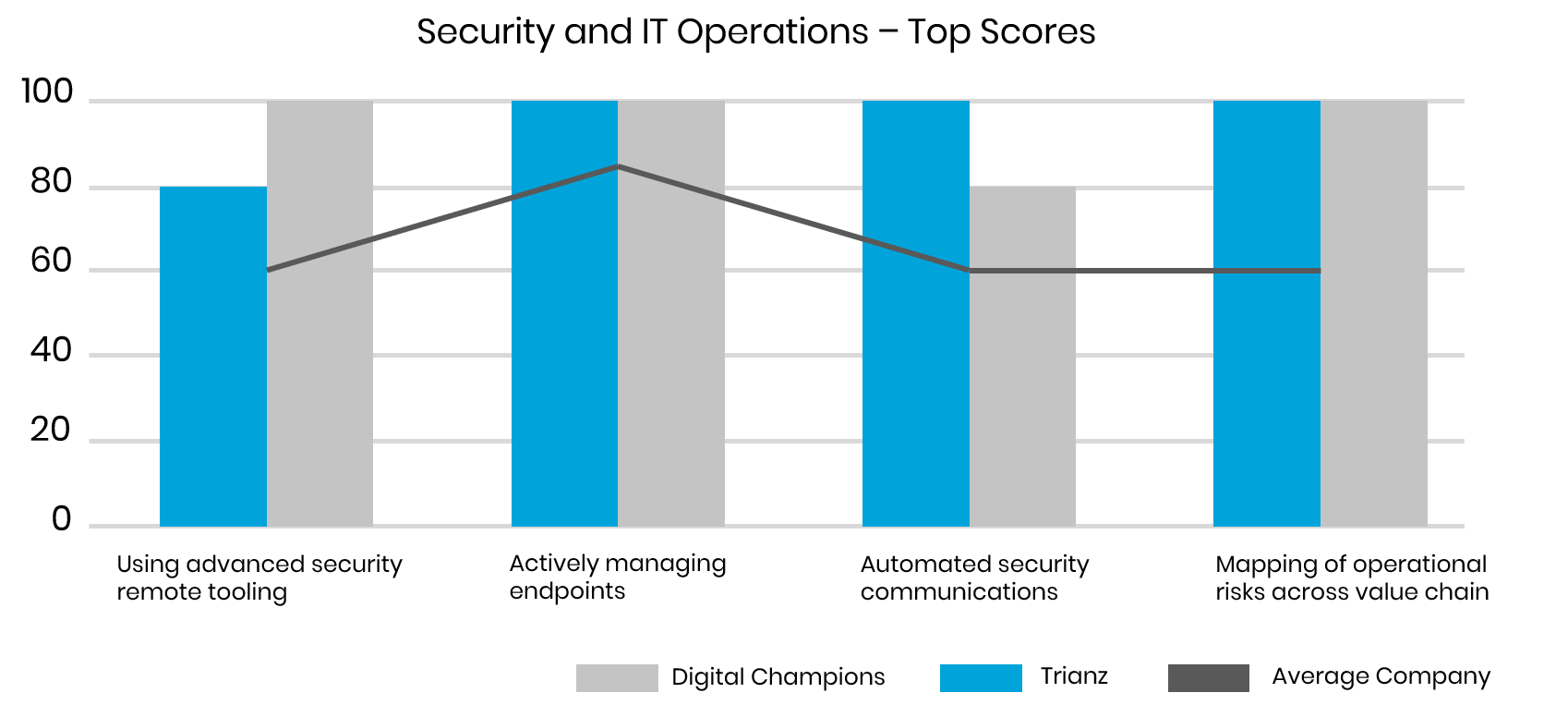 Key findings from Trasers' Global Digital Transformation Survey
IT operations management with Trianz
---
IT operations management (ITOM) is chain of tasks that require continuous, flawless execution, because failures will directly impact business. Trianz provides a wide range of services under the umbrella of ITOM:
Configuration Management
Configuration management is a considerable part of broader IT operations management. Where infrastructure is the backbone, IT assets are the feet that keep your employees moving. Proper management of these endpoint assets is integral to maintaining productivity. Trianz experts focus heavily on managing the Configurations Items (CI) and their dependencies to business applications, thereby enabling visibility to business impact of events, incidents, and changes.
Event Management
Trianz experts enable consistent monitoring and consolidation of events from multiple monitoring tools. We correlate and create actionable alerts to provide meaningful insights for business and operations teams to act upon. We bring a proactive approach to the visibility of issues, which accelerates mean time to repair (MTTR).
Predictive and Automated Remediation
The prevalence of artificial intelligence (AI)- and machine learning (ML)-powered ITOM tools has grown significantly over the past few years. These tools can be instructed to follow remediation processes, offloading low-level workloads from your IT department. Trianz experts recommend limiting the use of AI and ML technologies to low-level tasks, as handing business-critical ITOM tasks to these utilities can pose a business continuity risk.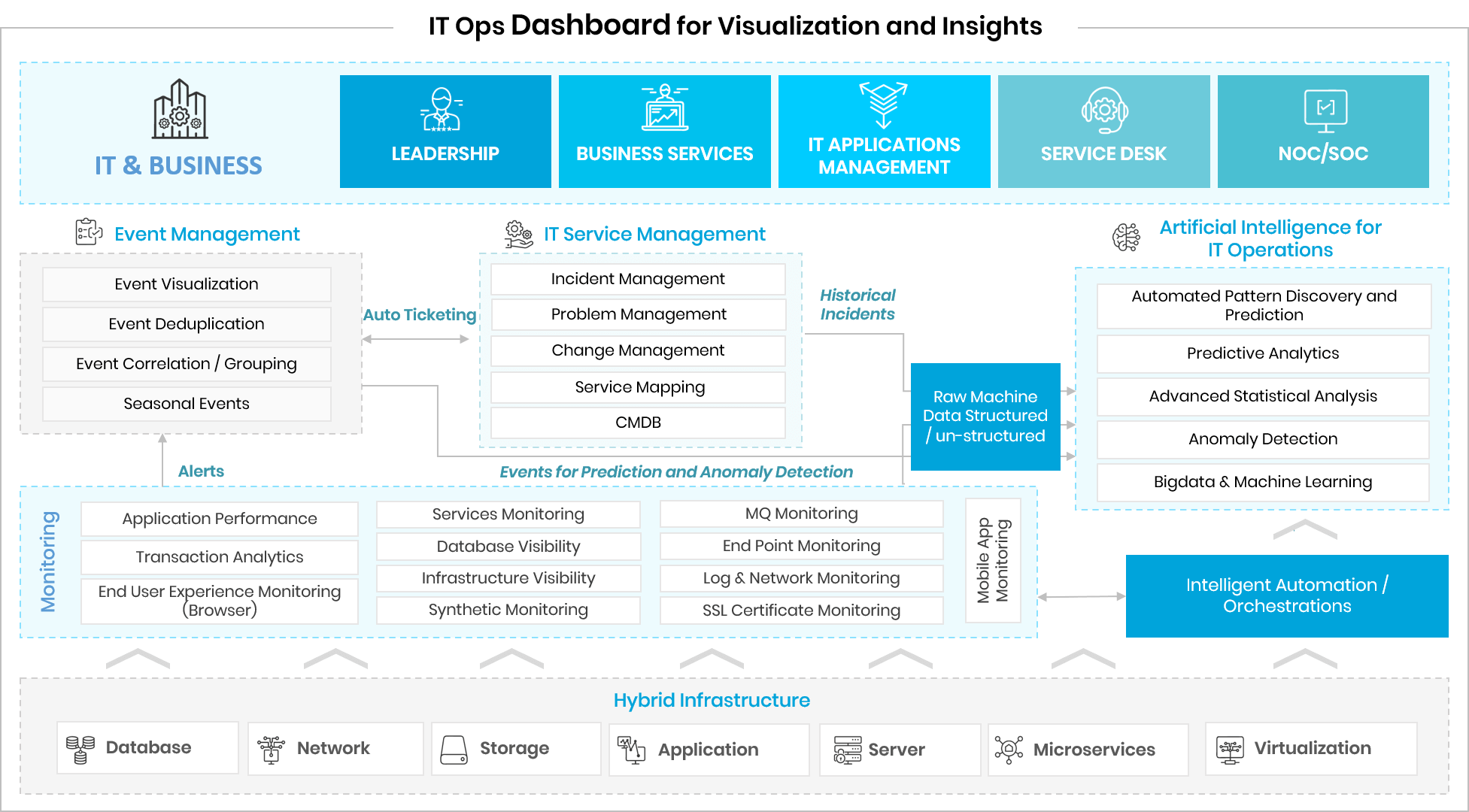 Orchestrating the transformation with Trianz
---

Research
Our analysts and advisors continuously monitor trends and potential developments in the IT infrastructure space. Examples include the evolution of robotic process automation (RPA) and AI techniques. Both these technologies contribute to improving the accuracy of information provided to your CIOs, helping them leverage these insights and improve ITOM efficiency.

Strategy
Trianz helps CIOs and IT managers identify gaps in their IT operations management workflows, as well as develop roadmaps for consistent long-term improvement. This strategy focuses on architecture and contributes to realigning IT operations with overall business strategy.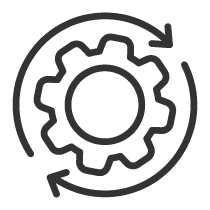 ITOM Technology Implementations
Our phased approach to IT operations management allows us to deliver tailored solutions that meet our clients' business needs in a prioritized manner. This includes the implementation and augmentation of existing ITOM capabilities such as asset and configuration management (CMDB), discovery, monitoring, self-service, and automation.

Operations
Trianz provides 24x7 support for all ITOM-related workloads. This includes a focus on continuous, ITIL-aligned improvement and the automation of low-level workloads.
Our proprietary plugins allow us to seamlessly administer your IT operation, with a focused Service Improvement Plan (SIP) for all of our managed services. With this, the result is an improvement in operational efficiency which manifests as a year-on-year cost reduction of at least 10% for our clients. For more details, read about Managed Infrastructure Services
We bring strong ITOM technology competencies
---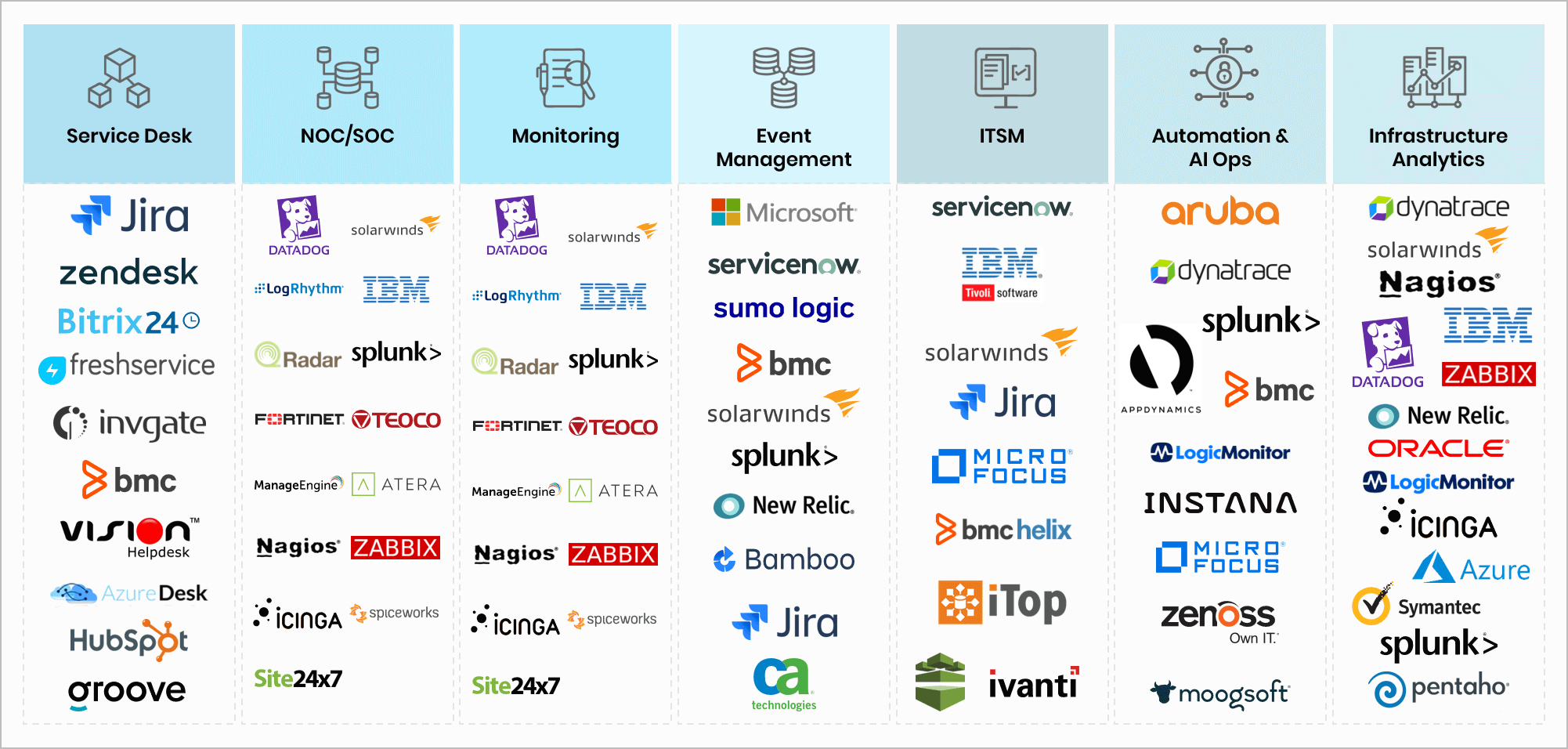 ×