Santa Clara, California, April 19, 2018 - Trianz, a global digital transformation consulting and technology services firm, has been recognized as one of "America's Best Management Consulting Firms 2018" by Forbes Magazine, which partnered with the Germany-headquartered business intelligence and analytics company, Statista, to calculate the rankings.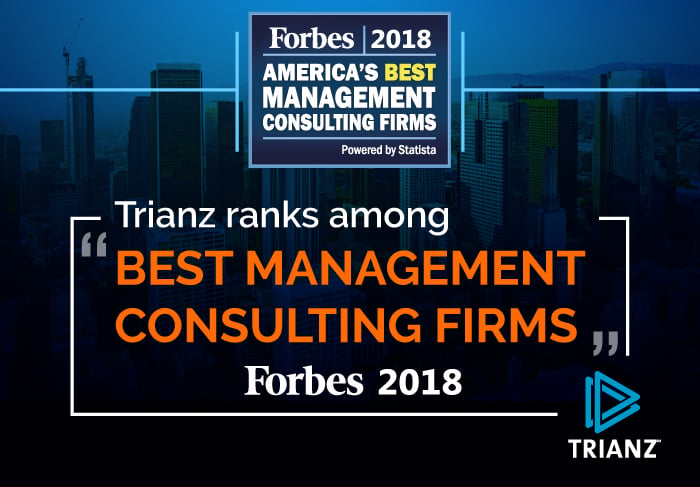 Trianz simplifies digital evolutions through effective strategies and excellence in execution. The firm collaborates with business and technology leaders to transition their organizations into digital enterprises by delivering industry-leading Cloud, Analytics, Digital, Infrastructure, and Security solutions, as well as superior Managed Services to ensure these organizations achieve long-term success.
Trianz has been named in the annual list for its advisory excellence, figuring alongside consulting majors including Accenture, Bain, KPMG, and Deloitte. This year's list was tallied based on two online surveys, comprising a peer survey of consulting experts (partners and project managers from management consultancies) and a client survey covering senior executives, who have previously worked with management consultancies.
Speaking on behalf of the Trianz team, President and CEO Sri Manchala said, "It's a matter of pride for us at Trianz to have been named as one of 'America's Best Management Consulting Firms' in the Forbes/ Statista list this year. The honor, reflective of our clients' and peers' favorable opinion of us, is a validation of our value proposition -- that we are delivering on our commitment to create meaningful business impact."
"It is extremely gratifying to receive such objective feedback, and a source of motivation for us at Trianz to keep driving successful business results and competitive advantage for our clients," he added.