Breakthrough Innovations in Productivity of Automated Processes
---
Gartner estimates that by 2023, 40% of companies will augment customer-facing and back office operations, application, and infrastructure monitoring tools with artificial intelligence for both business and IT operations (AIOps) platform capabilities. As we move forward, technologies like AI, machine learning, robotics process automation (RPA), and edge computing will become the epicenter of operations for digital competitors and propel the pace of digital transformations.
AI technologies have already brought process discovery and continuous process automation into the digital age, guiding data-driven decision-making for digital transformation. AI has the unique ability to extract meaning from data when you can define what the answer looks like but not how to get there. AI can also amplify human capabilities and turn exponentially growing structured and unstructured big data into insight, action, value, and increased profitability.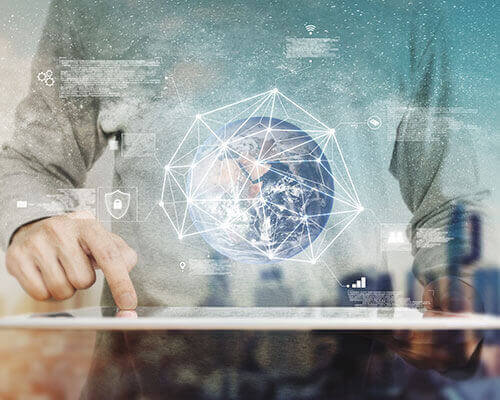 ---
AI's Role in the AI-Driven, Digitally Transformed Enterprise of the Future
This graphic illustrates how advanced machine learning and Big Data inputs can power a model to enable AI to take the centerstage.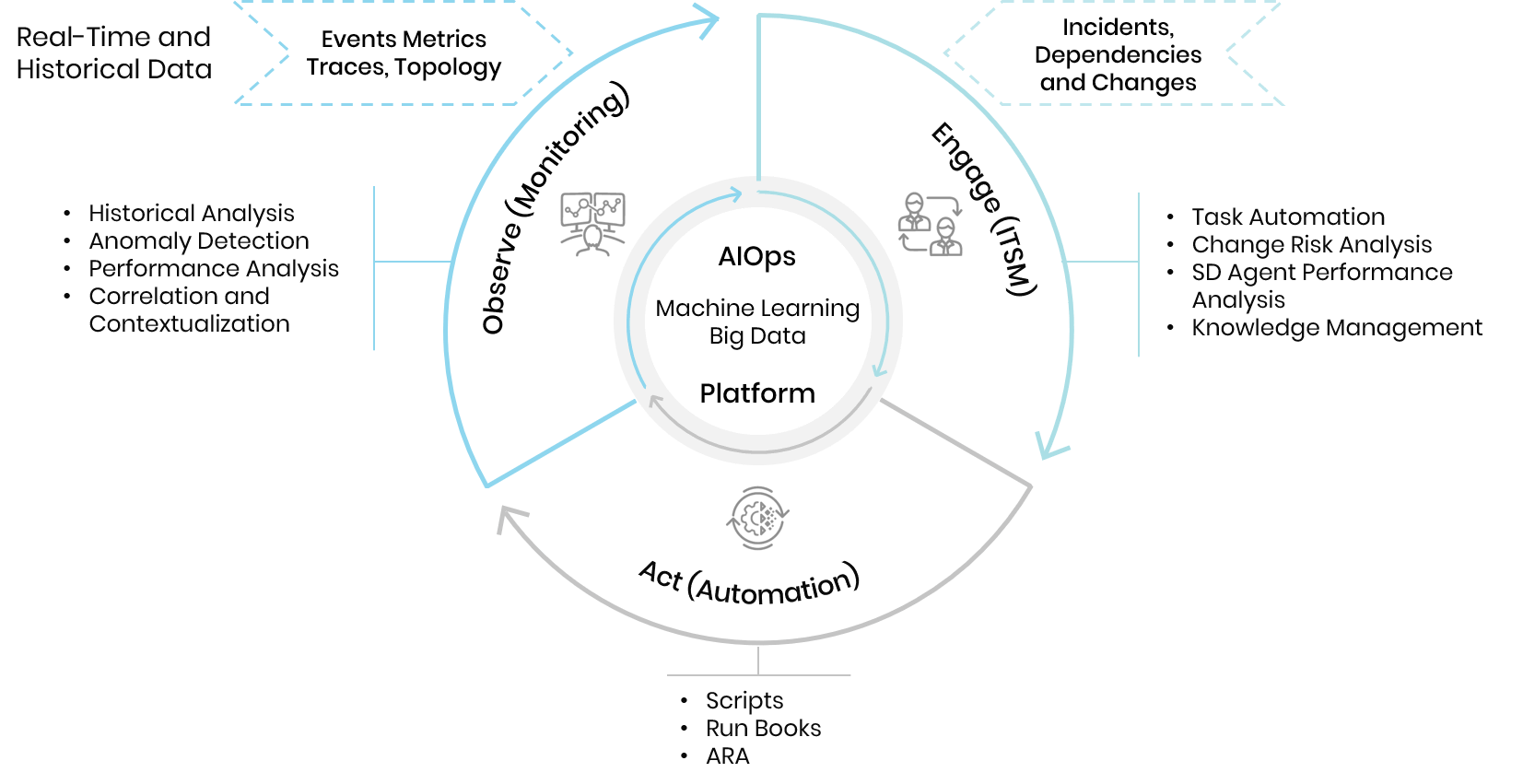 Copyright © 2022 Trianz
As you can see, the central functions of AIOps platforms include:
---
Ingesting data from multiple sources including infrastructure, networks, apps, the cloud, or existing monitoring tools (for cross-domain analysis)

Enabling data analytics using machine learning at two points:

Real-time analysis at the point of ingestion (streaming analytics)

Historical analysis of stored data

Storing and providing access to the data

Suggesting prescriptive responses to analysis

Initiating an action or next step based on the prescription (the result of analysis)
---
The goal of analytics is to discover patterns — clusters or groups naturally occurring in the data that are used to predict possible incidents and emerging behavior. These patterns are used to determine the root causes of current system issues and drive automation to resolve them intelligently.
The Intelligent Automation Platform, powered by AI, RPA, and other technologies, is fast becoming the operating model of the AI-driven enterprise of the future.
Yet, despite the promise and current hype around AI, few companies have embedded AI successfully in their operating processes in a manner that achieves sustainable competitive advantage and insulates them from potential disruptors.
With integrated capabilities across data, analytics, cloud, infrastructure, and digital transformation, Trianz can help you break through the "hype cycle" surrounding AI and deploy actionable, high-ROI solutions. We can also help you create your own unique Intelligent Automation Platform that powers your next-gen, AI-centric operating model.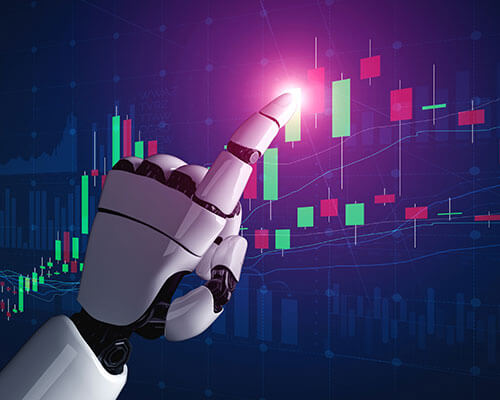 Strategic AI that Optimizes Humans and Machines Working Together
---
Once AI is embedded in operations, it can be applied to strategic issues to drive operational efficiencies and reduce costs. The real ROI from AI investments comes from creating an AI-compatible culture that integrates machines and humans, and enables quantum improvements in key customer metrics across marketing, sales, and service –the revenue-generating functions of the enterprise.
Here are some examples of the capabilities enabled by Trianz AI Solutions:
Optimize the machines + humans productivity equation

Leverage the promise of structured, unstructured, and "dark" big data

Leverage your investments in data lakes, data repositories, and other analytics tools to monetize your data for competitive advantage

Insulate your company from attacks by both traditional competitors and emerging disruptors

Retarget potential customers

Identify exceptional, qualified target prospects

Create a more efficient sales process

Create "hyper-personalized" content across all touchpoints, devices, and marketing, sales and service functions

Provide a personal, hyper-personalized touch supported by virtual assistants/chatbots

Empower store workers in new, innovative, and breakthrough ways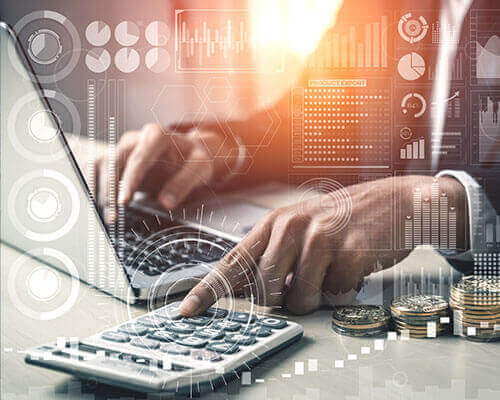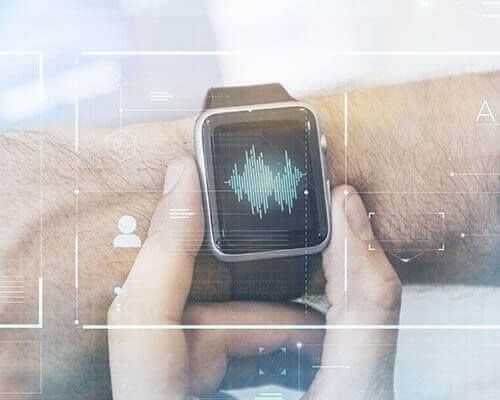 Power virtual assistants/chatbots with unique, proprietary AI that leverages your unique data for competitive advantage

Integrate your marketing, sales and service messages with everyday household IoT appliances – Alexa, Siri, etc.

Improve recommendations for customers

Introduce virtual personal shoppers

Tie the internal organization to intelligent frontline agents and edge technologies performing marketing, sales and service functions

Bridge the gap between hyper-personalization and privacy

Generate sales through wearable technology

Improve conversational dialog with customers, prospects, and employees

Localize the customer experience

Improve the ecommerce, mcommerce, call center, and store experience to enhance brand perceptions and attitudes
The AI Roadmap
---
We follow a rigorous best practices model combining unique Trianz methodologies and IPs that generate positive outcomes and mitigate deployment risk.

Our methodology answers the following questions and more:
---
What growth levers can you pull to deliver the most value?

What is the potential business value in monetary terms?

Will the use case(s) be a differentiator in the marketplace, compared with those of competitors?

Will it make our customers' and employees' lives simpler and better?

Does the use case improve customer satisfaction and promote loyalty?

Does our AI strategy drive competitive advantage and insulate us from attacks from both traditional and emerging/new competitors?
×