Master the Art and Science of Digitalization. Evolve Your Business Applications Portfolio Rapidly.
---
Digital Enterprise Evolution Model™ - Digital Applications Capability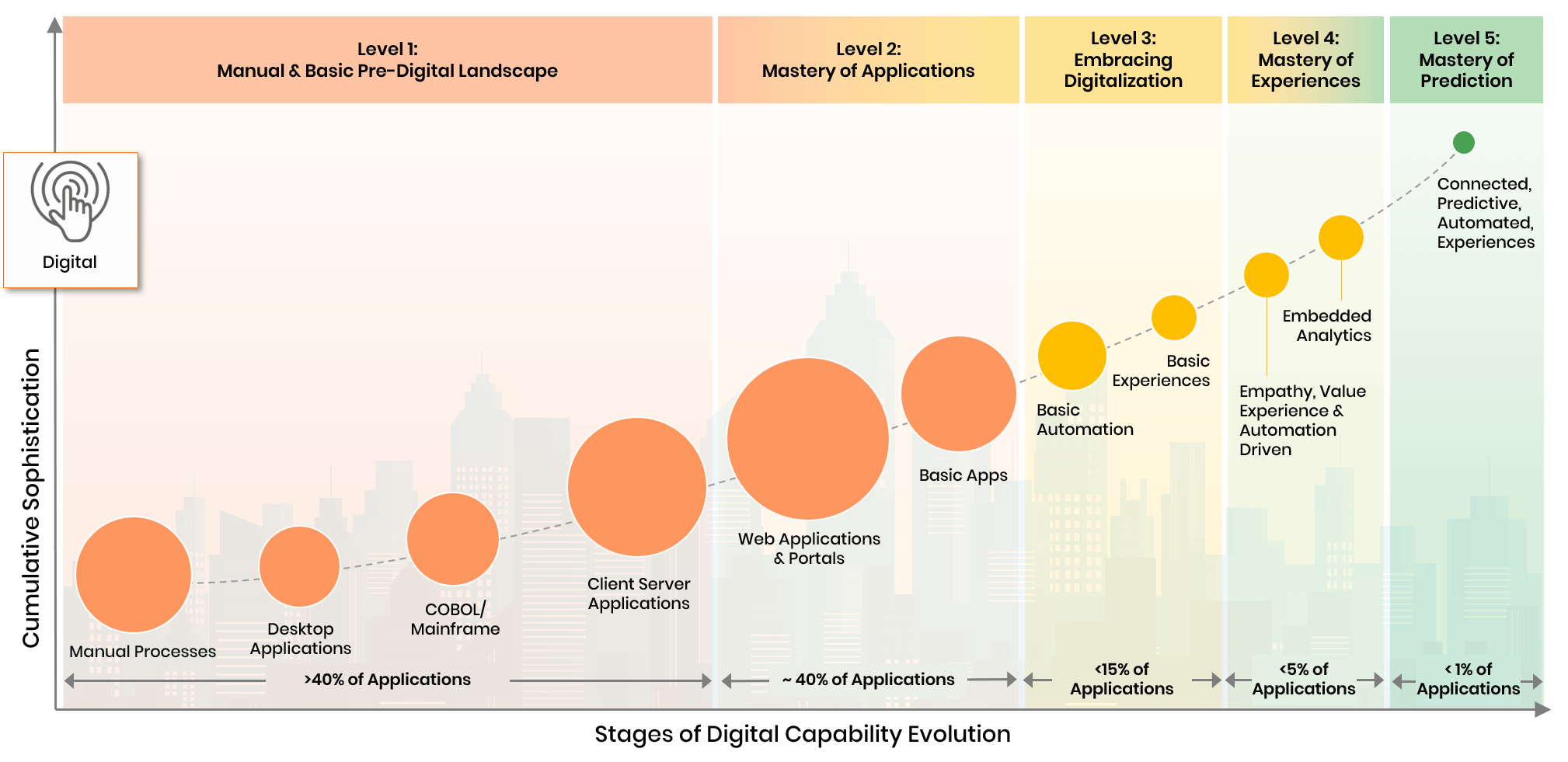 Copyright © 2022 Trianz
On average, a corporate office employee can use up to 20 enterprise-office applications, and an end-consumer will check their mobile phone 64 times a day.
This and the current business mantra 'all companies are tech companies or will become tech companies else will perish' only highlight the need for accelerating development of modern digital applications – for all stakeholders, ranging from customers to employees, to partners and affiliates.
When thinking about the future workforce, old and clunky enterprise applications will quickly become a liability for attracting and retaining top talent. The big gap between the quality of customer-facing digital experience and business applications is getting smaller.
Companies that are quick to close this gap earliest will benefit from all of its advantages.
Digitalization is not an IT issue: Initiatives undertaken in 83% of Digital Champions are either business-owned or co-owned with IT.
---
Building Complex Ecosystems That Are Simple and Beautiful
---
Those driving customer experience are quicker than ever to adopt the latest technology, trying to lead the market by bringing innovative solutions faster to market. It's important, however, not to leave the most important person behind in the process.
With the rise of experience-driven economies, we at Trianz recognize the value of design thinking experts who understand the emotions and feelings of people – the things that make us human. It takes a special team to turn these drivers into motivating digital innovation opportunities.
Our technologists pair their advanced computing capabilities with a keen understanding of stakeholders to build complex digital ecosystems that offer simple and beautiful experiences to a multi-faceted end user.
---
How We Make Truly Innovative Digital IT
---
Trianz specialists bring expertise in a variety of architectural innovations which when coupled with a focus on experience can lead to truly innovative digital IT.
The challenge in modernizing applications is not just about understanding the technologies involved and finding the right skills to execute. It begins with developing a better understanding of value from the stakeholders' standpoint, analyzing and prioritizing the portfolio correctly, and then executing iteratively.
Cloud is revolutionizing how IT is purchased. Its greatest impact comes not just from migrating workloads, but when applications are refactored and re-platformed to take advantage of innovative cloud services.
Automation is a key driver of efficiency, and we consider a variety of tools to drive this benefit within deployments, quality engineering, and process execution. Ultimately enterprise applications are composed of purchased vendor platforms tailored to meet your specific needs.
Our agile, experienced teams are comfortable across this spectrum, which includes the Salesforce platform, Microsoft/Java platforms, and a host of additional partnerships.
Sounds easy and exciting, but unfortunately, it is not. Only 7% of companies that undertake digital transformation initiatives can deliver.
---
Trianz has Built One of the World's Largest Databases on Digital Transformation, and We Understand Best Practices in Customer Experiences, Portfolio Modernization, and Engineering
---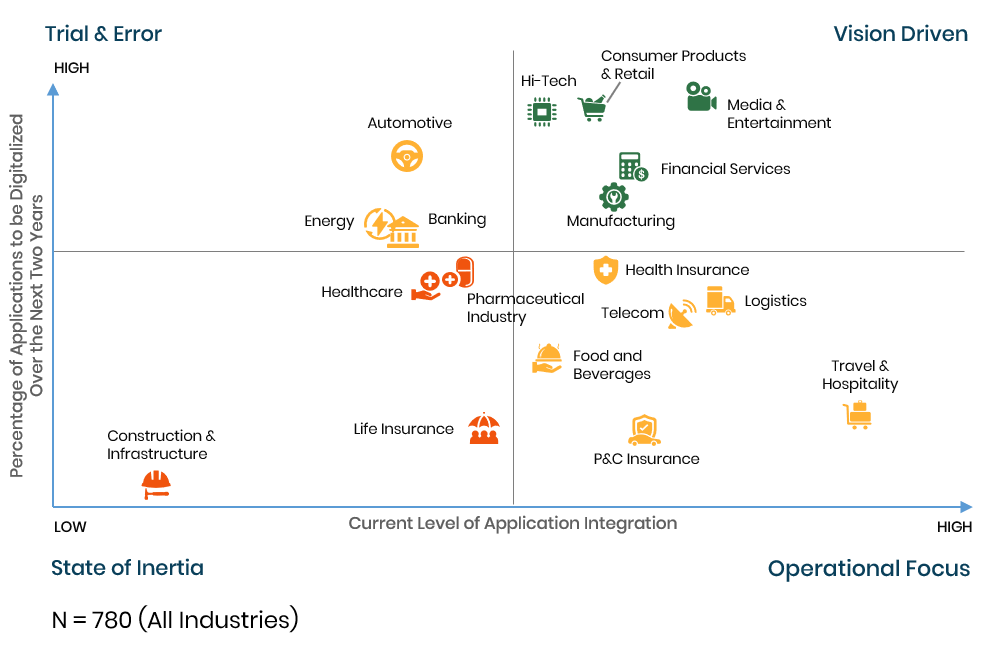 Source: Trasers
The Future of Applications Digitalization: 2019-2021
---
Trianz has invested in creating Trasers, one of the world's largest database on digital transformations, with data from over 5,000 plus companies from 20 industries. We have spoken to business and IT leaders across the enterprise to understand what digitalization means to them, where they think they are, how they are prioritizing, and how they execute.
As such, we understand the state of digitalization, investment priorities, and the best practices followed by the most successful business and IT organizations.
Business models and application integration can only be holistic and robust when the landscape is integrated and have closed feedback loop with end users. By that measure, industries such as media and entertainment, consumer products, high tech, and financial services will lead while others play catch-up.
Digitalization Strategies of Digital Champions
---
Across the globe, only 7% of companies are what we define as 'digital champions,' meaning they are the most successful in their transformations. We understand what these digital champions prioritize and the techniques they us to successfully digitalize. Our digitalization services to clients, therefore, are based on experience and are – most importantly – data-driven.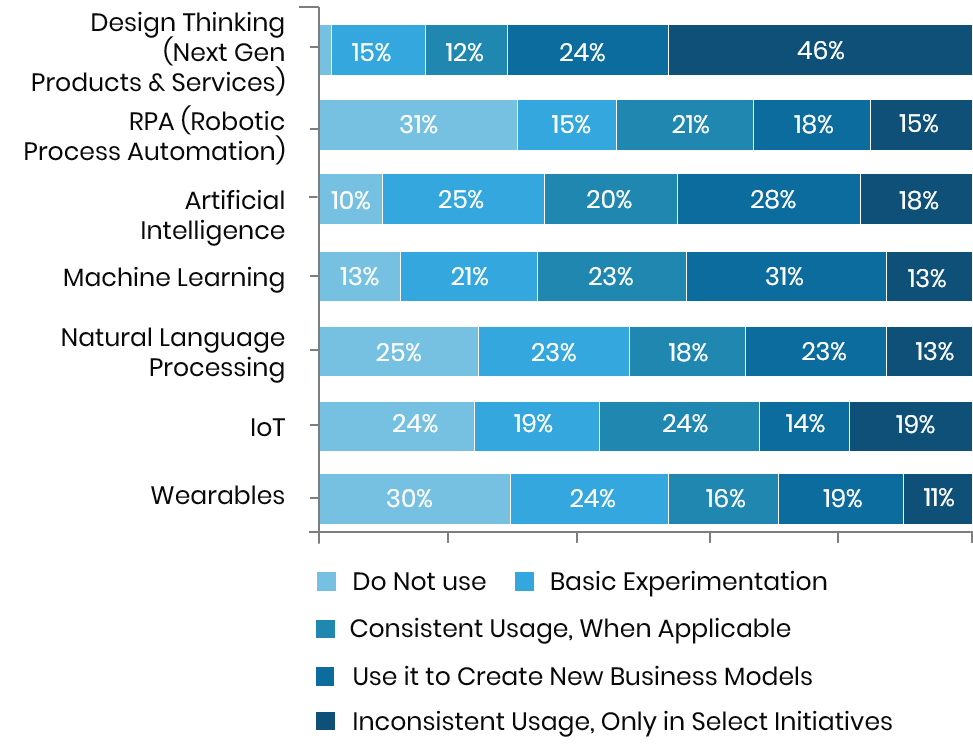 Source: Trasers
×