Evolving to Digital
---
Digital transformation is leading the charge in today's dynamic, hyperaggressive business battlefield. Customer engagement requires an enterprise to have a strong digital presence, eye-catching and streamlined user experiences, and supersonic customer service.
But modernizing for today and preparing for the future doesn't just mean building shiny apps and attractive platforms. Rather, it demands a data-driven holistic view of your company, and a nuanced understanding of your stakeholders and all technical components of your organization – informed by input from all business functions, not just IT.
The key to achieving and sustaining your transformation is approaching your journey with a comprehensive, well-articulated, and data-based digital transformation strategy.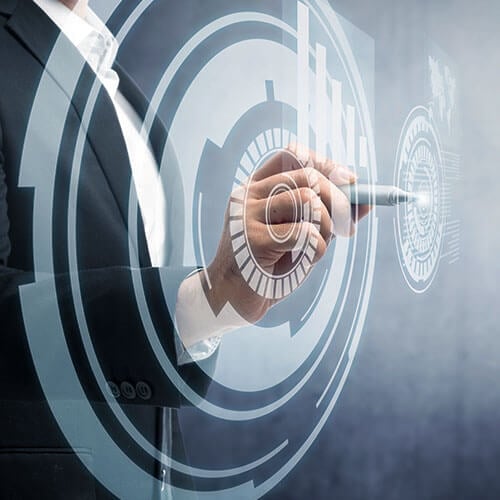 Digital Strategy: What It Is and Why You Need It
---
As digital technology grows more omnipresent and organizations seek to evolve by necessity, digital and business strategies have merged. This makes your enterprise's approach to technology investment critical, as it identifies the direction you'll commit to for continuing market relevance and new competitive advantages.
That's why a thorough digital transformation strategy is made up of many parts, all moving in sync with one another to ensure that business goals and digital goals are always aligned. It requires a comprehensive analytics capabilities and incorporation of end-to-end processes, enterprise-wide change management, and a full arsenal of digital technology.
State of Digital Transformation
Worldwide 2020

Read our report offering data-driven insights – drawn from 9,000+ responses and 5,000+ companies - on the state of transformations by industry, geography, business and technology function.
Get a copy of the report >
The Main Driver of Change
---
Contrary to popular belief, the key driving force behind the tide of digital transformation is not technology, but the customer. Today's customers have a much more nuanced approach to consuming products and services, and they expect streamlined, sophisticated, and personalized interactions with businesses.
Consumer demand and expectations are motivating much of the change. As the diagram below illustrates, to successfully reinvent the value chain, your enterprise needs to orient its digital transformation strategy towards the customer. This is where the data is critical, in designing user-centric approaches to experiences and designs.
But that's only the beginning. The minute that high-quality, real time data becomes broadly available, all of your business functions will find a single source of truth through their commitment to customer centricity. Much more than responding just to immediate conditions and trends, these activities will position you for sustainable transformation and success – i.e., the long game.
Defining Digital Transformations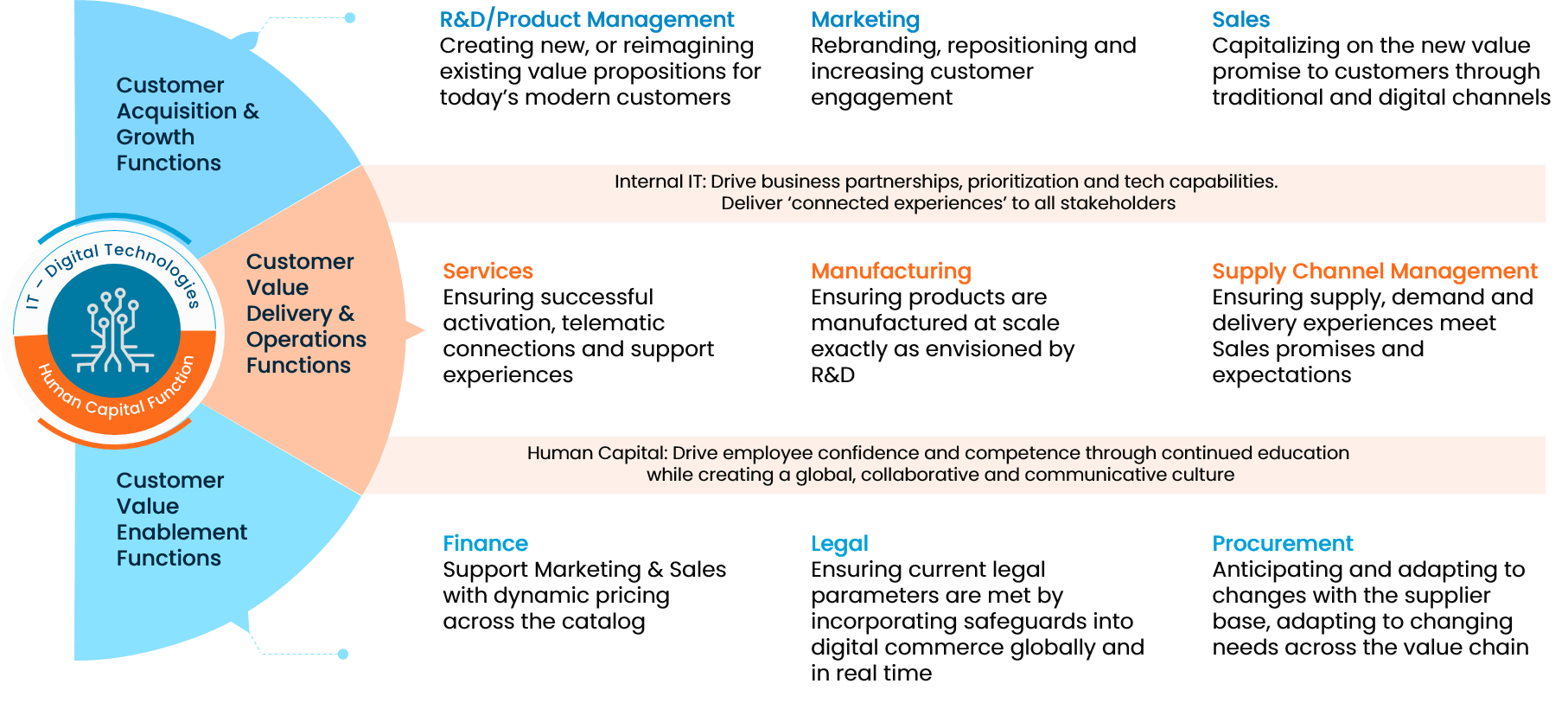 Copyright © 2022 Trianz
Why the Right Partner Is Key
---
A strategic transformation is imperative to an enterprise's survival. Though many organizations recognize this, they are often left wondering where to start. Or worse, they misunderstand the holistic nature of digital transformation and invest unwisely in a completely IT-driven effort that lacks input, support, and alignment from the business side.
To protect your enterprise from this common pitfall, it is essential to choose the right strategic partner for your organization to develop a data-driven strategy that will put you on the path to success. This is where Trianz can help.
How Our Approach Can Transform Your Organization
---
Trianz is a digital transformation consulting firm with considerable experience in formulating strategies and creating roadmaps tailored to the unique needs of individual clients. Our research-grounded approach helps us understand how businesses are evolving based on the digital IQ of leadership, the relevance of portfolios, the digitalization of models and processes, use of cloud, and evolving enterprise cultures.
We make recommendations based on data points from more than 5000 companies across 20 industries. Using a data-driven approach, we help companies understand where they are on the digital transformation spectrum, per our Digital Enterprise Evolution Model.
Digital Enterprise Evolution Model™
Copyright © 2021 Trianz
Trianz' approach to digital transformation strategy starts with benchmarking your company's digital maturity and covers the entire life cycle of digital evolution for a business or technology function. We leverage the power of our research practice for data- and analytics-driven prioritization, digital strategy and roadmap development, technology selection, and process digitalization.
Our data demonstrates that nearly 30% of companies will not survive the decade due to a lack of alignment with how customers define value in the digital age. The COVID pandemic and a sustained recession has sped up changes in customer behavior, while technology continues to accelerate disruption.
The research shows that only 7% of companies worldwide are transforming successfully and getting the intended return on their investment. We call them the "digital champions." Our goal in every engagement is to clearly understand where your business stands now and define a process that results in you becoming a digital champion.

Our research shows that only 7% of companies worldwide are successful in their Digital Transformations and getting the expected return on their investment.

From Where You Are to Where You Could Be
---
A digital transformation strategy presents your company with the unique opportunity to examine your current state and channel your energies towards achieving your ideal end state. Not only does it provide a platform to help automate business processes, but it will also enhance operational functions.
Furthermore, crafting this strategy will drive your business to reevaluate and optimize its goals, identify untapped ideas and potential, reach target audiences more effectively, improve shareholder value, and establish a well-aligned, consistent brand message.
×