What is Salesforce Commerce Cloud?
Salesforce Commerce Cloud is the world's most trusted e-commerce platform. It includes out-of-the-box features, drag-and-drop tools, and ecommerce portals to unify operations across B2B and B2C channels.
With Commerce Cloud, you can easily create and deliver premium, content-rich experiences that are empowered by Einstein Intelligence insights to increase average order value and shopper engagement. According to Forrester, Commerce Cloud users on average experience a 35% increase in annual revenue growth, 5% increase in average order volume, and a 28% increase in conversion rate.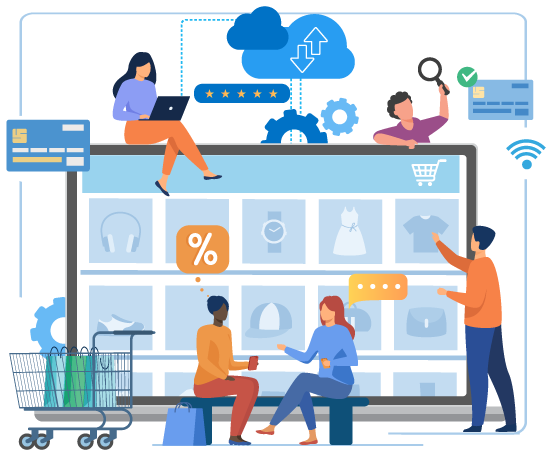 ---
Salesforce Commerce Cloud Benefits
---
Salesforce Commerce Cloud is an ideal solution for any business with an e-commerce presence . It offers numerous benefits, including:
Single source of truth (SSOT) for customer data ensures customers are contactable, without duplicate or incorrect contact details.

As a SaaS offering, Salesforce Commerce Cloud will automatically scale resources to accommodate business growth. Customers can add new products, users, and expand the size of their customer and product databases automatically.

Experience guaranteed service level agreements (SLA) of 99.9% uptime.

Connect e-commerce shopping experiences across marketing, sales, and service channels.

Design and deploy e-commerce sites with huge product object catalogs and price books.

Increase conversions using AI-prescribed actions in your e-commerce store.

Deliver unified commerce to users, meaning all business functions, channels, and client data are housed in a single platform. Consumers can move across channels while remaining visible in one platform.

Integrate with communication tools like Slack to improve employee awareness of e-commerce trends.

Reduce the prevalence of abandoned carts by sending reminder emails to users.

Seamless over-the-phone experiences with rapid real-time access to customer data and storefront catalogs.

Monitor inventory management trends and set automations to replenish stock.

Design e-commerce storefronts that use web development best practices, ensuring responsive and simple user experiences (UX)..
---
Salesforce Commerce Cloud Key Features
---
Business to Consumer (B2C) Commerce
Deliver better e-commerce experiences to consumer audiences. Features include:
E-commerce store localization according to demographic and geographic

Consistency across physical in-store experiences and e-commerce web store experiences

Deliver digital product catalogs in physical storefronts using a digital portal

Leverage the native Store Front Reference Architecture (SFRA) as defined by Salesforce for optimal mobile-first performance

Integrate third-party applications and develop custom functionality and features using the Salesforce API. Add social media extensions from the AppExchange.
Business to Business (B2B) Commerce
Businesses that provide products and services to fellow businesses should use the B2B Commerce Cloud to benefit from the following:
Enterprise-grade authentication and access controls.

Support for larger-than-average transactions like B2B bulk inventory orders.

B2B clients can setup repeat purchases in two clicks.

Fully customizable storefronts with branding, product catalogs, and price books.

Create perpetual sales contracts for ongoing fulfilment, per business segment.

Assign deliveries to multiple dates and locations simultaneously for broader geographic fulfilment.

Leverage industry-standard payment methods like ACH, credit or debit card, digital payment wallets, purchase order invoicing, standing orders, and more.
Order Management
Commerce Cloud allows customers to view and manage their orders on-demand at any time in the day. Businesses can track orders against inventory availability to stay on top of fulfilment, restocking, and delivery SLAs. Features include:
Self-service order management portals for shoppers

Service agents can view existing orders and identify opportunities for cross-selling and up-selling.

Create workflows and processes that tap into logistics partner services on the AppExchange.

Consumers can make purchases, track deliveries, submit return merchandise authorization (RMA) requests, and manage saved payment methods.

Generate reports from order data to understand stock levels versus market demand, purchase rates in each product category, and estimated delivery timescales versus real timescales. Use this to improve the customer experience (CX).
AI Support with Einstein
The most forward-thinking e-commerce enterprises leverage AI to deliver intelligent and proactive commerce experiences. Trianz can help you build AI capabilities such as:
Personalize products, services, and marketing materials to improve customer engagement using data-driven methods.

Prescribe product recommendations to users based on usage behaviors and past actions.

Predict what users want to do on the page, such as sorting products by price.

Establish a global search function to easily find products, with dictionaries that define standards, functions, industries, use cases and other product descriptors.

Analyze existing shopping baskets and abandoned carts to understand what products are tempting, but not converting customers. Use analytics to strategize by creating reports and dashboards.

Manage e-commerce promotions on your web store, via email, and across social media to drive engagement and convert colder leads.
---
Start Your Commerce Cloud Journey
---
At Trianz, we combine our technological and business expertise with the unique capabilities of Commerce Cloud to accelerate your CRM and digital transformation initiatives. Whether you are looking to create unique shopping experiences or drive customer engagement and purchases through new channels, we have the expertise to get you up and running in no time.

×