Creating a Centralized CRM Experience
---
At Trianz, we've spent over a decade developing connectors, frameworks, templates, and integration patterns to ensure the acceleration and success of digital initiatives. From creating complex, future-proof architecture to simplifying API design and integration, Trianz can implement a centralized Salesforce solution to help your employees work with all the data they need, when they need it.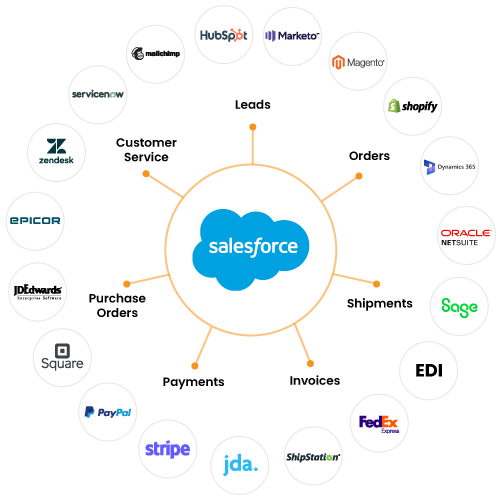 ---
Our Salesforce Integration Services

Salesforce Product Integrations
Need help integrating Sales, Marketing, Service Cloud, or other Cloud products? Trianz can help you implement and connect your Salesforce ecosystem to operate seamlessly across departments.

Multiple System Integrations
Do you have an existing CRM? Trianz can take all of your customer data and business tools and integrate them into your new Salesforce platform.

Custom Integrations
Are you looking for help developing custom third-party integrations? Trianz can integrate custom solutions for all your productivity apps, collaboration platforms, enterprise analytics, social media, managerial tools, and more.

Data Integration
Do you need to ensure the information you're sending is cleaned and de-duplicated? Trianz can fill your data integration gaps to create a streamlined customer experience across tools and applications.
---
Salesforce Integrations by Department
---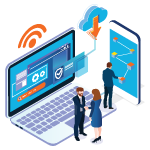 HR Integrations
Trianz can help you integrate leading HR applications to connect your employees and HR department with quick and convenient access to the information that's important to them, including time off balances, payroll details, training alerts, and more.
IT Integrations
Trianz will integrate IT Service Management (ITSM) tools to provide your employees with a seamless experience for creating service requests and taking action on notifications and approvals via centralization in Salesforce.
ERP Integrations
While customers can take advantage of Salesforce's native integrations with SAP and Oracle, Trianz can extend Salesforce to support other popular ERP solutions such as Microsoft Dynamics, Epicor, Sage, and more. In addition, Trianz can automate the integration of thousands of reports, reducing integration times from weeks to days.
---
Our Approach to Salesforce Integration
Our Salesforce professionals will ensure an efficient and well-managed integration process with clear communication and transparency at every stage. While we work with clients to tailor a solution to their business needs, we typically prefer Hub and Spoke or ESB over Point to Point.
Point to Point
This architecture does not require an intermediary communication layer. Instead, each point in the architecture has a direct connection to every other point. Point to point can be used to create custom integrations.
However, developing and implementing this architecture is time-consuming due to so many touchpoints. If one integration breaks, it could break the entire system. This means the integration may not scale properly as your Salesforce org grows.
Hub and Spoke
Hub and spoke improves greatly on point to point integration. One central hub acts as an orchestration engine, with each integration being a "spoke" in the wheel. Like point to point, you still need to develop a connection to the central hub.
Luckily, the hub communicates with all the other spokes, simplifying development and operations. This leads to one dependency (the hub) versus multiple overlapping dependencies (the spokes).
Enterprise Service Bus
The Salesforce ESB builds even more on hub and spoke, acting as a native integration engine. Integrations are plugged-in and unplugged from the bus, where the ESB can manage the following business logic:
Data Routing – Governing the routing of data from integrations to Salesforce, and vice versa.

Orchestration – Automatically controlling configurations, actions and events, workflows, data sources, and security for integrated applications. Salesforce transactions must occur in series, and orchestration ensures the series is followed by all integrated apps.

Transformation – This is the transformation of syntax and languages between integrated applications. Transformation ensures that all apps can communicate with each other, even if they use completely different technologies.

Security Authentication – We perform authentication and authorization at the ESB level. This applies the same rules and controls to all integrations, alongside Salesforce and associated user accounts.
---
What to Expect from Our Engagement
---

Planning Stage
Trianz engineers will sit down with key stakeholders to devise an implementation plan that ensures a smooth, pain-free integration experience. This includes outlining the timeline, project scope, data owners, estimated costs, and ongoing maintenance requirements.

Integration Assessment
Here we determine whether the integration can take place in real-time, batches, or in a lambda architecture. This stage also includes an API limit review to define current utilization and how much headroom is available for future scaling.

Testing Stage
After the integration goes live, testing begins, and there will be ongoing tasks such as bug fixes, feature updates, or the continual massaging of new data in a separate application. In either case, a Trianz integration specialist will help you understand the impact of these tasks.

×