What is Salesforce Service Cloud?
Salesforce Service Cloud is an all-in-one solution for customer service and support. Using high levels of service automation, the module allows for faster and more efficient customer care. This can lead to a 45% increase to customer retention rates, 47% greater productivity for service agents, and 31% faster service ticket resolution.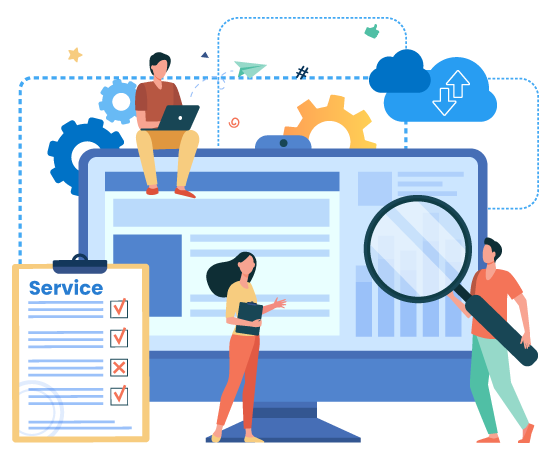 ---
Salesforce Service Cloud Benefits
---
Salesforce brings multiple service channels together and centralizes customer data to improve service accessibility.
Give customers access to support via their desired channel: web, app, phone, email, live chat, etc.

Manage all customer communications in one centralized dashboard, rather than logging in and sending messages from each social media, phone, and email account.

Provide access to self-service documentation and knowledge bases so customers can help themselves.

Automate service processes for faster resolution times, greater customer satisfaction, and improved service agent productivity.

Define compensatory actions to care for upset customers and resolve their concerns.

Gain end-to-end process visibility to ensure that agents have all the data and information needed for each case, at all times.

Generate reports and analytics dashboards to monitor service performance over time.
---
Salesforce Service Cloud Key Features
---
Salesforce Service Cloud offers a broad range of functionality to serve every customer service need.
Omni-Channel Customer Support
Communicate with customers across every channel: website, email, telephone, mobile application, live chat, social media, forums, and video conferencing. Bring all these communication channels together within a single dashboard for streamlined case management.
Case Lifecycle Management
Manage the entire case lifecycle: creation, prioritization, assignment, escalation, change management, and closings. Define parameters that automatically move customers through each stage of the lifecycle, and automate the assignment of tickets and tasks to agents.
This improves service agent engagement with customers and expedites ticket resolutions.
Service Console
This is a personalized dashboard for each service agent. It provides an end-to-end overview of cases with notes and supporting resources. Agents can also access integrated self-help documents that are prescribed according to context by AI.
Service agents benefit from one platform, with one dashboard for all of their work.
Self-Service Knowledge Base
Access documentation on policies, processes, workflows, guidelines, application support, and more. Self-service access to answers to common low-level questions that reduce IT service desk workloads and empower agents to self-teach.
Process and Workflow Automation
Automate workflows, approvals, macros, and email message sends. Common customer support flows, such as a dissatisfied customer will trigger an automation rule to offer incentives and compensation. Send quick communications using email templates. Bulk process cases using macros and scripts.
This reduces the number of low-level administrative tasks assigned to service agents, allowing them to focus on work that generates value.
Einstein Service Analytics
Monitor agent and department-wide performance longitudinally using AI. Keep track of service KPIs like the CSAT, Net Promoter Score (NPS), First Response Times (FRT), Customer Retention Rates (CRR), and more. Use AI prescribed actions and recommendations to improve KPI performance per employee.
Field Service Management
Manage agents as they work out of the office in the field. Assign appointments and notify customers with reminders. Plot travel routes in the context of the workday for efficient travel. Track parts and materials consumed while out in the field for expense monitoring.
Salesforce App Builder
Enterprises can build their own Salesforce apps if certain functionality is not available. Trianz can assist with DevOps and software development to deliver custom functionality via apps in Salesforce. These apps are deployed on the AppExchange marketplace, with opportunities for monetization and secondary value streams.
---
Salesforce Service Cloud Pricing
---
There are four editions of Salesforce Service Cloud to choose from. A free trial of all packages and a full comparison of features is available on the Salesforce website.
Essentials
A maximum of 10 users have access to omnichannel, case management, service console, and knowledge base.
$25 per user/per month
Professional
Everything from Essentials plus unlimited user cap, enhanced customization, extensibility with AppExchange, defined SLAs and field service support.
$75 per user/per month
Enterprise
Everything from Professional plus advanced case management, reporting and visualizations, process and workflow automation, external integration support, and web API access.
$150 per user/per month
Unlimited
Full-service cloud access with 24/7 support and configuration services.
$300 per user/per month
---
How Trianz Can Help
---
Trianz can help you choose and implement the ideal Service Cloud edition for your enterprise. We determine business requirements using an assessment phase to understand what your sales team needs, and which Salesforce features are aligned with those needs.
Our team can also replicate feature parity when migrating away from legacy CRM and service systems, ensuring you retain all capabilities in your new Salesforce environment.

×