From Technology-First to User-First Business Intelligence
In the face of today's rapid digital transformation—fueled largely by a culture and economy that depends on omnichannel commerce and increasing reliance on online tools—businesses are looking for better ways to extract the most value from the onslaught of data flooding in from these sources. And there are many reasons to leverage this data strategically. A recent study by McKinsey & Company showed that businesses with high-performing data and analytics initiatives outperform their peers with insights on customer satisfaction, operational efficiency, product performance, and more.
But, to gain this competitive advantage, it's important to understand the best practices of a modern approach to business intelligence (BI) that puts users first, gives them timely and contextual access to data, and makes it easy for them to use and integrate insights into their daily workflows.
---
Obstacles to BI Adoption of Traditional Solutions
---
Traditional BI platforms were built with a technology-first mindset, with user experience as an afterthought. Since these platforms were not designed with usability in mind, it's not surprising that only about 29% of companies report achieving transformational outcomes. And, even when they do use them, the tools are not an integral part of their daily work. A major roadblock is that these legacy BI tools require technical IT staff with specialized technical skills. This not only significantly reduces the accessibility of databases to business users, it also creates a slow, manual, bottlenecked process to connect users with the information and insights needed to make critical business decisions. In our fast-paced business environment, this approach causes delays and hinders growth and agility.
In addition to low adoption rates among the general user population, these traditional tools are not designed for modern experiences or the demands of modern infrastructure. They struggle to scale with increased data volumes or data types, leaving users facing performance issues or inconsistencies in data definitions for answers to simple questions. It's clear that most organizations would benefit from a more modern approach to BI.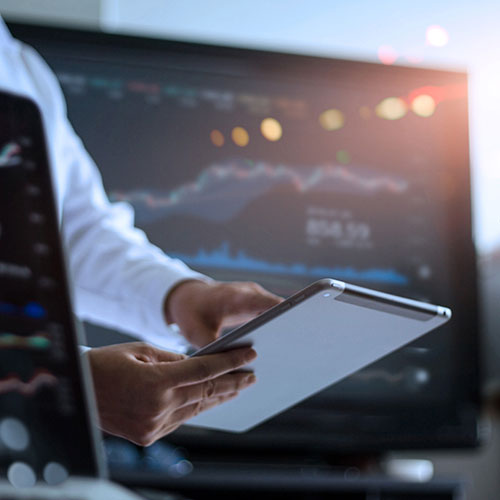 ---
What "Data-Driven" Really Means
---
Data is one of your organization's most important assets. Modernizing your organization's BI solution is more than deciding to be "data-driven." It requires an understanding of what that really means and how to put it into practice. Becoming data-driven means leveraging data proactively, using insights derived from your data to drive action or inform critical decision-making. This enables you to position your data as a competitive differentiator and a value generator.
Another critical distinction as you modernize is the understanding that to become truly data-driven, everyone in the organization needs access to data and insights. In traditional BI solutions, data analysis and visualization capabilities are very siloed. Specialists and analysts are required to translate complex queries into usable insights for business users. To unlock the greatest value from your data and the most potential from a modern BI solution, everyone in your organization should have near real-time access to data and insights in order to get their jobs done. This move towards data democratization enables delivery of the right insight to the right person at the right time in the right context.
Also Read: Application Modernization Strategies
---
How a Midwest Sports Team Stepped Up Its BI Game
---
As we take a look at the rationale for BI modernization, let's follow the trajectory of a sports team that was facing challenges with its legacy BI solution. One big issue was the high cost of data reporting with their existing system. This cost was largely due to software fees, maintenance and support, and the operational costs of having to dedicate in-house data experts to surfacing insights. Equally important was the high barrier of entry for its business users to access data insights beyond canned reports, which limited their ability to make strategic business decisions.
Team management decided it was time to migrate to a modern BI platform.
They were concerned with not having full visibility to all their information. Data silos made it difficult to share information from one department to another and incurred unnecessary resource and material costs. The organization understood that modern BI tools put the primary focus on users and the problems they need to solve. By putting business users' needs first, the team management knew this would provide their workforce with timely and contextual access to data within the applications and workflows they already use—and at a much lower cost.
Management was well aware that their data was one of their most important assets and that modernizing their BI solution was about more than simply deciding to be "data-driven." They understood that adopting a modern BI technology stack would enable their organization to evolve into a truly data-driven organization by:
Extracting data-derived insights to drive efficiencies and improve the user experience
By modernizing their BI platform, the organization knew they could gain the insights they needed to launch new initiatives. One use case involved helping the management team get a better handle on operational reporting for ticket sales. Another had to do with leveraging data insights to improve the fan experience by understanding buying patterns, including factors like geographic location, time of purchase, and others.
Breaking down data silos
BI modernization would centralize data from multiple sources and create a single source of truth so that the organization would have a more accurate, holistic picture of its business. This also would simplify data management, speed up access to valuable insights, provide more precise and reliable reporting, and support opportunities for growth.
Building a data culture through self-service
BI modernization would give all internal users convenient, fast, and easy access to data, enabling them to perform ad hoc queries to answer their questions—with the most up-to-date data available and without having to rely on technical resources.
Case Study: Legacy Report Migration from SAP Business Objects
---
Important Considerations in the BI Modernization Journey
---
Like most organizations, the sports team was concerned that modernizing their BI solution would be a big undertaking and an arduous journey. That's not unusual. Nearly every business experiences common apprehensions when considering a modernization project, including worries about the flexibility and extensibility of a new solution and the migration process itself. But the journey isn't as onerous as it might seem.
There are ways to make the migration process smooth, straightforward, and successful. Today's BI solutions focus on flexibility, extensibility, and long-term manageability and scalability. As organizations evaluate solutions, they should check to see if they align with their business and architectural needs. And they should consider working with a trusted advisor whose core competencies and technologies can make the migration process smooth and successful.

To accelerate and formalize the BI modernization process, Trianz has developed a proven methodology implemented at leading organizations across multiple sectors. View an overview of our process.

At the end of this blog is a link to a comprehensive guide on how to formally evaluate a BI solution but here are some things to consider when selecting a modern BI vendor:
Flexibility
Ensure that the BI solution of choice will accommodate analyses beyond identified use cases—and even use cases that haven't been fully formulated! The solution needs to be able to grow to include increasingly complex analysis. It's also critical to ensure that it's future-proofed, so that BI initiatives don't have to be "modernized" all over again in a few years. Does it allow for multiple application programming interfaces (APIs) and software development kits (SDKs) to build in additional functionality as the organization and general innovations expand?
Extensibility
Another criterion is how well a solution plays with existing enterprise applications and architecture. What types of visualizations, data types, and analytical patterns or blocks can be built into business intelligence?
Tools
It's also important to measure performance and find out how the solution will integrate into an existing repository and source code. The solution should be easy to integrate with best-in-class tools like GitHub.
Data
There are numerous questions that pertain to data—the organization's core asset. How is logic disseminated in the legacy solution compared to possible new solutions? Where and how is data being stored? And is it optimized for performance and aligned with cloud best practices for speed and efficiency? (For example, a hybrid-cloud data architecture may impact the BI layer, so most solutions will keep all data sources in the same physical network as the BI architecture for higher performance.) Also, what about data validation? And how would existing reports be deprecated?
Long-term manageability and scalability
Will teams be able to manage the new solution at scale? Will it perform and mature as more users, more data, and more tools are added?
Migration
The cost of migrating from a legacy business environment has been prohibitive. From operational reports to detailed dashboards, the disruption to business operations and processes has been too high of a cost. For enterprises that are considering undergoing a digital transformation not only from their visualization layer, but their database as well, the right system integrator can help organizations through this process. A trusted advisor can aid them in understanding not only how to migrate to a modern platform, but what from their existing deployment is worth migrating.
For example, many existing reports will have been coded for specific data issues and limitations. A migration framework should capture the report logic covering these data scenarios. Are there accelerators to help the organization move from one solution to the other? What is the timeline for migration? And how will the vendor help with knowledge transfer and capturing the full value of the new solution?
By taking the time to understand the client's business and analyzing their data architecture, the right system integrator helps clients optimize their reporting environment and shows them what is possible with their new tool.
Case Study: Migration from Oracle OBIEE to Looker
---
A BI Migration Home Run
---
How did our baseball team client fare, in the end? Engaging with Trianz as a consulting and system integrator partner to help accelerate the migration, the management team identified the reports it needed to migrate. In reviewing the legacy reporting environment and identifying the reports it would need in the new BI solution, it reduced the number of reports and, ultimately, the maintenance costs. Working together, the team and Trianz documented and reviewed all the reports to be migrated and created both dashboards and the data model. This endeavor helped them rethink their approach to BI and analytics in a new modern platform.
In just one month of analysis and planning, and four months to create the semantic layer, reports, and dashboards in the new BI solution, the organization was ready to create its first executive dashboards containing aggregated daily insights.
---
Higher Productivity Through Accelerated Insights and Operational Efficiency
---
Now, the modern BI environment has become a centerpiece of analysis and a core function of the sports team's operational workflows. The legacy system has been decommissioned. Key resources who previously supported the legacy solution have been freed up to focus on higher-value tasks. Stakeholders—including data scientists, sales representatives, and business analysts—have data integrated directly into their daily workstreams, resulting in increased efficiency and rapid time to insight and action. In total, the organization has 120 reports and three executive-level dashboards spanning more than 20 subject areas.
---
The Sky's the Limit With BI Modernization
---
The benefits of modernizing BI are clear. Once a modern BI solution is in place, there's nothing to hold back data insights if the right questions are asked. The infrastructure of modern solutions will scale with the business, seamlessly and efficiently growing to accommodate changing needs. The architecture is extensible and futureproof, integrating with the tech stack as it evolves. Users will have access to a standardized set of data with a universal definition, ensuring consistent outputs.
And insights and actions are available anywhere that users are. Dashboards and alerts are delivered right where and when people need them, integrated within the workflows of critical applications to convert insights into actions.
Build a more agile, flexible, and modern BI environment

Trianz modernization specialists help IT leaders leverage the power of high-performing, secure, and cost-effective BI solutions in the cloud.
To be truly data-driven, organizations need to be able to act on and convert the opportunities presented by their data. Modernizing their BI solution is the first step on that journey.
Now that you understand the reasons why BI modernization is a vital aspect of any digital transformation effort, you can take the next steps. For a deeper dive into what to look for in a modern BI solution, download the "Guide to Modern BI Evaluations."