Fuse DevOps and IT Operations for Efficient Cloud Infrastructure
---
Cloud computing is the new normal now. But as we move to the cloud in a big way with a mix of cloud configurations — on-premises, private, and third-party cloud services with many tools — managing the resulting complexities have become tough, especially for the IT teams. You can't apply traditional IT operation methods to cloud-based architectures. What you need are standard operating procedures for long-term cloud operations.
This is where an effective CloudOps strategy – or, to put it simply, cloud operations management – comes in. It's the process of identifying and defining the processes and procedures to optimize IT services within the cloud environment.
Cloud operations management is not about new tools or technologies; rather, it's how you use those tools within your set procedures. A solid game plan is needed in all aspects – from security to problem management, monitoring, and performance. This is an area in which Trianz excels.
---
Why Consider Cloud Operations Management?
---
Here are key reasons why enterprises should think seriously about using CloudOps:
Security Operations

Security operations or SecOps is a shared responsibility between the enterprise CloudOps teams and the cloud provider. But in a rush to move to the cloud, it can get confusing and become a major source of breaches. Such breaches aren't due to a lack of sophisticated technologies but are a lack of understanding about the roles and responsibilities.

Scalability and Automation

Through the cloud, capacity can be increased or reduced at any time without investing in additional physical space or hardware. The adoption of CloudOps virtualizes the capacity planning and asset management of a business, making it simpler. Additionally, as the cloud automates many operations across the SDLC, it significantly reduces disruptions to applications or users.

Growing Complexity

As large-scale cloud adoption gathers steam, and businesses choose multiple, best-of-breed platforms and tools, the entire cloud spectrum becomes too complex to manage. While siloed cloud dev and migration teams make their own calls around what technology to use, integrating or migrating between multiple applications without set guidelines can become challenging, fast.

Remote Cloud Platforms

The remote nature of cloud-based platforms means that the ops team doesn't have direct control as the cloud provider schedules and executes all the fixes. Though giving up the time-consuming control of platforms is good, special care must be taken to manage the operational aspects.
Benefits of Cloud Operations Management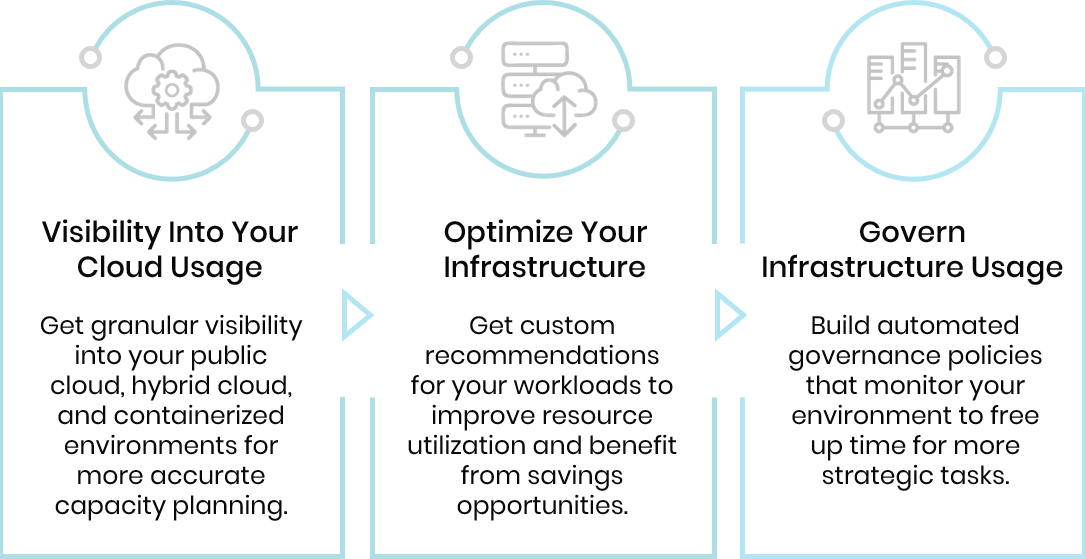 Copyright © 2022 Trianz
---
Challenges in Embracing Cloud Operations
---

Transition to Serverless Functions
When traditional operations are the bedrock of the underlying infrastructure, it becomes challenging to merge CloudOps seamlessly. Unless a business has a set of best practices in place that streamline shared tasks – monitoring, and management between physical and cloud-based systems – teams will end up becoming more siloed.

Troubleshooting
With CloudOps, the teams work on dashboards and tools that automate much of the monitoring process. This means that alerting and monitoring need to be cloud-optimized, resulting in going back and forth between the cloud help desk and the traditional help desk without getting a clear answer from either.

Culture
Culture is perhaps the biggest impediment to a successful CloudOps transformation, demanding a company-wide shift in mindsets by using the same tools, following the same practices, and working together under the same leadership.
---
×