Overcoming Cloud Management Challenges
When public cloud and private cloud infrastructure were first introduced with Amazon Web Services (AWS) in 2006, it was far ahead of its time. The idea of pooling computer resources and making them available for organizations over the internet was unprecedented, leading to a paradigm shift in enterprise computing.
Now, another paradigm shift is taking shape. The use of artificial intelligence (AI) and machine learning (ML) is set to revolutionize IT service management (ITSM) and IT operations management (ITOM). This will be accomplished through a mix of real-time automation, auditory and visual machine learning, and trend analysis as part of an AI or ML digital transformation initiative.
At Trianz, we recognize the immense potential of emerging technologies like AI and ML for enterprise development. To ensure that you capitalize on this potential, we will work closely with your teams to integrate these technologies into your infrastructure.
After implementation, AI and ML can significantly reduce the administrative burden on your IT infrastructure department, all while simultaneously reducing the risk of human error. We also support hybrid-cloud and multi-cloud environments, helping you identify the best cloud service platform for your AI or ML use case.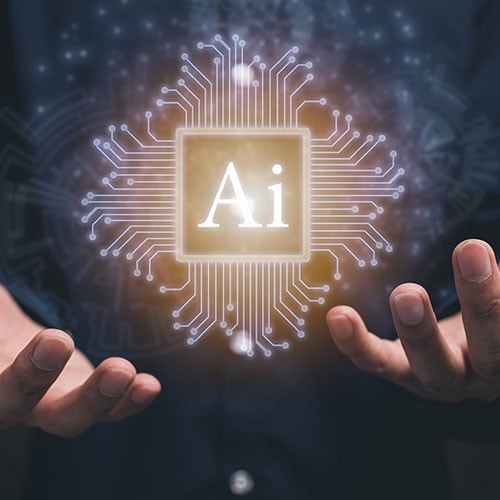 ---
The Benefits of AI and ML for Cloud Operations
---
Though AI and ML are not yet in the maturity phase, preparing your architecture for future AI and ML capabilities offers a significant competitive advantage.
By implementing AI and ML into your cloud environment, you can enable intelligent automation, cognitive computing, as well as the following benefits:
AI and ML Burst Processing
Unlike on-prem infrastructure, the cloud allows you to scale virtual machines or applications up and down according to demand. Many artificial intelligence workloads are high-intensity and low-duration, making the cloud an excellent choice for AI and ML workloads. This allows you to avoid overspending on IT hardware without sacrificing performance.
Edge Processing
AI and ML workloads are highly sensitive to fluctuations in read/write latencies, as well as web packet latency. This means that the closer you are to the data center, the better. Edge computing is a new computing paradigm that aims to bring data center resources closer to the user or data source, reducing latency and improving performance. This will enhance the efficiency of AIOps and MLOps on cloud service platforms like Microsoft Azure, reducing costs and increasing processing capacity.
Pre-Trained Models for Accessibility
With cloud-native AI and ML, you can leverage pre-trained operating models. This enables data science teams to take advantage of the benefits of AI and ML models without the need for specialized coding or knowledge of infrastructure. You can access these pre-trained models on leading cloud platforms via Machine Learning on AWS, Cloud AutoML on the Google Cloud Platform, and Azure Machine Learning. These models undergo continuous improvement from cloud service providers, giving you the latest capabilities without the configuration burden.
Affordability
ML and AI services from cloud service providers like AWS are billed on a pay-per-use model meaning you only pay for the time you are using it. This makes accessing advanced ML and AI systems easier and more affordable for all businesses, with quick instance spooling and predictable costs as new use cases are identified.
AWS Data and Analytics Services Included in Trianz Analytics on Cloud Ecosystem for AWS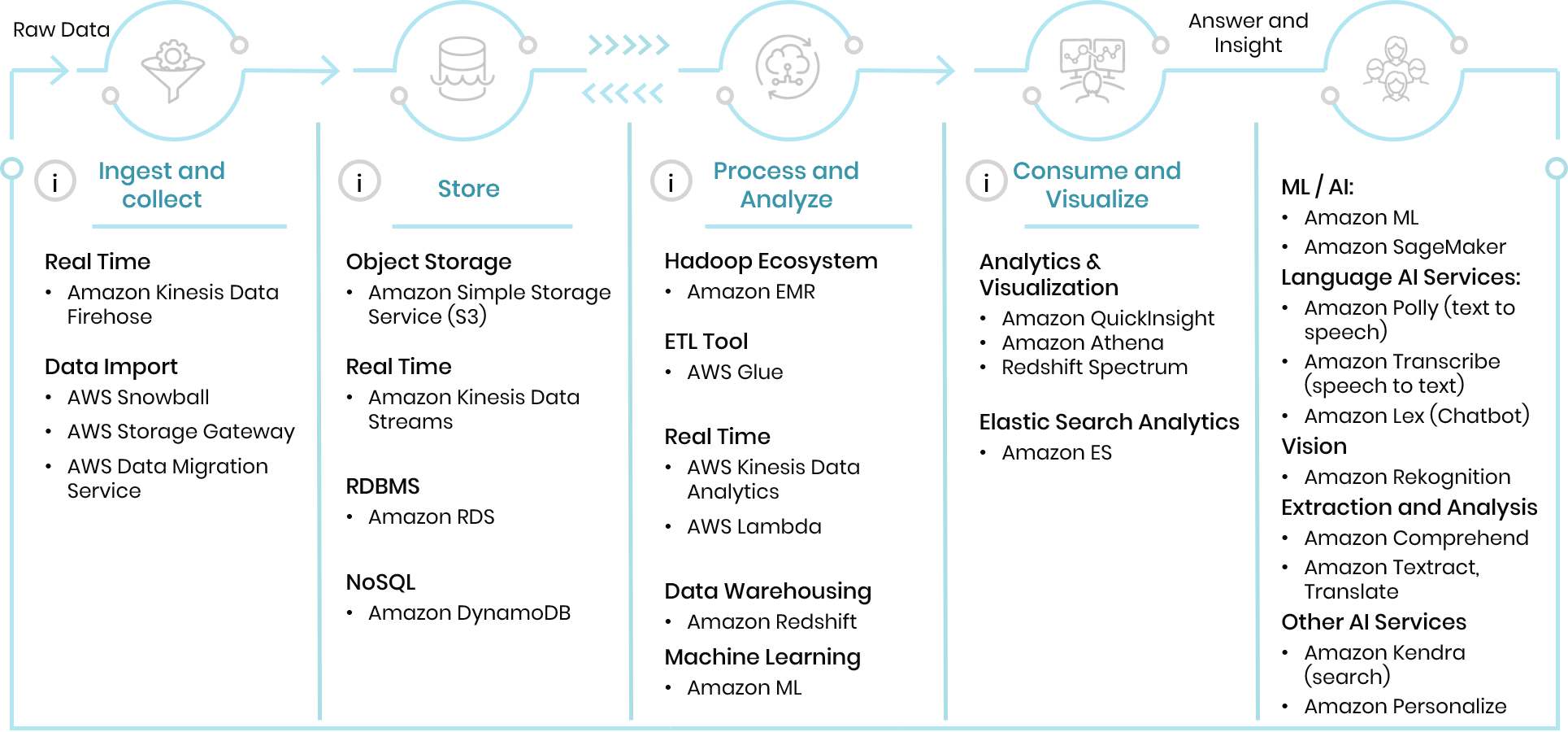 Copyright © 2022 Trianz
---
AI for Cloud Operations Consulting and Implementation Services
---
Trianz is an industry-leading AI Ops and ML Ops consulting firm that has helped hundreds of Fortune 500 companies to leverage the benefits of AI and ML cloud adoption. We have been at the forefront of new technological developments and have established unrivaled knowledge and expertise across the cloud computing industry. We offer a range of AI and ML assessment and implementation services, including:
Candidacy assessment
Before integrating AI and ML into your operations, you need to determine whether they offer any benefit to your business. Once you have identified areas of your business that could benefit from AI or ML, you should prioritize development based on the short-term value and return on investment (ROI), while avoiding potential disruption to end users.
Our experts can fully assess your IT operation, identifying suitable candidates for integration with AI and ML tools. It can be tempting to tackle the most significant problems first, but this often results in disruption to business continuity. Instead, we prioritize projects that require minimal development and generate the highest ROI. This allows you to start realizing the benefits of AI and ML quickly. At the same time, we work with IT leaders and stakeholders to fully integrate these services in the long term.
Consult on Complex Analytics
Artificial intelligence and machine learning are most powerful when used to analyze large amounts of data and provide actionable insights. We can consult on how to best use these technologies to analyze data from individual systems up to large data lakes.
Trianz can help you consolidate all your data management workflows into one centralized location and make sure that the AI and ML tools are able to access this data with security as a priority.
Data lakes
AI and ML software have an insatiable hunger for data. By providing a data lake for your AI and ML tools to reference from, more context will allow the systems to become smarter and more efficient over time without human intervention.
Our experts have extensive experience in big data analytics, which translates well to AI and ML. We have helped our clients centralize their datasets, improve accessibility, and simplify data governance by implementing a data lake. Since a data lake can house structured and unstructured data, this allows us to eliminate data siloes while simultaneously integrating AI and ML functionality into your IT operations.
AI Ops and ML Ops
Managing your IT operations in the cloud can be a difficult task, requiring new skills and strategies to maximize the benefits. Your business needs high service uptimes to provide a good user experience and optimal server configuration to minimize operating costs.
AI can take the guesswork out of your ITOM. Our experts can leverage analytics functionality using AI to automate the remediation of low-level service requests. This will reduce administrative workloads for your IT department, giving them more time to focus on new developments. You also benefit from continuous monitoring through AI and ML, allowing you to proactively manage your IT operations in the cloud.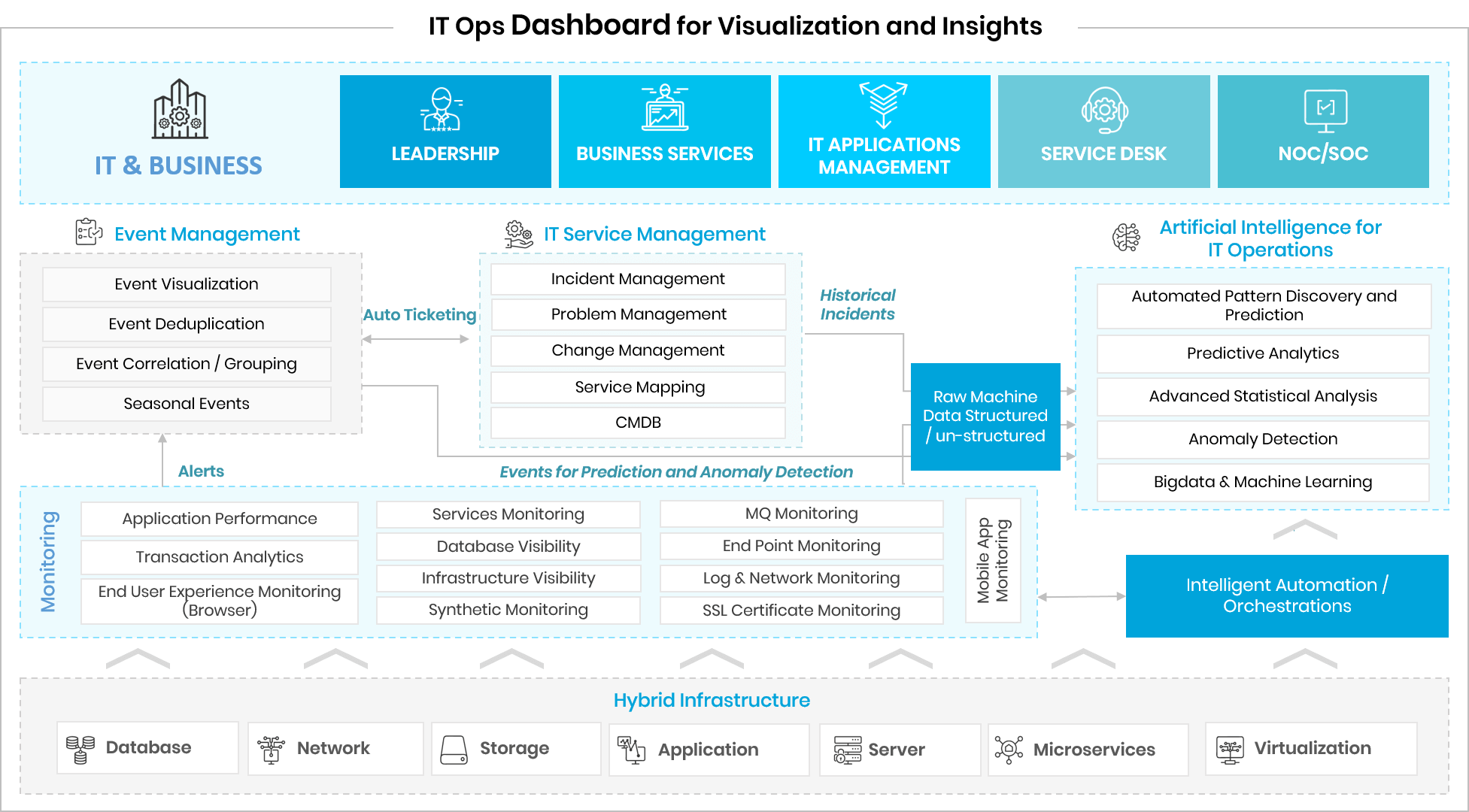 Stand Up Solutions
For many AI or ML-powered services, we can set up and configure the technology in production to support your business. One of the most popular uses of AI and ML is to analyze large amounts of data and generate useful insights or strategies based on preconfigured goals. Another example of how businesses use these tools is creating intelligent customer service chatbots to deliver a better customer experience.
Other applications for AI and ML include image recognition, video analysis, speech to text, text to speech, translation services, and natural language processing (NLP) robots.
---
AI for Cloud Operations with Trianz
---
New computing paradigms will continue to evolve, but AI and ML are here to stay. These technologies have immense potential, and IT teams have just begun to scratch the surface. Trianz can help you get ahead of the competition and start experimenting with these groundbreaking innovations before ultimately leveraging them in a risk-averse manner.
Many enterprises have yet to reach the cloud. Go one step further and leverage cloud-native AI and ML by getting in touch with Trianz today.
×