Cloud transformation is the process of transforming an organization's data, applications, software, or its entire IT infrastructure to the cloud. While similar to cloud migration, cloud transformation goes more in-depth with the modernization and optimization of an organization's data management, analytics, and cybersecurity to align with the company's overall digital transformation objectives.
What's the Difference Between Cloud Transformation and Cloud Migration?
---
Cloud migration is one piece of cloud transformation. Cloud migration is focused solely on the act of moving applications, data, and other components from on-premises to a cloud-based infrastructure.
Cloud transformation, however, is the enablement of a complete evolution of a business. To achieve this, organizations focus on cloud strategy, migration, management and optimization, data and analytics, and cloud security to become more competitive and resilient.
This is why, as our research shows, more than 50% of "digital champions" – what we call the 7% of organizations that are successful with digital transformation – believe the cloud is a game changer that helps disrupt their business model for the better.
Copyright © 2021 Trianz
---
Components of Cloud Transformation
---
Cloud Strategy
As a precursor to strategy, it's important to first assess your status and undergo a benchmarking exercise to see how your organization stacks up to your competitors, and understand where your organization's capabilities and gaps are relative to a maturity curve. Benchmarking is an essential but often overlooked key to knowing where to invest your time, effort, and resources to maximize your returns.
But it's not all about the technology. To leverage the results of the above analysis, your strategy will require a deep integration of both IT and business strategy. This means either aligning your enterprise cloud strategy to existing business plans or devising an overarching strategy to leverage the power of the cloud for your business goals.
Once you've developed your cloud strategy, it's crucial to create a strategic roadmap to guide the process. Just as no two companies are completely alike, no two roadmaps are completely alike, and great care must be taken during this stage to ensure your investment yields commensurate returns.
Selecting a Cloud Platform Provider
If your organization is a large business, you'd be wise to choose one of the top-tier cloud platform providers, such as Amazon Web Services (AWS), Microsoft Azure, or Google Cloud Platform (GCP).
All of them provide dedicated servers, serverless compute, and storage nodes, as well as numerous platform-monitoring tools to simplify cloud adoption.
They also offer a broad range of integrations with third-party providers, further expanding the functionality and potential of your cloud infrastructure to drive business growth. Many companies retain expert help in the cloud assessment and platform selection stage.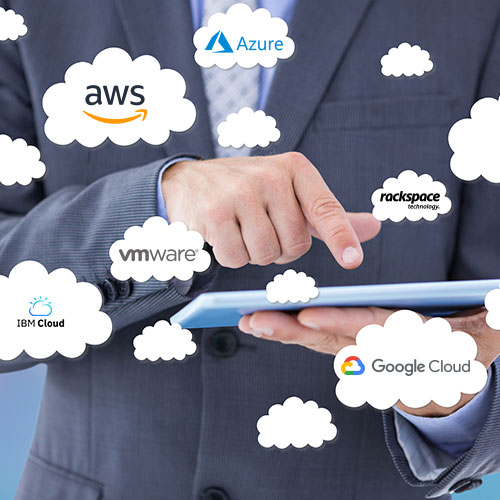 One Cloud or Multiple Clouds?
By using a multi-cloud strategy, you can leverage best-of-breed hosting infrastructure for specific business workloads, improving performance and service delivery quality while driving innovation across the business. In addition, you can reduce operating costs by choosing the platform that offers the best value for the money with your target workload. Moreover, you can improve operational resilience against IT outages by diversifying your IT operations across multiple cloud hosting platforms.
However, you might want to stay with one cloud or collapse a multi-cloud set-up so you don't overtax your operations, development, and security teams who would have to manage multi-cloud applications and systems. Also, leveraging just one cloud for your data makes tracking costs and managing vendors a lot simpler.
Cloud Migration
Before you begin, you'll need to decide which systems to move first, since enterprises usually transition one portion of their data center systems to the cloud at a time. Some companies choose to first migrate their email and messaging, which already have built-in cloud support, while others migrate systems whose hardware is reaching its end-of-life.
Regardless, an effective cloud consulting services provider can help your organization successfully execute your cloud migration and make it move faster by using an accelerator tool. For instance, Trianz' EVOVE (powered by CompilerWorks) utilizes high levels of automation and reusable components to drive accelerated and high-accuracy migrations of legacy data platforms to a modern architecture.
Cloud Data and Analytics
Cloud analytics leverages advanced cloud-based analytics processing, streamlining business intelligence processes, data integration and analysis, and the visualization of data insights for decision-making purposes. Digital champions weave advanced analytics into their operational processes and work culture – shaping their strategy, business requirements, business model design, data structure, measurement, and reporting to digitally transform their operations.
Because of this, digital champions tend to lead their competitive peer group in key operating metrics across marketing, service, sales, and internal operating processes. They plan and execute their new data-driven business models to promote loyalty in their customer base and drive growth in profitability at a rate faster than their competitors'. Embedding analytics ubiquitously across the entire business operation drives this digital success.
Cloud Optimization and Management
The cloud unlocks a whole new world of possibilities through scalability and simplified operations management, where server infrastructure can adapt alongside your business. Compared to traditional on-prem infrastructure, the cloud delivers substantial cost benefits at scale at the enterprise level. Its real-time analytics, virtual R&D, and design capabilities help accelerate new product/service and internal IT application launches.
The right consulting services provider can work with you to manage your cloud infrastructure more efficiently and effectively to increase ROI and improve the scalability of your cloud infrastructure. They can assist you with managing cloud consumption, capacity, performance, and cost through continuous monitoring; dynamic, scalable operations; control and visibility of OpEx spend, compliance, outcomes, and SLA-driven governance; and built-in security compliance.
Cloud Security
Cloud security is an essential piece of a successful cloud transformation. Therefore, it needs to be a priority and preplanned component of your overall strategy and roadmap. The first step for many is a cloud security assessment to determine your enterprise's cloud security posture. The goal is for the organization to understand its current state, gaps, and intended future state.
Key facets of a security program that should then be recommended include the following:
Governance, risk management and compliance to manage your enterprise GRC effectively while staying on top of innovation.

Secure SDLC consulting to reduce vulnerabilities and detect flaws early in every aspect of your software development lifecycle.

Cloud security strategy integrating cloud strategy within your cybersecurity posture to guide your journey — from security to relationship management.

Identity and Access Management (IAM) strategy to fit your business, from assessing the past and understanding the present, to designing the future.

Continuous audit and assessment to increase enterprise value and reduce audit fatigue.
A robust cloud security program enables the organization to develop a security compliance culture, and protects you against threats to IP and customer data.
The Role of Cybersecurity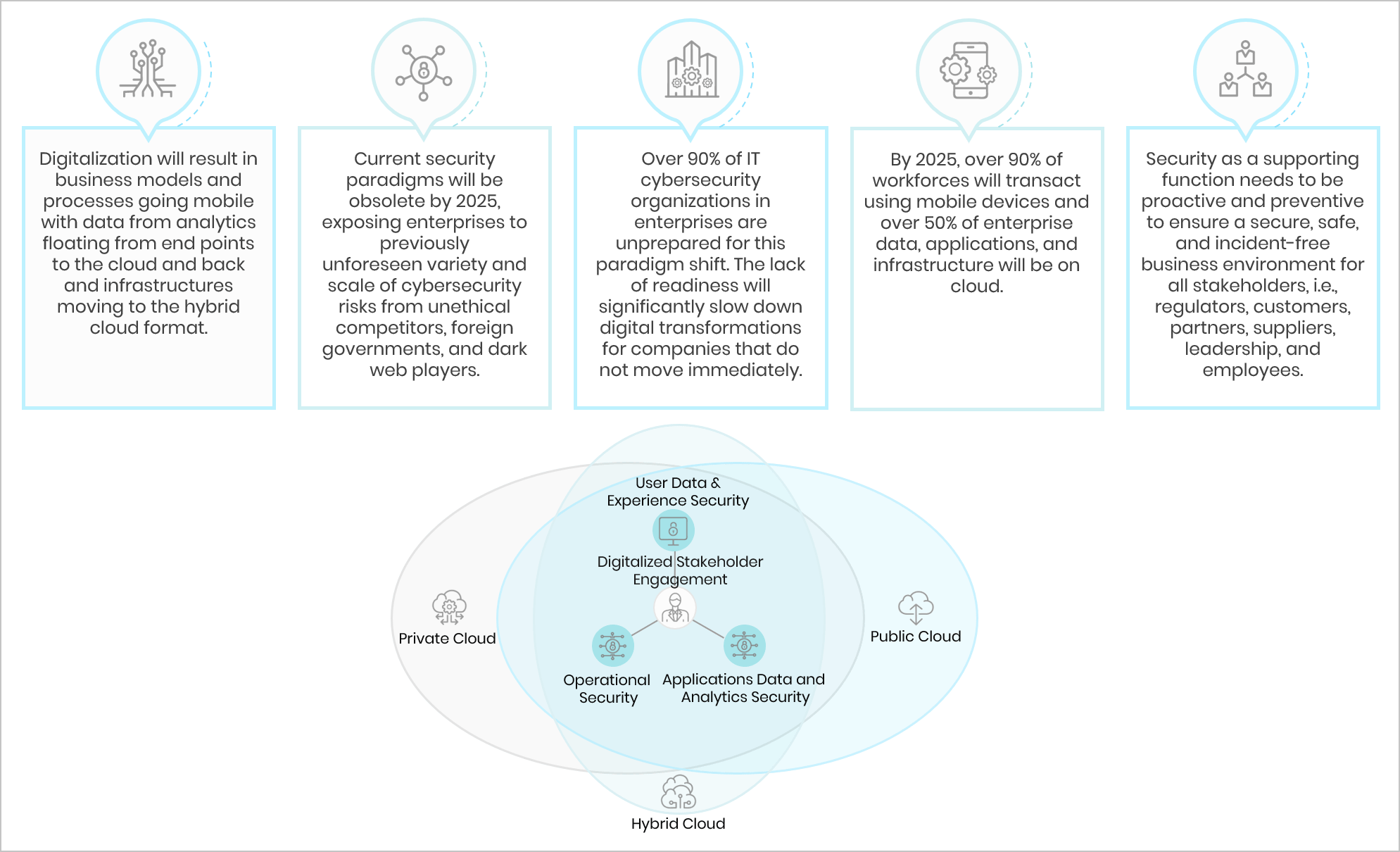 Copyright © 2021 Trianz
---
Cloud Transformation: A Game Changer
---
With the right approach and preparation, cloud transformation can take your organization to an entirely different level. By leveraging the cloud to disrupt your business, you're not only modernizing your technology, but also reinventing your whole organization – driving innovation, customer growth, and improvement in your bottom line, as well as enabling your business to become more resilient, agile, and disaster-proof.