Master the Cloud
---
We will help evolve your cloud capabilities, accelerate solution delivery by 2x, and reduce operating costs.
Digital Enterprise Evolution Model™ - Cloud Capability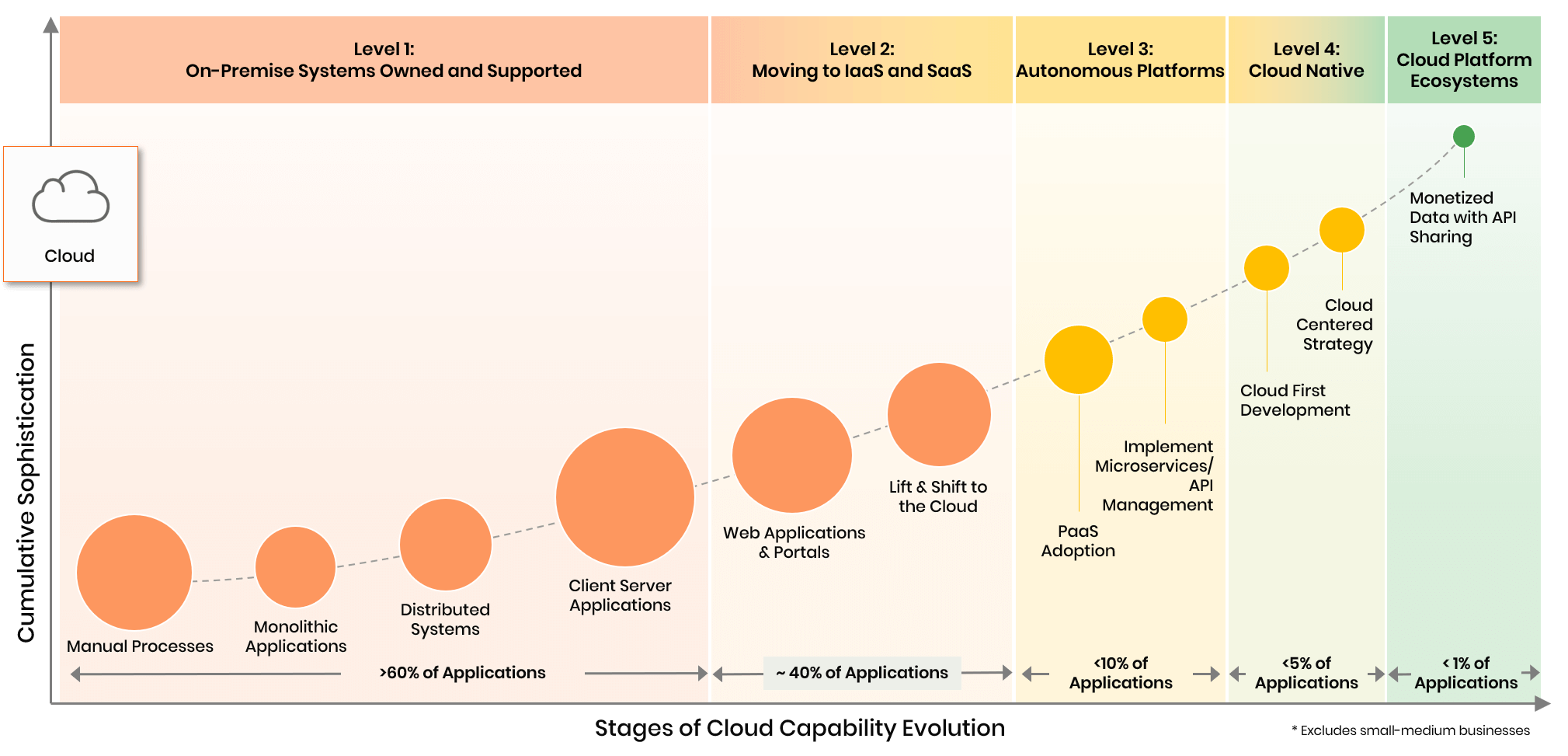 Copyright © 2022 Trianz
Most people think that the main benefit of cloud is the immense storage and compute power, which gets cheaper as your scale of adoption increases. While that is correct, the far more strategic value being on cloud is a rapid acceleration of your entire digital transformation. Just ask the high tech industry which is busy disrupting other industries.
When you adopt the cloud for infrastructure and migrate your applications and data there, you would typically collapse the cycle time for provisioning from an industry average of 81 days to 10-seconds or less.
Cloud adoption at scale helps teams in the high tech industry rapidly create and deliver 'minimal viable products' (MVPs), so they can iterate based on feedback from the business and customer or partners. This ultimately leads to a much closer alignment of expected-versus-delivered value and experiences. Overall, digital transformations accelerate due to these faster delivery cycles and higher acceptance rates.
Unlike certain other capabilities, the cloud can be adopted with a 'leap-frog' mindset and approach.
Over 70% of Digital Champions are crediting cloud to be a game-changer to their business model.
---
Trianz has Built one of the World's Largest Databases on Digital Transformation - So We Understand Cloud Adoption Best Practices Across the Globe.
---
IT Decision-Makers Priorities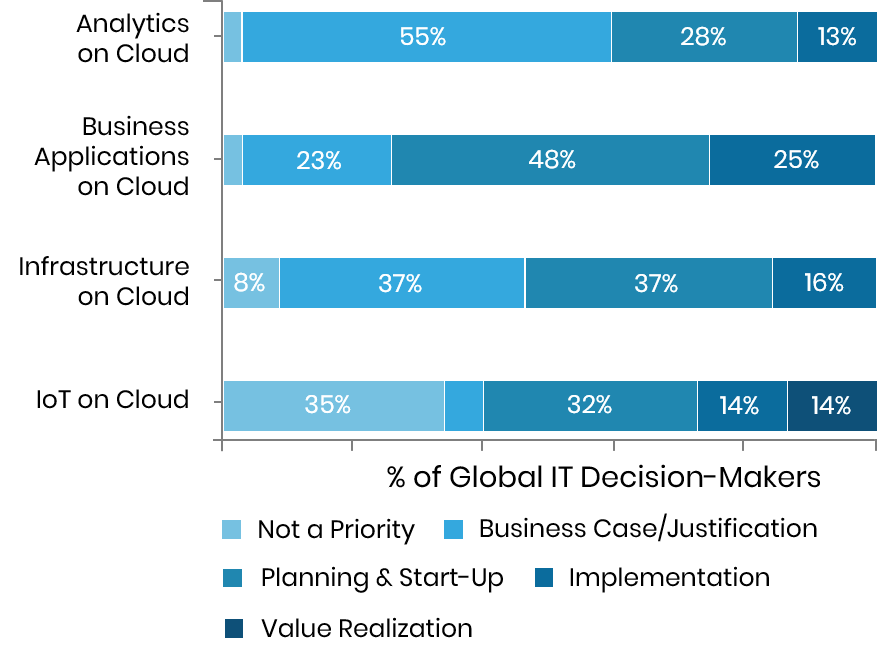 Source: Trasers
The Cost and Digital Acceleration Benefits of Cloud
---
Trianz has invested in creating Trasers, one of the world's largest databases on digital transformations, with data from over 5,000 companies and 20 industries. We have spoken to IT leaders of more than 600 cloud organizations and we understand the state of cloud adoption, investment priorities, ROI and best practices followed by the most successful IT organizations.
It is not simply about adopting the cloud, but rather how a company goes about it. When adoption is decentralized and fragmented,­ whether for infrastructure or data or applications, ­it does not produce the desired results. The more decision makers, platforms, contracts and technologies are involved, the slower the decision-making and the greater the variety of skills required to gain consensus and momentum.
Status of Cloud Adoption by Digital Champions
---
When decision making is centralized and tightly controlled, as we see is the habit of Digital Champions, things fall into place quickly. The business can benefit from a unified plan and accrue both cost and transformation acceleration benefits at scale. This is why high tech is 2x ahead of all other industries in digital transformation, which allows it to spend more time with customers ideating, innovating and disrupting for competitive advantage.
Our Trasers database shows that across the globe, only 7% of companies are 'Digital Champions' and are successful in their transformations. By taking a data-driven approach, we are able to understand and abstract our clients' strategies, priorities and techniques, while adopting the cloud at enterprise scale.
Industry Leaders in Cloud Adoption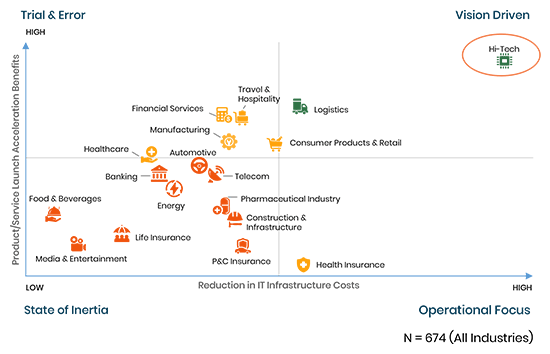 Source: Trasers
×