Becoming a Digital Champion
---
Global changes powered by digitalization have swept across industries like an earthquake. One key effect is the exponential increase in data. While most companies focus on collecting, integrating, and analyzing their enterprise data, the most innovative organizations think about data in a comprehensive sense.
By shifting to cloud, you can analyze data holistically and accelerate digital transformation, as well as spur business agility. In fact, our research shows that more than 50% of "digital champions" – what we call the 7% of organizations that are successful with digital transformation – believe the cloud helps disrupt their business model for the better.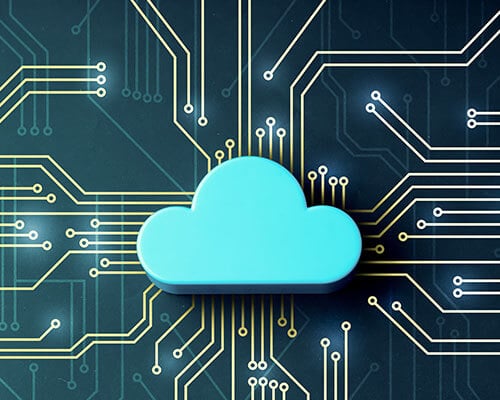 ---
The Importance of Conducting a Cloud Assessment
---
As with any business transformation, the complexity of a cloud migration can quickly spiral out of control. Without an expansive plan, you risk sacrificing business continuity and, in turn, service delivery to your customers.
Using a cloud first approach, our cloud assessment services start with determining the current state and then leveraging our proven framework to craft an execution-focused, all-encompassing cloud strategy. From there we work with you to create a roadmap for success.
Benefits
The advantages of a cloud assessment include:
Reduction of costs

Productivity improvements

Operations optimization

Cloud service provider agnostic and customized architecture

Security, flexibility, scalability, and agility

Cloud-first strategies are your business's key to constant adaptability in a continually advancing business landscape, guaranteeing longevity and growth well into the future.
KC Sreeram,
VP and Practice Leader - Cloud and Infrastructure

---
Cloud Assessment Framework
---
As part of our strategic execution analysis, Trianz takes a holistic approach to analyzing a client's readiness for migration of applications to a public, private, hybrid or multi cloud infrastructure.
This includes:
A focus on detailed migration strategy and identification of all dependencies

A scorecard to help strategize, architect, and map application landscape to cloud services

Phased implementation roadmap

Guidance to develop a total cost of ownership and ROI plan
We work with you to:

Define strategic objectives

Create a cloud council, detailed technology, and execution roadmap

Gain cross-functional, companywide buy-in

Undertake financial planning

Accurately estimate cost(s) for solutions

Evaluate applications and processes for migration (as-is recoding)

Understand issues related to public cloud, security, governance, risk, and compliance
In addition, our professionals recommend a best-of-breed architecture to make your strategy implementation a success.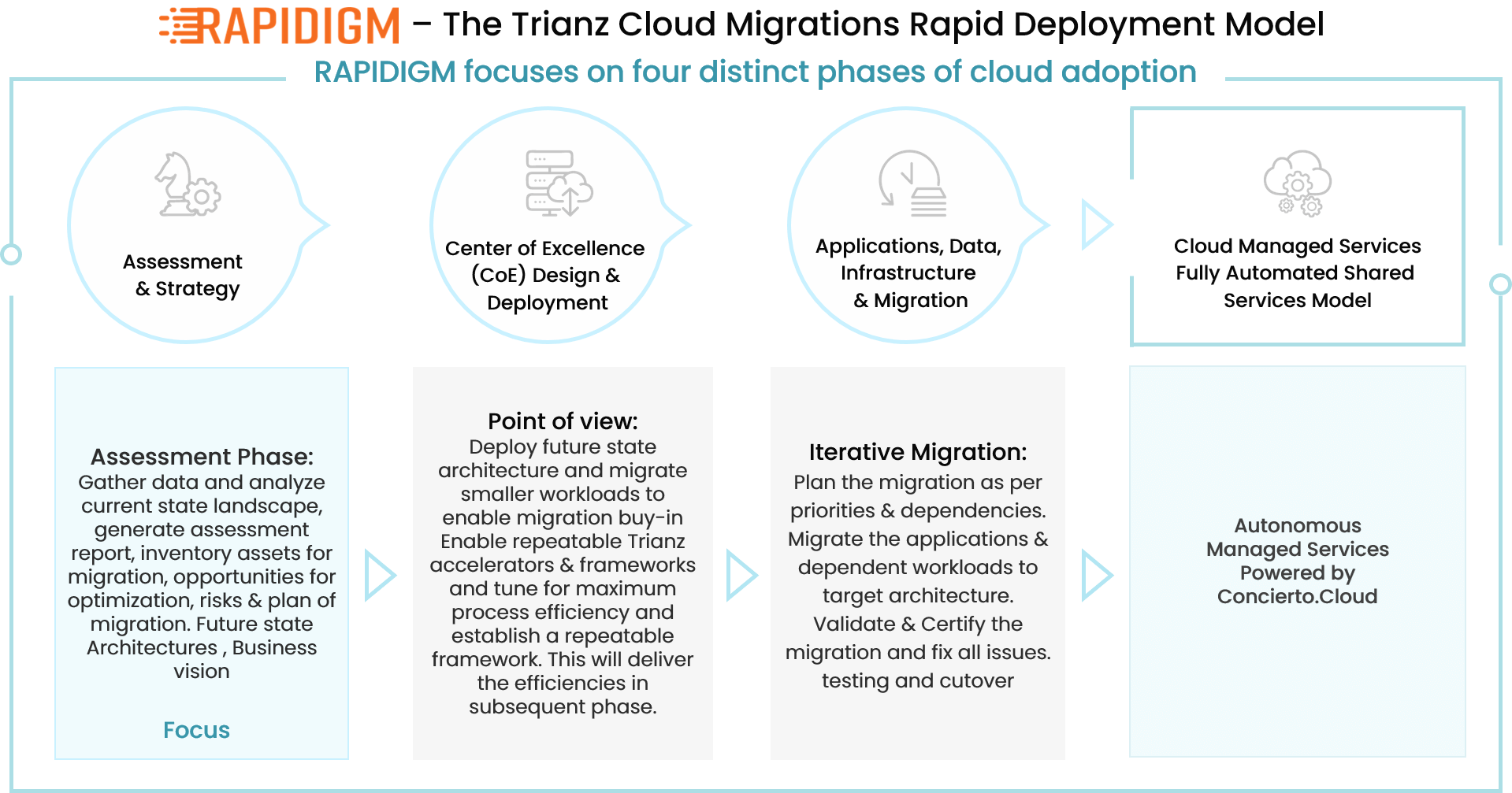 Copyright © 2022 Trianz
---
Cloud Portfolio Assessment
---
A cloud portfolio acts as a catalog of your existing and planned services, while also including your chosen cloud provider and relationship with them. This gives IT departments a point of reference when making critical decisions.
We will analyze your existing infrastructure and services, creating a comprehensive portfolio for your reference. This shows which applications/workloads are cloud-ready and which may need further development before they can transition to your new platform. It will also identify legacy applications that would either perform poorly. We recommend you phase these out while we curate a new cloud-native replacement.
Creating a cloud portfolio will lead to:
An understanding of how your cloud services are interlinked and visibility into your cloud usage

The ability to implement and enforce budgets that result in increased operational efficiency

Improved governance and compliance, with the creation of guidelines and policies that are tailored to each of your services
With proper cloud portfolio management, you can retain visibility into the status of your network and better regulate data access across your enterprise.
---
Cloud Migration Roadmap Development
---
A cloud migration roadmap will help you identify application dependencies and choose the right platform. The most common cause of failure is a lack of planning, so a comprehensive cloud migration roadmap is essential.
We will map out your migration, prioritizing applications based on short-term ROI. Business-critical applications will need to remain operational during the migration, and we can replicate your services and redirect traffic once development is complete. With clear and achievable milestones, we ensure your transformation is seamless.
A roadmap will help you:
Achieve a clear IT vision and communicate steps you're taking and how much investment is required to fulfill project milestones

Build your cloud network with security at the forefront

Cloud Operations, Disaster Recovery and Security posture

Prioritize what to move first and minimize disruptions to business operations during the transition

Business case with clear definition of TCO and ROI of applications and infrastructure layers over 3 to 5 years
Working with Our Cloud Platform Partners
Trianz is a managed service partner and go-to-market partner for AWS, Azure, and GCP. We can help your organization implement and support all AWS, Azure, and GCP services. In addition, we're able to interface directly with their engineers to help ensure your systems are set up quickly and correctly every time.
We have more than 60 certified cloud architects backed by more than 2,000 business and technology accreditations covering more than 80% of the total workforce. And we've carried out more than 100 cloud deployments.
EVOVE

– A Migration Accelerator
---
When it's time to move the data, Trianz' proprietary Evove methodology – powered by CompilerWorks -- speeds up migration, increases efficiencies, and taps into our expertise gained through hundreds of cloud migrations.
Evove gives you freedom to scale. Benefits include:
Speed of migration

Conversion of more than 95% of code to the target platform programmatically

60% less time spent to migrate

Reliability and optimization

Identification of possible redundancies

Usage of data lineage optimization to identify relevant data for migration

Cost-effectiveness

At least 50% reduction of costs because of shorter delivery time and reduced manual labor

Lower risks

Assurance that PII or confidential data is not exposed during migration

Reduced migration risks through the POV/mobilization approach to migrate smaller workloads instead of using a big bang approach
---
Enabling a Successful Migration
---
Drawing on our extensive experience, we will work with you to best prepare you for your cloud migration with the right strategy and roadmap. This will enable your digital transformation readiness and help you take a big leap toward realizing business agility and other benefits of the cloud.
×