Our AWS Expertise and Experience
---
Migrating to cloud can be overwhelming, but with the right approach, the benefits far outweigh the complexities. Experience seamless and efficient software enabled migrations to the AWS cloud at the fastest possible speed and a fraction of industry costs with the expertise and support of Trianz – your trusted top AWS Rapid Migration Partner.
At Trianz, we take pride in our unparalleled AWS accreditation and expertise. With 1000+ AWS Cloud Accreditations and 100+ AWS Certifications in both business and technology competencies, our consultants possess the knowledge and skills required to execute complex and value-driven AWS programs.
As a trusted engineering partner of AWS, we are at the forefront of innovation and collaboration, delivering platform-driven outcomes - 50% faster time to market, 40% lower migration costs, and 30% lower steady-state operating costs while ensuring scalability, security, and efficient decision-making. Our partnership allows us to work on cutting-edge initiatives like data connectors. By leveraging advanced technology, scalable solutions, and platforms and frameworks, we can rapidly transform your visionary ideas into tangible business value – rapidly.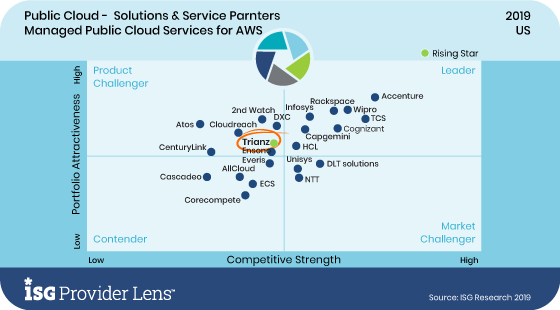 Recognized as Rising Star by ISG for Strong AWS Managed Services Capabilities