Reinventing Banking for the Future
---
The banking industry is a leader in digital transformation. By constantly innovating and using advanced technologies the big players have adapted better than the small savings associations to a rapidly evolving market structure.
However, our data demonstrates there are still significant vulnerabilities in banking companies that fall outside the vision-driven quadrant. Rapidly changing product-service portfolios and a push for convenience are holistically connected, with consumers having an unprecedented level of choice between all industry players. For banking firms that fail to digitalize, or do so sub-optimally, they risk falling behind in the digital era. Banking incumbents must move steadily to stay ahead of digital competitors by reinventing the customer value proposition.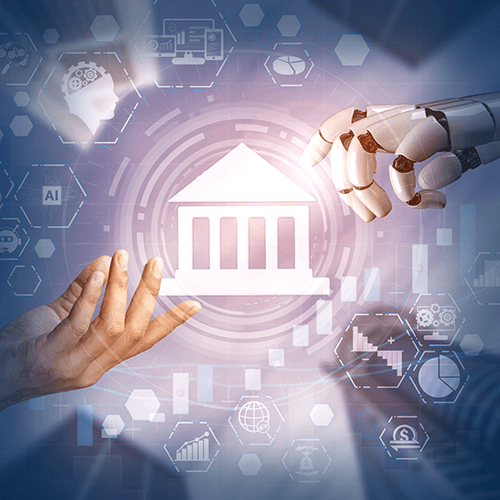 ---
Top Concerns for CEOs in the Banking Industry
---
Banking CEOs have numerous concerns around the future of their industry. Here are the top six concerns that need to be addressed in the digital era:
Adopting Digital Services
Almost all CEOs are concerned about the pace of technology-driven change in the banking industry. As technology becomes more prevalent, and digital services are increasingly adopted by consumers, traditional banking products and services will lose value.

Meeting Consumer Demands
Consumer lifestyles are more digitalized than ever, and this mandates a different approach to banking service delivery. Many consumers prefer low or no-contact, with automation and self-service becoming the preferred banking method. As a result, this has led to an increased consumer focus on value over loyalty, levelling the playing field between disruptors and incumbents.

Reinventing the Status Quo
Direct-to-consumer (D2C) models such as with peer-to-peer (P2P) lending are reinventing the status quo, enabling anyone with enough capital to offer banking services. In addition, challenger banks and FinTech companies are reinventing the banking business model, putting incumbents at risk if they fail to digitalize and innovate on their product-service portfolio.

Changing Political Climates
Geopolitical instability and socioeconomic risk factors in areas such as the Middle East, South Asia, India, and China are driving volatility around exchange rates and currency values.

Finding New Talent
Digitally savvy managerial talent is increasingly hard to find for banking incumbents, as FinTech companies and digital-first start-ups offer a more lucrative and valuable employee experience. This is making talent acquisition and retention increasingly difficult, creating a skills gap in the banking industry.

Security Threats
Financial assets are converting to digitalized formats. Attackers no longer need to gain access to a physical vault, with usernames and passwords being the key that unlocks these financial reserves. Cybersecurity and cyber espionage are becoming more commonplace, creating new expectations among consumers for banks around security, data protection, and compensation in instances of monetary loss.
---
A Quiet Digital Banking Revolution
---
Smaller banks have historically been reluctant to enact change. This lack of dynamism and forward-thinking extends across commercial and retail banking sectors, engraining conservatism in the banking industries culture and DNA.
While the big players have broken free of this conservatism, around 50% are still failing to innovate and adapt to the emerging digital banking landscape. This includes banking institutions across North America, Europe, and parts of the Asia-Pacific (APAC) economic areas.
Some areas in which the progressive 50% are excelling include digital transformation of data access, with consumers gaining deeper insights into their spending. Transaction digitalization is another key area that makes purchasing easier across desktop and mobile devices for consumers. Still, these banking firms are failing to add new items to their product-service portfolios.
Industry players need a high-awareness and sensitivity when adopting new technology-driven business models to maintain pace or exceed competitors.
---
The Most Successful Digital Transformations Are Powered by Analytics Capabilities
---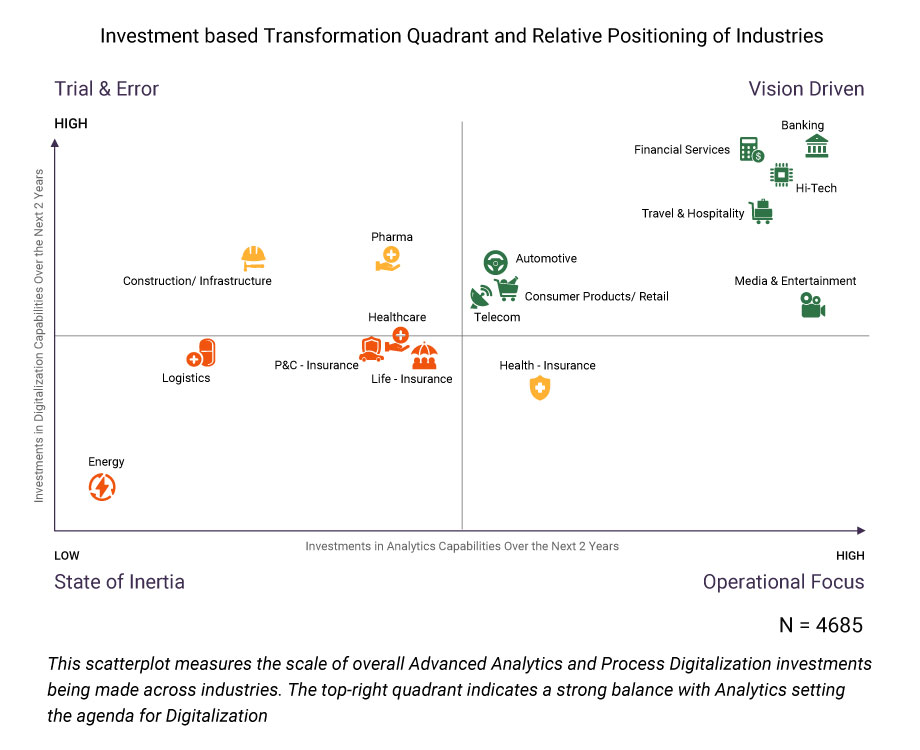 Source: Trasers
Our benchmarking services are powered by over 1.5 million data points in addition to our primary research and data collection capabilities. With access to leaders across more than 40,000 companies in various size segments, industries, and geographic locations, we can quickly gather additional data to address how your business is performing against the competition.
---
Data analyzed in this report comes from 4,000+ responses. For the banking industry, data from 274 companies have been used
---
Our banking industry experts can offer insights into the following sectors:
Retail Banking

Commercial Banking

Treasury Firms

Payment Gateways

Banking Technology and Support Services

And More
×