Building for the Future of Work
The pandemic has brought a fundamental shift in the workplace. Companies are actively investing in the well-being of the employees, clients, partners, suppliers and franchisees – while helping them with secure system access and collaboration tools – preparing beyond the immediate crisis.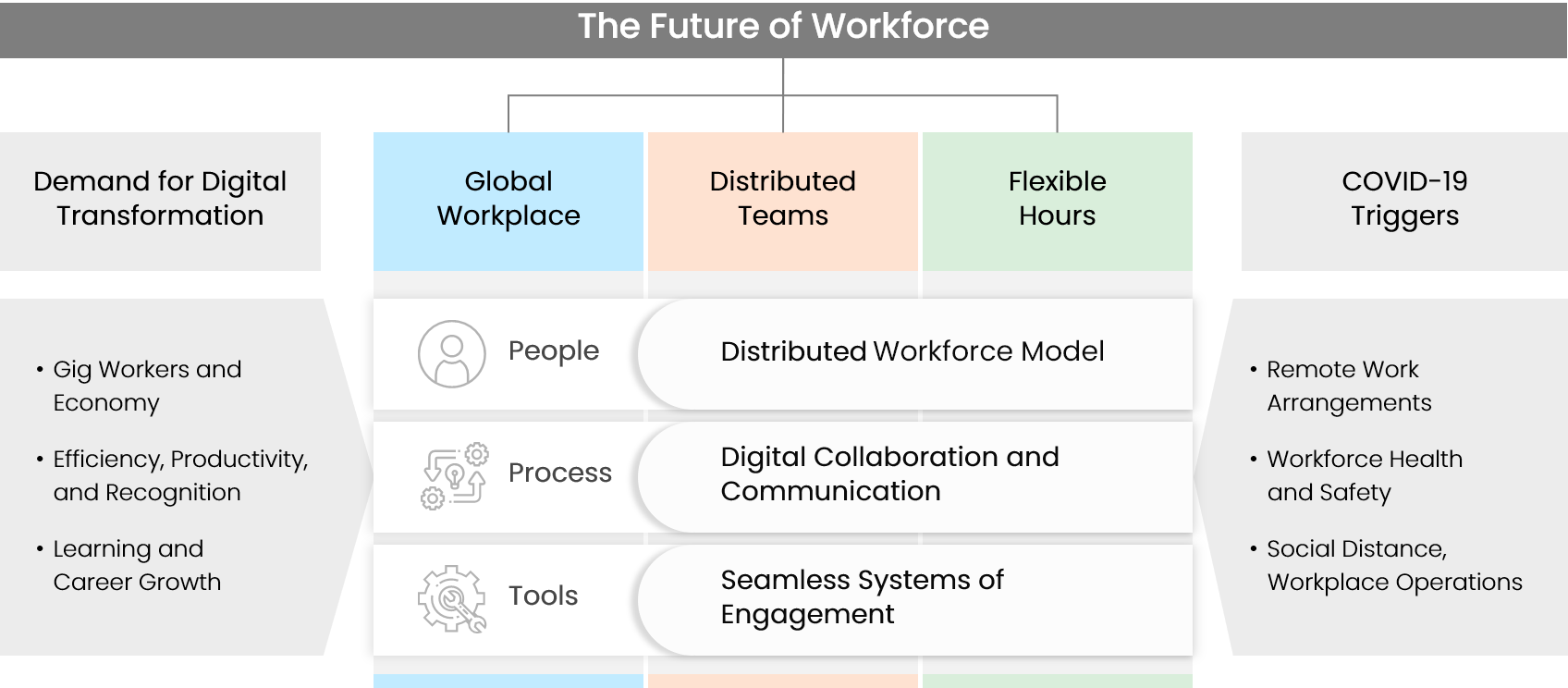 ---
Key Features - Available on Web App & Mobile
My Intranet
Drive workforce engagement with seamless internal communications.
My Docs
Search through folders and file shares and view all documents with categorization by date or author.
My Calendar & My Office
Access your calendar and all MS Apps from Pulse.
My Teams
View your team network, see reportees, and foster collaboration with My Teams.
My Work & Projects
AI driven prioritization of all Tasks and work. Review and update all project related deliverables from Pulse.
My HR
All compensation, benefits, PTO, performance, and learning dashboards in one place.
My Apps
Access custom and third-party software tools from a single pane of glass with harmonized experience.
My Social Networks
Enable a workplace social network, fostering collaboration and team building across your business OR access to public social media- for posting Corp messages.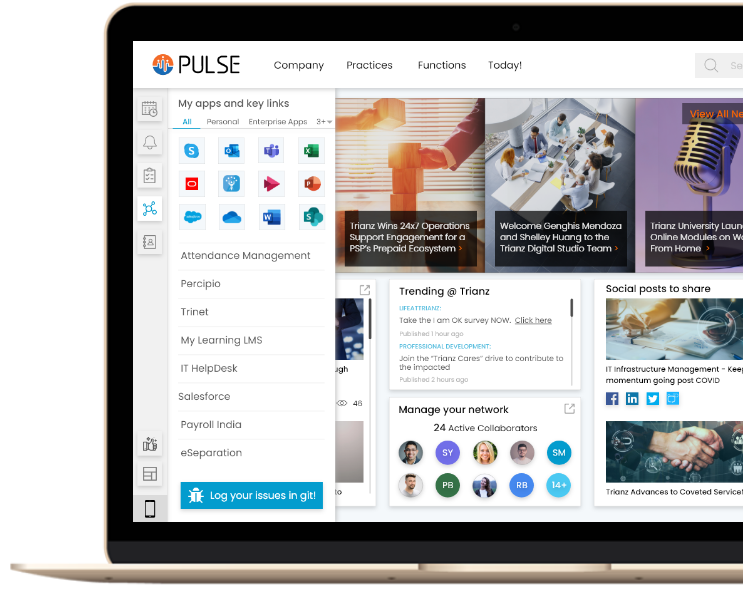 My Workforce Analytics
Generate insight around your workforce and maximize productivity.
My New Custom Apps
Robust integrations with enterprise and third-party apps.
Engagement Analytics
Track employee engagement with content, projects, and team members.
My Workflows & Approvals
See and process pending approvals from management and employees.
My Follow-Ups
Check pending follow-up tasks and related dependencies / outcomes.
My Business Analytics
Project execution and delivery performance analytics, KPI targets, SLA adherence statistics and more.
My Content & Communications
Consistent, real-time communication within teams and external stakeholders. Publish formal announcements straight from Pulse.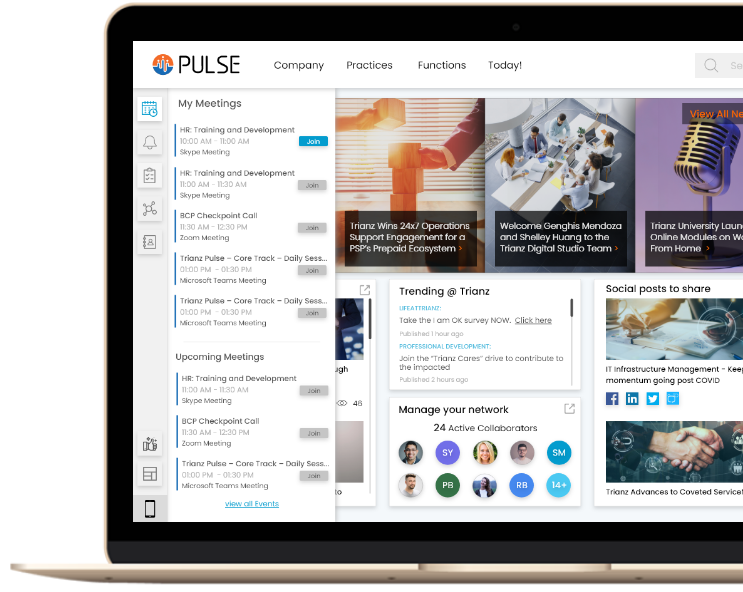 Digital UX
A transformative business user experience for value-driven collaboration. Experience can be harmonized across Apps.
Easy Content Management
Intuitive, automatic harmonized information management sharing, search, discovery and access. Integrates with any ECM tool.
Extensibility to Franchisees
Tailor and extend lite versions to Franchisees (Agencies, Shops, Restaurants, Branches etc.)
Integrations
Custom apps, enterprise apps, data and analytics, collaboration utilities.
Self-service Driven
Enhanced productivity and efficiency with self-service capabilities.
AI & Automation Enabler
Automation and data-driven approach to enhance talent experience and business outcomes.
SSO & Easy User Management
Simplified model for access through SSO- most privileges inherited from O365 (or any other AD).
SaaS Model
Flexible and scalable efficiencies with minimal operation and deployment risks.
Lower TCO
Minimal maintenance and robust support leading to lower TCO and higher ROI. Underlying apps can be modernized- instead of replacing- thus reducing costs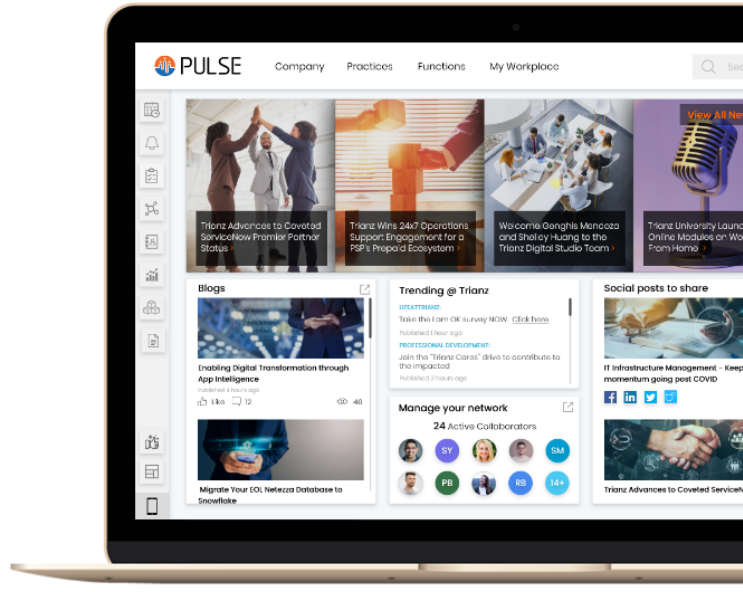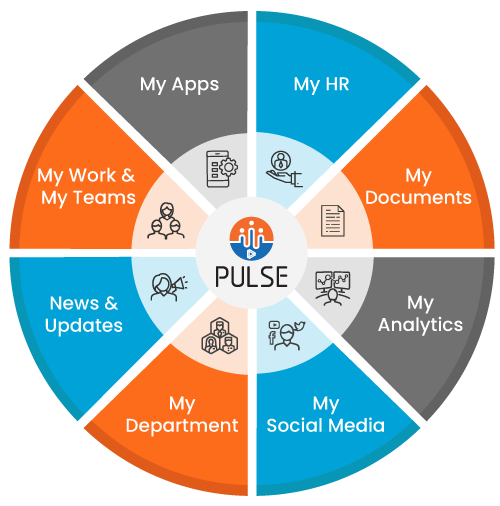 A Digital Workplace Solution
---
Pulse allows users to access applications, collaborate with colleagues, manage meetings, track projects, and keep their finger on the Pulse of the business - all through a combination of data analytics, seamless integration, and robust workflow automation.
Explore Pulse for Teams
Explore Pulse for Leaders
Advance Your Journey to Digital Transformation
Achieving a successful workplace transformation is imperative for businesses that are
seeking the transformative outcomes of enterprise digitalization.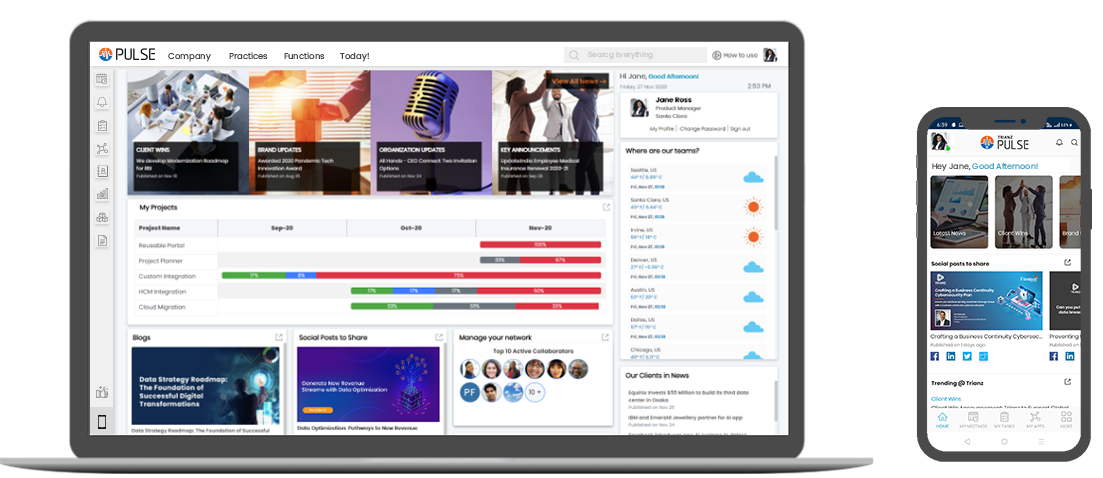 ×