Driving Digital Transformation
---
Less than one-quarter of automotive companies are making investments in digital transformation. This highlights clear vulnerabilities in most automotive companies that sit outside the vision-driven quadrant. In response to this data, automotive OEMs and their suppliers should seek to develop strong digital strategies across all departments.
The end-state for automotive companies will be a digital transformation of the value chain, driven through bringing suppliers, manufacturers, and customers together via a centralized platform. This will bring improvements in efficiency, data-sharing, supply chain management (SCM), and the overall customer experience (CX).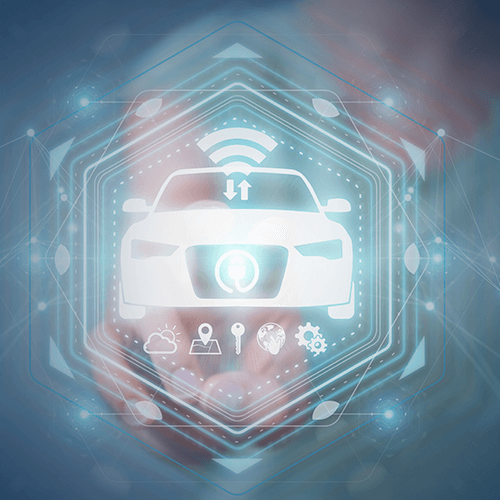 ---
Top Concerns Expressed by CEOs in the Automotive Industry
---
Automotive CEOs have numerous concerns around the future of their industry. Here are the top five concerns that need to be addressed in the digital era:

Capitalizing on Digital Disruption
There is a growing need to create new products and technical features that improve safety and comfort. The product development and research lifecycle needs to be shorter and deliver more rapid iterations aligned with the evolving digital ecosystem.
The logistics and transportation industry are closely tied with the automotive industry. Digital transformation is unveiling new business models and technologies, such as automated logistics systems which leverage platooning (similar to a convoy) to drive vehicles in tandem using AI.

Partnering for Success
There is a growing need for partnerships with technology companies and, among automotive manufacturers, to compete with new digital-first organizations. Larger automotive original equipment manufacturers (OEMs) compete by merging and acquiring technology providers. This simplifies the assimilation of components from parts suppliers, integrating digital technologies into automobiles and ancillary services without the research burden.

A Dynamic Regulatory Environment
Major shifts in environmental regulation and government policy are pushing the automotive industry away from gas and diesel towards electric vehicles and supplementary technologies.
Market Position and Meeting Customer Needs
Demand for personalized automobiles is growing, leading to more manufacturers exploring new approaches to manufacturing, technology, and service that enhance the customer experience (CX).A lack of digital skills and technological expertise is preventing automotive manufacturers from incorporating new technologies into their automobile products and services.

Transforming the Value Chain
OEMs and other large automobile component manufacturers need to transform the value chain to retain their dominant market position. Newcomers such as technology companies, telecom companies, and device manufacturers are quickly catching up in terms of R&D, sales, and aftermarket solutions.
---
The Most Successful Digital Transformations Are Powered by Analytics Capabilities
---
Our benchmarking services are powered by over 1.5 million data points in addition to our primary research and data collection capabilities. With access to leaders across more than 40,000 companies in various size segments, industries, and geographic locations, we can quickly gather additional data to address how your business is performing against the competition.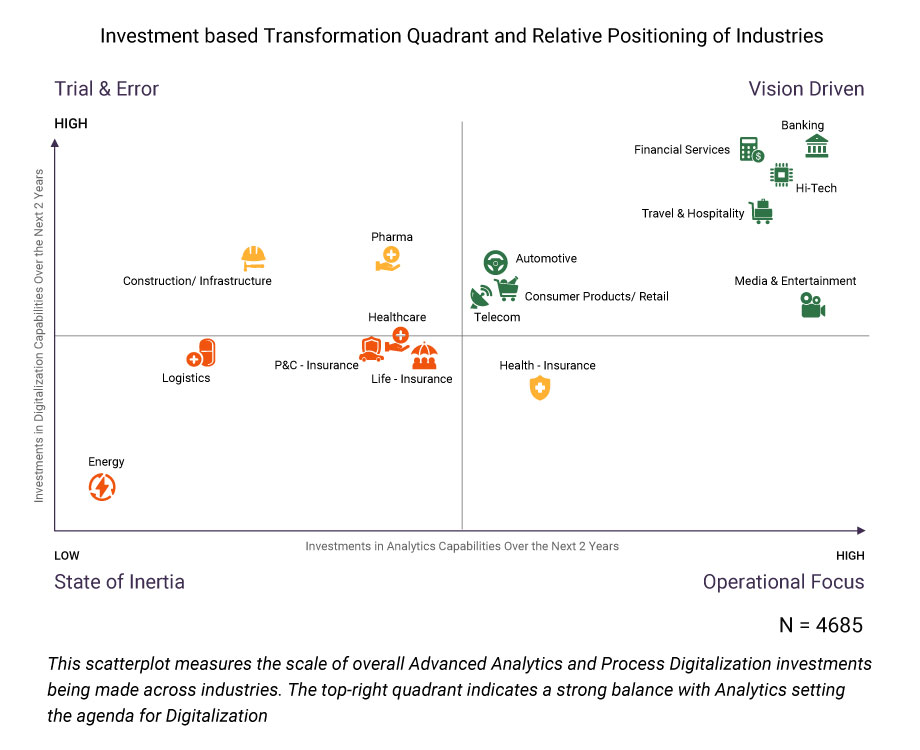 Source: Trasers
---
Data Analyzed in this report comes from 4,000+ responses. For the automotive industry, data from 340 companies have been used.
---
Our automotive industry experts can offer insights into the following sectors:
Auto Manufacturers

Component Manufacturers

Distributors

Auto Repair & Service Providers

Auto Component Retailers

Auto Dealership Chains

And More
×