Planning the Foundation for Tomorrow
---
The construction industry is moving at a slower pace than other industries as far as digitalization, and the window is closing for companies to transform their operations. Those that proactively undergo a digital transformation initiative now are likely to be better positioned to cater to changing customer expectations and government regulations, and to combat industry competitors. CEOs must boldly use this window of opportunity to frame and drive digitalization across the business if they want to emerge successfully in a highly competitive marketplace.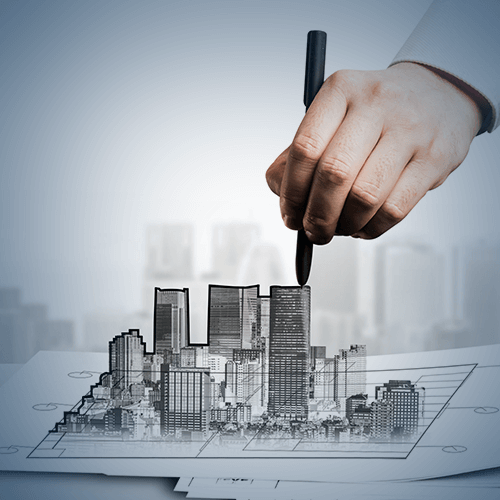 ---
Top Concerns for CEOs in the Construction Industry
---
The next decade is going to bring many hurdles for construction industry CEOs to overcome. From becoming energy-efficient to finding new logistics solutions, there is nothing that digitalization cannot help to remedy. These are the top 4 concerns that need to be addressed by CEOs in the digital era:
Strains on Bottom Line
While technological innovation has led to a rise in productivity and profitability in most industries, the construction industry is an exception. Productivity is largely dictated by human workers, and consequently the bottom line remains strained.
Room for Disruption
Construction is a complex industry that is dependent on many constituents in its value chain for the supply and delivery of construction materials, machinery, and human resources. Late adoption of digital technologies has relegated the construction industry into the league of laggards, who are ripe for disruption from operators in other industries.

Environmental Impacts
Sustainability and other environmental issues are now boardroom issues. Environmental protection groups around the world are rallying against issues that affect native flora or fauna, natural resources, and indigenous peoples. Gaining timely approvals from multiple agencies for construction projects is another challenge as lawmakers across the world are demanding more granular information about sustainability and environmental impacts. This ensures that construction firms can meet their compliance obligations before receiving approval to commence construction.

Dwindling Workforce
While automation has reduced dependency on human labor , there is a severe lack of skilled construction workers in the talent pool. Millennials and subsequent generations are opting for easier and more rewarding careers in other industries over jobs in construction and engineering. Also, unlike other industries, there is significant latency in building a talent pool due to educational and experiential requirements in the construction industry. The 2008 financial crisis prompted large swathes of skilled workers to migrate to other industries, and this gap has not since been filled.
This has resulted in a cascading effect where the construction industry lags significantly behind other industries. In particular, construction firms are failing to adopt new technologies like cloud computing and digitalization to improve their operations and processes.

Unaligned Priorities
Projects of all types, be it residential, commercial, or public infrastructure are growing in complexity and size. As a result, construction company CEOs are under immense pressure to execute their projects in a timely fashion.
Sadly, the construction industry is notorious for project delays, going over-budget, and sub-par execution on project plans. This can be attributed to the fact that IT and project management teams have poor communication, resulting in unaligned priorities and a lack of visibility into the flow of information across the value chain. This increases operational and business risk, leading to the loss of precious raw material resources and financial resources alike.
---
Enormous Potential, Little Effort Around Digitalization in Construction
---
The construction industry has huge potential to benefit from digital transformation, but incumbents are doing very little to transform their operations. When digitalization is applied, incumbents only do so to reduce costs or increase efficiency, with little awareness for the wider benefits digitalization may bring.
Despite high start-up costs and entry requirements for construction projects, new variables are emerging in the ecosystem. Specialized mid-size firms, manufacturers of innovative materials, and future government regulations will converge to change the competitive dynamic in the construction industry.
There is a sense of irony when construction companies receive the greatest financial support from government and financial institutions yet fail to invest sufficiently in digitalization. CEOs must focus on digitalizing to emerge as construction industry leaders—before digital-born disruptors take center-stage.
---
The Most Successful Digital Transformations Are Powered by Analytics Capabilities
---
Our benchmarking services are powered by over 1.5 million data points in addition to our primary research and data collection capabilities. With access to leaders across more than 40,000 companies in various size segments, industries, and geographic locations, we can quickly gather additional data to address how your business is performing against the competition.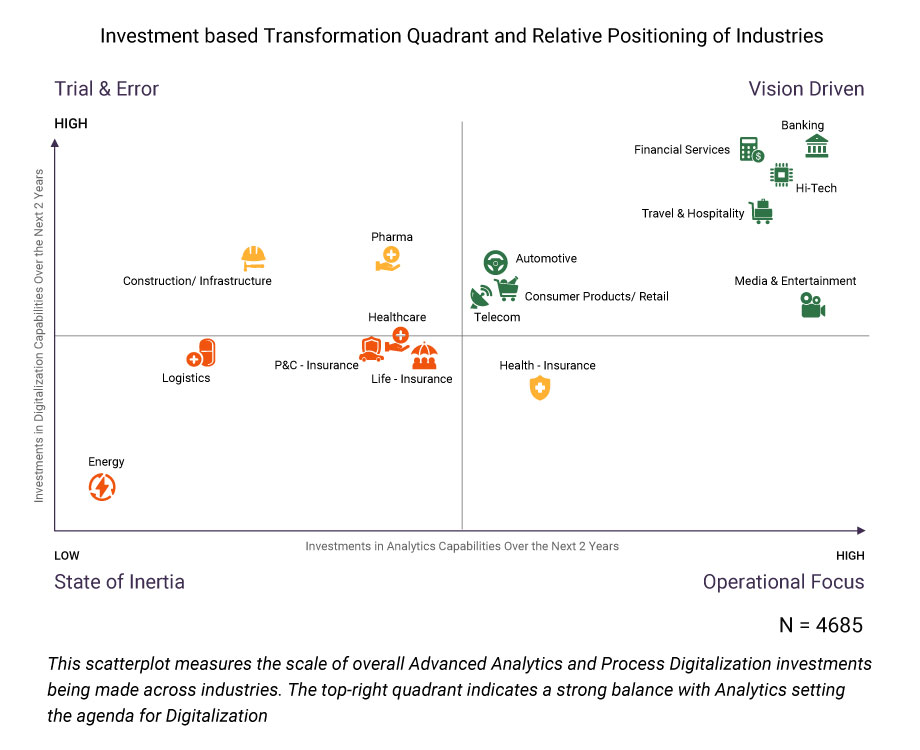 Source: Trasers
---
Data analyzed in this report comes from 4,000+ responses. For the construction industry, data from 346 companies have been used
---
Our construction industry experts can offer insights into the following sectors:
Civil Engineering

Architecture

Industrial and Commercial Construction

Infrastructure Development

Mechanical and Electrical Construction Services

Construction Equipment Suppliers

Technical Construction Equipment Manufacturer

And More
×