Entertaining a Renewed Customer Experience
---
Media and Entertainment stand ahead of the industry average in the digital transformation vision-driven quadrant. However, the industry lags in comparison to digital champions in the adoption of analytics to power strategy, transformation initiatives, IT, or business operations. Less than 15% of media and entertainment companies use mature analytics to power corporate strategy and prioritize transformation initiatives.
Rather than using consumer insights to guide decision making, respondents in the media and entertainment industry cite new opportunities and regulatory changes as the most important factors driving digital transformation. The industry will not be able to gain its desired success unless they focus on customer priorities, as customers are the major driving factors for success.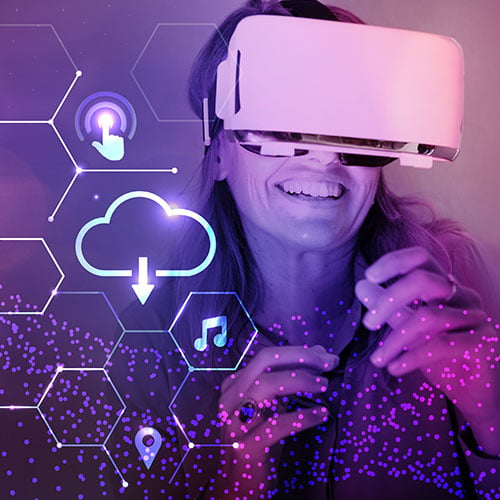 ---
Top Concerns for CEOs in the Media and Entertainment Industry
---
Though the media and entertainment industry has made serious investments in digital transformation, they risk encroachment from high tech and telecom leaders trying to enter the market. While understanding the competition through predictive analysis will help mitigate the effects of future encroachment, media and entertainment CEOs will first need to address these top six concerns.

Cultural Change
CEOs are feeling the pressure for a cultural change from being product-focused to an experience-focused organization. Listening to customer feedback will be a major driving force that will shift culture and make a massive impact on addressing the changes in media consumption habits.

Fragmentation
Fragmented markets and increased competition from other media channels (i.e., social, owned & earned media) are forcing the industry to remodel the way it operates. CEOs will need to develop new service offerings focusing on entertainment bundles to reinvent the product-service portfolio.

Covid-19
While online entertainment consumption has risen notably for television because of the pandemic, movie theatres, theme parks, museums, and other external consumption models continue to suffer due to physical distancing norms and lockdowns are enforced. CEOs will need to address consumer and employee demand for specialized, tailored, at-home services to overcome the changing tides.

Market Disruption
Rapid digitalization is at a pace never seen before, which can get tough to compete with for traditional players. CEOs will need to keep up-to-date with constantly evolving market trends, initiatives, and opportunities to overcome disruption and digitalization by industry leaders.

Cyber Security
With the main source of entertainment becoming digital, the increased cybersecurity risk to entertainment, customer, and financial data has also increased. CEOs will need to consider the reputational, operational, legal, and compliance implications that may affect customer safety if cybersecurity risks are neglected.

Recruitment and Retention
Finding, training, and retaining quality talent is a top concern for any industry, but it is crucial for the media and entertainment industry. What will underpin a CEO's success is personal involvement, evangelization, and transforming talent through a formal training structure to improve recruitment and retention.
---
A Changing Approach to the Customer Value Proposition
---
Media and Entertainment leaders are investing heavily in marketing, human capital, and legal, highlighting the urgency to reinvent their customer value proposition. Legal and human capital are high on the list for analytics investments over the next two years, with organizations trying to better streamline the legal operations and analyze their talent from a transformation and retention standpoint. New value chains will emerge based on a shared role in the customer life cycle. Based on our data, R&D, marketing, and sales will be about customer acquisition; services, production, and supply chain management will form the customer value delivery cluster; and finance, procurement, and legal will form the customer value enablement function.
---
The Most Successful Digital Transformations Are Powered by Analytics Capabilities
---
Our benchmarking services are powered by over 1.5 million data points in addition to our primary research and data collection capabilities. With access to leaders across more than 40,000 companies in various size segments, industries, and geographic locations, we can quickly gather additional data to address how your business is performing against the competition.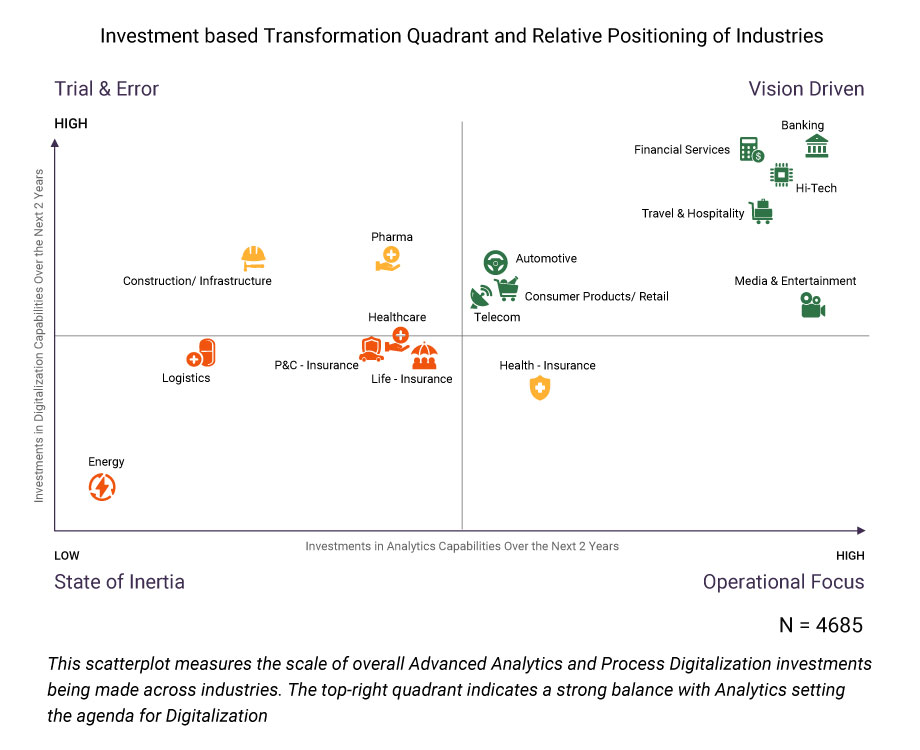 Source: Trasers
---
Data analyzed in this report comes from 4,000+ responses. For the media and entertainment industry, data from 251 companies have been used.
---
Our media and entertainment industry experts can offer insights into the following sectors:
Cinematic Entertainment

Sports & Recreation

Publishing

Media & News

Radio and Television Broadcasting

Gaming

And More
×