Creating a Healthier Customer Experience
---
Less than 20% of pharma companies have adopted a vision-driven approach to digital transformation. This puts them at significant risk from vision-driven competitors who leverage cloud technologies and data-driven business models to increase the value of their product-service portfolios.
Pharma CEOs sense the urgency around digitalization, and have begun investing in their ecosystems through analytics, research and development, and reinvention of the value chain. This will become essential as digital disruptors encroach on the pharma industry. Informed leaders also know that digitalization increases capabilities, reduces costs, and enables better customer and employee experiences (CX and EX).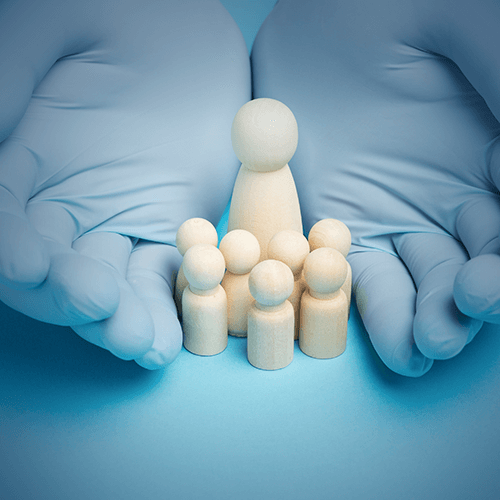 ---
Top Concerns for CEOs in the Pharma Industry
---
Consolidation is transforming the pharma industry's competitive landscape. While disruption is inevitable as more players enter the pharmaceutical market, here are the top six concerns that pharma CEOs will need to address as the industry accelerates into the digital era.

Opening New Sales Channels
Direct-to-consumer (D2C) models are transforming the way pharmaceutical services are delivered. Healthcare providers no longer act as intermediaries for non-prescription drugs, enabling pharma companies to sell directly through their own sales channels.

Encroachment
Tech companies are encroaching on the pharma industry and introducing innovative new product-service portfolios. This is increasing pressure on pharma companies to follow suit and develop their own digitalized product-service offerings.

Talent Acquisition
Digital talent is hard to come by, and the pharma industry is no exception. As digital transformation and digital business management become more important, talent will be essential in guiding and executing pharma initiatives. Workforce training and education is the challenge and is an area where pharma companies should invest if they wish to compete in the digital era.

Asset Protection
Protecting intellectual property (IP) is more difficult than ever, with countries like China infringing on patents and selling generic copycats on the global market. Pharma companies risk losing their investment if they fail to protect their IPs. Cybersecurity is another threat which will only grow as pharma companies digitalize their operations, mandating better security and data protection.

Expanding the Product-Service Portfolio
Insurers, physicians, and care providers are trending towards value add-ins that serve to supplement the existing value chain with digital services. Pharma must tap into this trend and deliver more supplementary services on top of their existing product-service portfolios to capture a wider audience.

Faster Time to Market
Shareholders are pressuring pharma companies to deliver drugs and products faster. These shorter product-service lifecycles increase the rate of innovation in tandem with costs. Pharma companies have no option, however, but to continue with high-velocity development as disruptors are posing a significant threat.
---
A Changing Approach to Pharma Product-Service Development
---
More data than ever is available on genomics, biomedical research, gene therapy, ethnic groups, field trials, and post-market studies. This enables pharma companies to conduct better clinical trials and generate real-world evidence through real-world data for a faster go-to-market. This coincides with an industry shift from reactive care to predictive and preventive care.
The Industry Transformation Quadrant shows that the pharma is in a state of "trial and error." Drug and MedTech companies are deploying digital solutions but failing to fully leverage advanced analytics. With the growth of generic pharmaceuticals worldwide, rising costs, and lengthy development cycles, pharma companies must start leveraging their datasets and generating insight to guide their business decisions. Finally, they should form new partnerships to start delivering treatments that follow the trend of personalized, preventive, and predictive care.
---
The Most Successful Digital Transformations Are Powered by Analytics Capabilities
---
Our benchmarking services are powered by over 1.5 million data points in addition to our primary research and data collection capabilities. With access to leaders across more than 40,000 companies in various size segments, industries, and geographic locations, we can quickly gather additional data to address how your business is performing against the competition.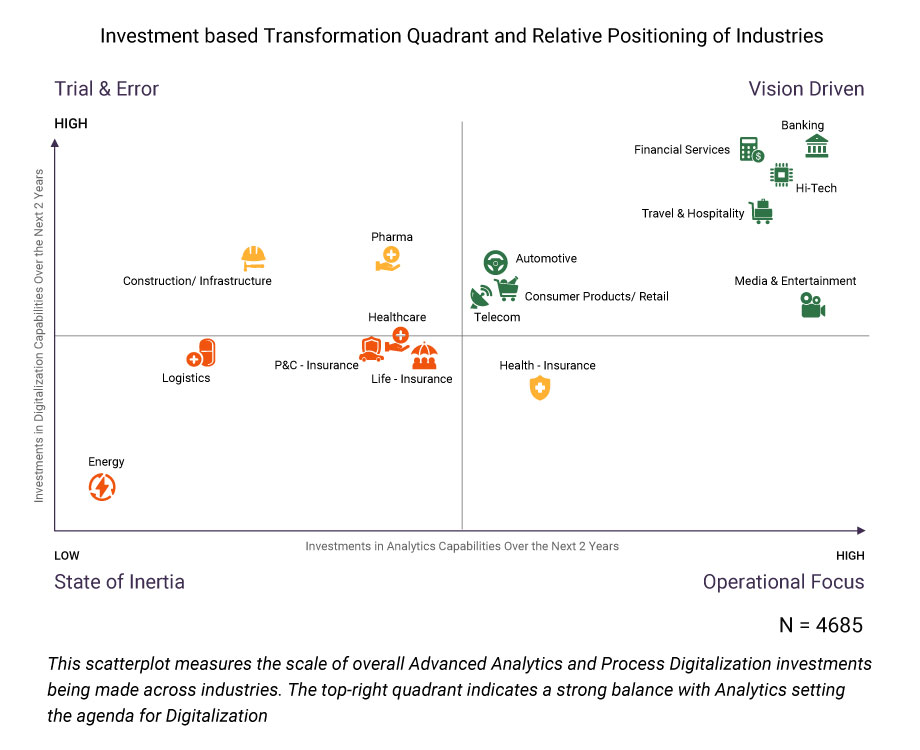 Source: Trasers
---
Data Analyzed in this report comes from 4,000+ responses. For the pharma industry, data from 351 companies have been used.
---
Our pharma industry experts can offer insights into the following sectors:
Pharmaceutical Manufacturer

Medical Device Manufacturer

Contract Manufacturing Organizations (CMO)

Pharmaceutical Marketing and Distribution

Pharmaceutical Support Services

And More
×