What Does the Transformation of Human Capital Mean?
---
In a series of surveys administered to 600+ leaders in HR across 20 industries worldwide, we asked them 'what does digital transformation mean to your organization?'. Their responses were as follows:
Nearly half of leaders surveyed said digital transformations means revamping HR websites and portals while the other half described transformation as a revamping of employee experiences.
Clearly, there is a lot of confusion in the minds of leaders as to what digital transformation means for their specific function.
We decided to take a closer look at the data. This time, we studied all companies that reported being very successful in digital transformations so that we could better understand the definition of digital transformation of human resources from their perspective.
Perceptions of Human Capital Transformation - All Companies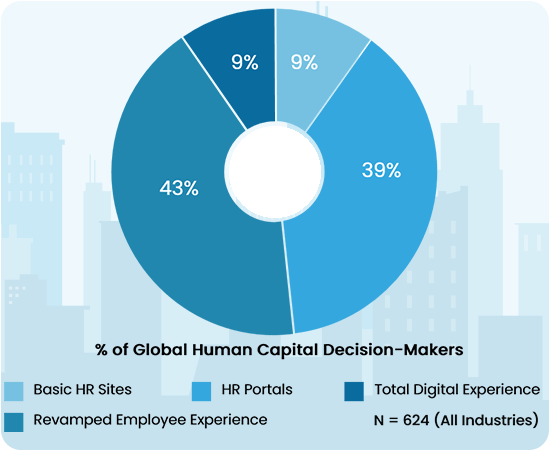 Source: Trasers
---
All Companies vs. Digital Champions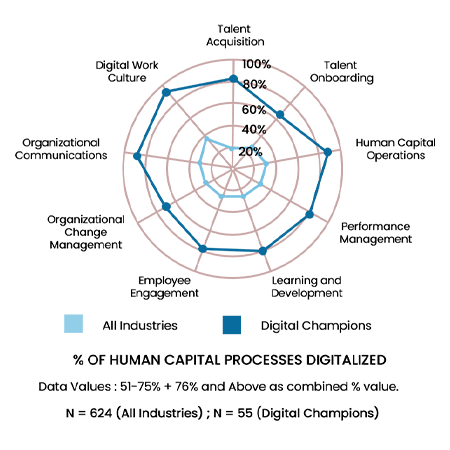 Source: Trasers
What is Digital Transformation of HCM?
---
The answers found in this group of 55 companies or 9% of the total population were astoundingly different compared to the responses of the overall group.
Over 80% of these leaders or 'Digital Champions' as we call them, view it as a transformation of employee experience comprising of their day to day work, their learning and the culture of the organization.
Of the remaining, 18% of companies which we believe are simply in the earlier stages of the transformation continuum say it is about building better HR portals. Other than 2%, everyone else in this group moved beyond websites.

The digital transformation of HR begins with an intense focus on the 'human' aspect and by treating talent as THE most important asset of the company.
From there, it is about making the life of this talent easier in every organizational engagement, helping everyone learn about the digital paradigm in their role and fostering a vibrant and communicative global culture

We Will Help You Evolve Your Human Capital Function Rapidly Along the Transformation Continuum
---
Digital Enterprise Evolution Model™ - Human Capital Operations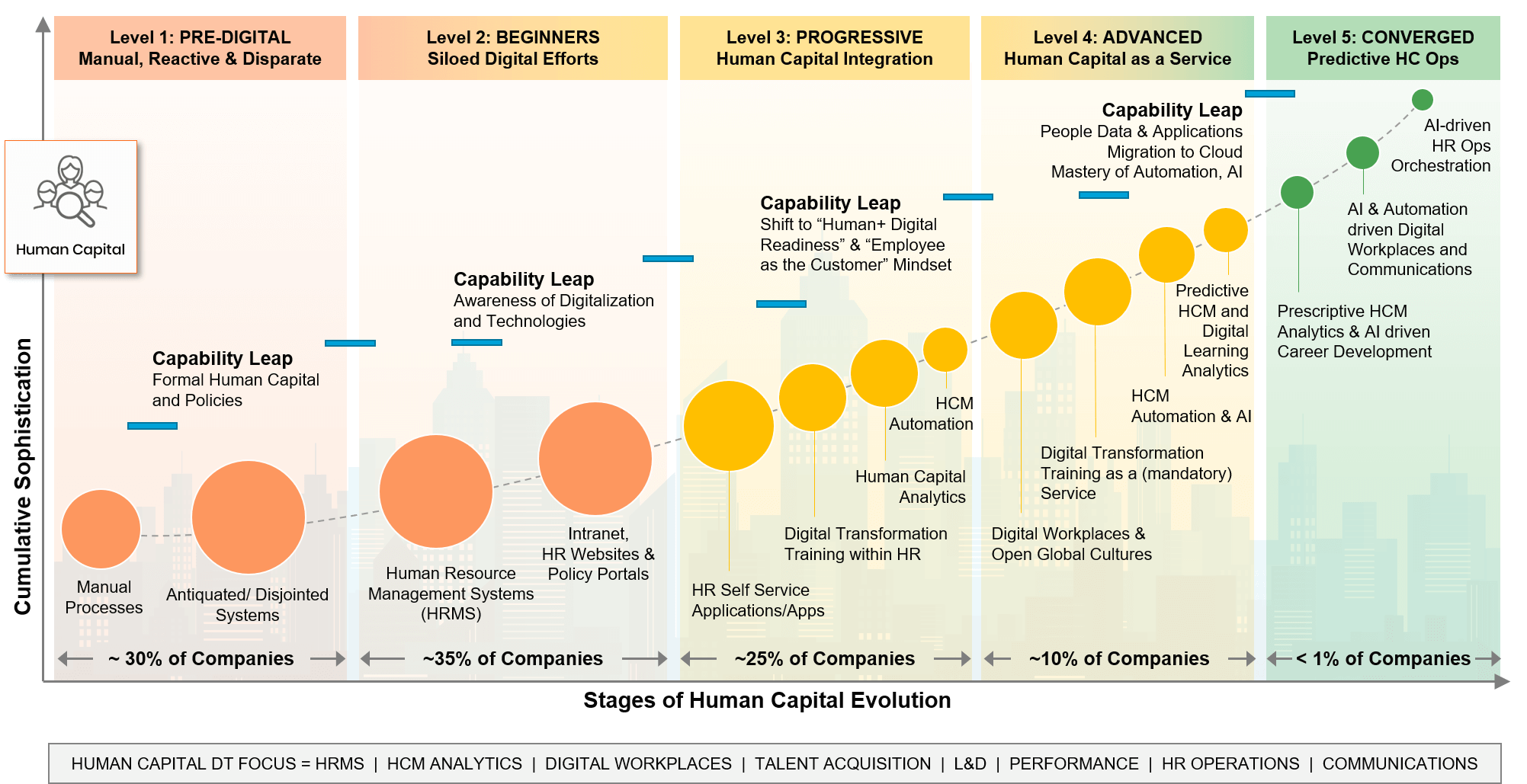 Copyright © 2022 Trianz
---
Digital transformations bring bountiful opportunity for companies that innovate aggressively and disruption and failure to those who don't. While products, services, intellectual property, new business models and strategies etc. are all important- what powers these assets is talent within the organization.
While there is a great pressure to transform, 'digitally ready' talent is not available en-masse. Successful companies have realized that the combination of employee knowledge, loyalty and desire to help their company succeed cannot be created only through new talent. HCM therefore has a critical role to play in harnessing this talent to power digital transformation across the enterprise.
These are the core transformation themes in which Trianz partners with clients in the human capital function.
---

Focus on Employee Experience
Focus on Employee Experience by making both routine operations such as payroll and benefits and critical aspects like performance, career progression and communications are as predictable, digitalized automated and rhythmic as possible.

Create Digital Workplaces
Create Digital Workplaces that go beyond the traditional 'self-service' and 'intranet' capabilities.
Reimagine the workplace across all business functions to ensure that there is a digital environment which makes working easy and collaborative, delivering faster and better output and driving employee satisfaction.

Train & Prepare Talent
Our data shows that the #1 driver of success in digital transformation is role based training. By proactively engaging in every transformational initiative upfront to ensure that training is planned and executed as a necessary discipline- HR can create a non-linear impact by making these initiatives highly effective.

Become Predictive - Set the Agenda
In addition to the above themes, mastering Human Capital Analytics is essential to become predictive about what your employees care about; what the workplace should look live; what makes employees successful, productive and loyal.
---
Trianz has over 1.5M data points on digital transformation across industries - We bring a
data-driven approach to Human Capital transformation
Trianz has invested in creating Trasers, one of the world's largest databases on digital transformations with data from over 5,000 plus companies from 20 industries. We have spoken to more than 600 leaders in HR to understand transformations better. As such we know where industries and companies within are in the continuum of transformations.
Our Human Capital Digital
Transformation Data
Scope: Human Capital Current State, Vision, Priorities, Strategy, Investment Models, Technologies, Leadership and Change Management, ROI
Industry Segments -
Small Businesses, Medium Businesses, Emerging and Large Enterprises


State of Human Capital Transformations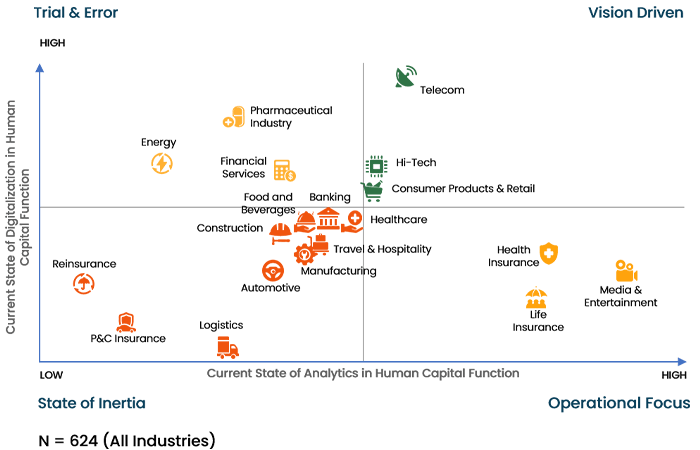 Across the globe- only 9% of HR organizations or 'digital champions' as we call them, are successful in digital transformations. Trianz brings a data-driven approach which abstracts the status, priorities, strategies, technologies, implementation models and change management that the most successful human capital organizations follow.
×