Partner Centric Sales Driven with Centralized CRM
Trianz was tasked with helping a Fortune 100 life insurance provider that works with individuals and families of all income levels and backgrounds. They are predominantly an asset management firm, helping individuals and families manage their asset portfolios.
Challenges for the Life Insurance Provider in Sales Operations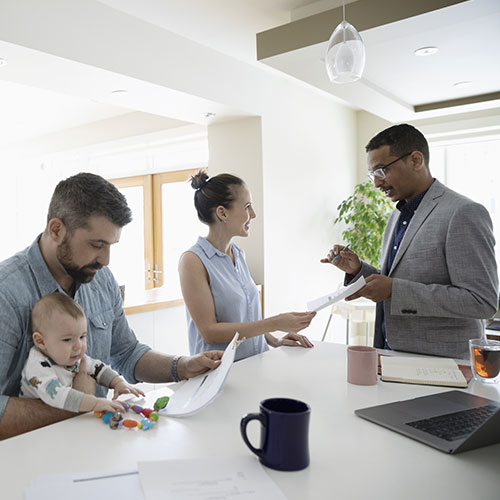 The life insurer had multiple sales channels operating simultaneously, including third-party distribution and agency sales & services channels. Due to this complexity, the system was struggling to process workloads consistently and efficiently.
The life insurance provider needed a single, centralized platform to manage all sales goals and daily targets. With multiple source systems, converging these environments would be difficult due to the customized extract-transform-load (ETL) processes it uses — in addition to the 900+ end users heavily reliant on this service-system across the entire business group.
Technology Components
Trianz identified and implemented the following technology components to help the Fortune 100 life insurer reach its IT objectives:
Salesforce.com (SFDC) is the sales operations platform of choice, enabling customer relationship management (CRM), sales orchestration and subscriptions, marketing automation, sales and customer analytics, and custom app hosting or development.

Informatica is an enterprise cloud data management platform powered by artificial intelligence. It was chosen as a centralized data warehousing solution, with stringent data governance and risk management, automated data discovery and preparation, large-scale analytics using serverless compute, and centralized 360-degree elucidation of business data operations.

Data Interfaces were created specifically for Simple Object Access Protocol (SOAP) and Representational State Transfer (REST) request fulfillment. This was particularly useful for data integration and orchestration between Salesforce and Informatica.
How Trianz Helped the Life Insurer to Enable Digitalized Sales Operations and End-to-End Data Orchestration
Due to the scale of the project, our data experts identified digital champions across the business to assist with development and project support. This coincided with key stakeholder meetings to garner support for the sales and data digital transformation project.
Next, a scalable team structure was established. Knowledge assets across all sales processes were documented and centralized in a knowledge base. A new dedicated team was onboarded with the help of our data and sales experts, educating personnel to use the new system with competence and confidence.
A governance model was established to protect data security and comply with regulations like PCI-DSS and GDPR — an essential measure considering the 900+ end users on the platform. The engagement model was transformed to accommodate the new technologies, adhere with service level agreements (SLAs) and prioritize support for business-critical customers.
Finally, a distributed support team was deployed to enable 18-hour, 6-day per week customer support globally.
Transformational Effects with SFDC and Informatica
The new system offered predictable delivery and continuous engagement with potential customers: a key target for the digital transformation project. This greatly improved platform adoption for the life insurance company.
As the new system was future-proofed in terms of both technicality and capability, multiple business departments were confident to adopt and utilize the new system in their daily operations.
Rather than custom solutions, Trianz stuck to an out-of-box-experience (OOBE) in Salesforce and Informatica. This meant the business could rely on the new platform's long-term existing functionality, rather than perpetuating a cycle of redevelopment and troubleshooting with custom solutions.