Challenges for a Healthcare Consortium
Trianz was engaged by a big-three managed healthcare consortium in the US who at that time had over 7,000 beds, 209,000 employees, 21,250 physicians, and 39 medical centers in operation. 700 full-time IT support engineers managed its IT infrastructure.
Manual Process Management, Siloed Data and Tools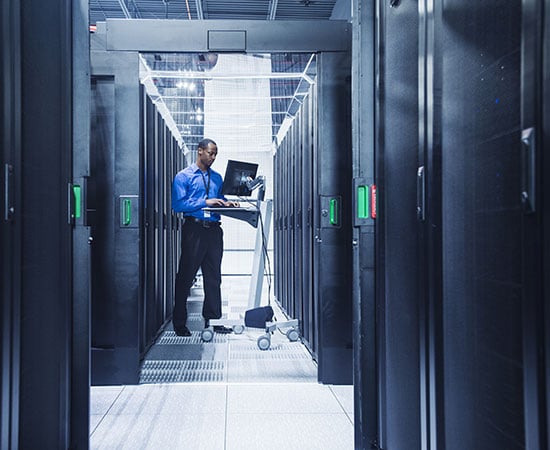 The healthcare consortium was using manual processes at-scale on its IT network. This resulted in long waits – often three days in duration – to resolve critical IT incidents. Furthermore, a backlog of over 1000 work requests indicated an overworked IT department.
The healthcare client had multiple tools in-use and siloed data repositories, leading to a lack of centralization and integration. This included configuration management databases (CMDB), and incident logs.
A lack of consistency between departments led to difficulty diagnosing and remediating first-time incidents, with no notes or logs to reference if the problem reoccurred.
IT staff were perpetually reactive, fighting fires rather than extinguishing the fuel source. This prevented proactive measures such as process improvement, knowledge management, and remediation playbook creation.
Business Objectives: Customer Satisfaction, Reduced Manual Processes, and Healthier Infrastructure
The healthcare consortium approached Trianz to achieve the following business objectives:
Achieve greater customer satisfaction by reducing the number of manual workflows and operations on the network. This would ensure the timely remediation of incidents in adherence with committed service level agreements (SLAs).

Increase capabilities around reporting and visibility with SLA metrics.

Eliminate the aging backlog of IT support requests with a combination of remediation and incident redundancy solved by wider system and service improvements.

Reduce the prevalence of human error with manual tasks. This would involve the digitalization of workflows and processes, enabling consistent remediation through automation runbooks. Integrations would also be stress-tested, redeveloped, and monitored to reduce incident prevalence.
Recommended Technology Components
Trianz worked with the healthcare consortium to adopt new technologies and redevelop old services and systems:
A new centralized Event Management System (EMS) was created consisting of IBM Netcool for network event management, BMC Remedy for IT service management events (ITSM), and ServiceNow as the centralized integration and orchestration layer.

IPSoft was implemented to enable auto-remediation based on events in the EMS.

IBM Tivoli enabled self-healing using machine learning (ML) to proactively remediate first-time incidents and escalate a service request only if remediation required human intervention.

Correlation rules were developed within IBM Netcool to de-duplicate system events, reducing event noise and fatigue among IT personnel.

Custom automation logic for IPSoft was developed to meet business objectives as defined in Scope of Work (SoW) documents. This also supported continuous ongoing development of automation scripts and playbooks.
Automating Processes and Reducing Incident Prevalence
Trianz worked closely with stakeholders, conducting workshops to identify problems employees were experiencing with current IT processes and tools. Desired outcomes were established and used to guide the digital transformation project.
A future-state of architecture and end-state visualization was supplied to promote stakeholder buy-in, showing the benefits of the new integrated solution.
The IT support desk was supplemented by temporary employees, including Trianz employees and re-assigned client employees, to reduce the backlog of past system incidents.
Infrastructure monitoring and management was delivered as a managed service, offloading IT operations management (ITOM) workloads from the IT department to prevent backlogs from recurring.
Transformational Effects for the Healthcare Consortium
As a result, the mean-time-to-remediation for incidents was greatly reduced, ensuring the healthcare consortium could maintain adherence with all business SLAs.
The backlog shrank by 91% over the course of five months, thanks to a combination of managed service offloading and streamlined incident responses.
Overall workforce efficiency was improved approximately 20%, improving service quality and the overall customer experience (CX).