Trasers Seeks to Provide Clients with Interactive and Collaborative Experiences in Real-Time
With a need to develop a comprehensive digital reporting platform, Trasers, one of the world's most extensive research services dedicated to the field of digital transformation decision support, was looking to provide a digitally immersive, interactive, and collaborative report viewing experience for its clients.
What Was Trasers Looking to Achieve?
The research firm required an immersive, digitally advanced multiplatform state-of-the-art report engagement and report viewing platform to support its growing client base and meet increasing demand.
To achieve these goals, Trasers was interested in building a secure, AI-enabled chatbot application that would interact with its users when accessing and purchasing research reports. In addition, this application would enable users to request custom research requirements aligned to the report topics found on the Trasers platform.
The multiplatform aimed to help Trasers achieve a highly secure and scalable solution while providing more significant user contribution via survey participation, offline connectivity, real-time reporting, and smoother search functions. To strategically implement the appropriate solutions, the company partnered with AWS and Trianz's team of analytics experts to build a microservices architecture for faster automation, scalability, and availability.
How the Trianz Approach Upgraded Trasers' Solutions Architecture
Trianz's consultants sat down with Trasers' leadership to understand their unique business needs and challenges before collaborating with the AWS product team on the ideal solution. Then, after conducting workshops with business and IT stakeholders, Trianz deployed an Amazon S3 intelligent data lake and
BDM-MDM suite, which integrated various data sources to produce the Trasers reports.
Trasers Solution Architecture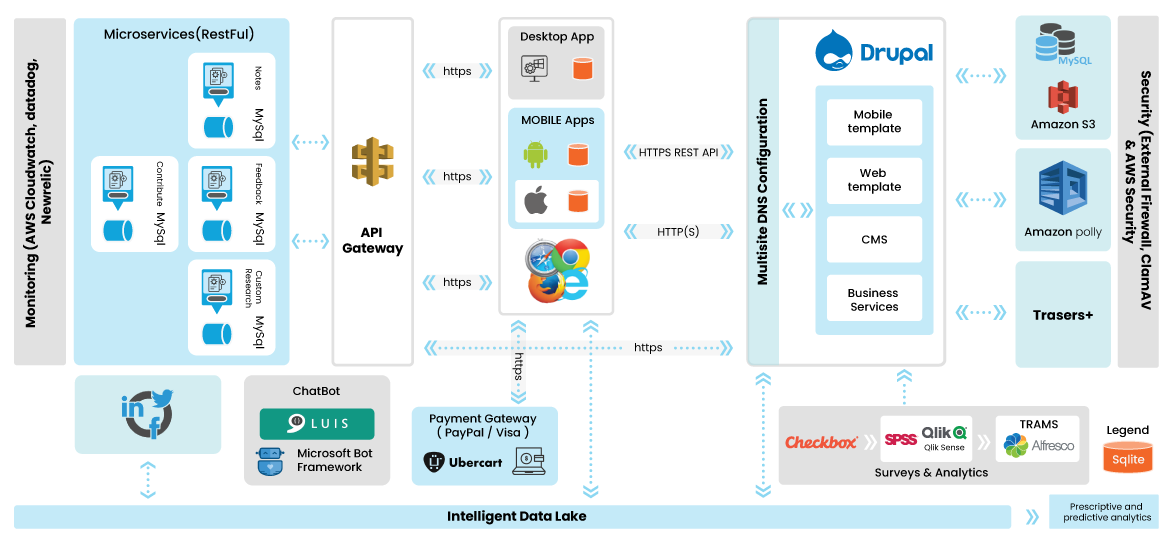 Trianz then identified survey and customer analytics solutions to create a set of reusable custom visualizations that could integrate into an open architecture. Once the identified processes were approved, Trianz's team of analytics experts seamlessly synchronized the implementation of Checkbox, Qlik Sense, SPSS, and Alfresco to offer Trasers consistent, visually appealing, and differentiated reporting services.
Ubercart was implemented along with the cloud-based conversational AI service, LUIS chatbot, to support several payment gateways. This increased the performance of the core application and enabled custom machine-learning intelligence to predict overall meaning and pull out relevant, detailed information for customer orders and technical support.
Finally, after the application was deployed on AWS cloud, Trasers web, mobile, and desktop apps were validated against security vulnerabilities using Nessus Professional 8.0 and Burp suite.
Trasers Deployment Architecture — AWS Cloud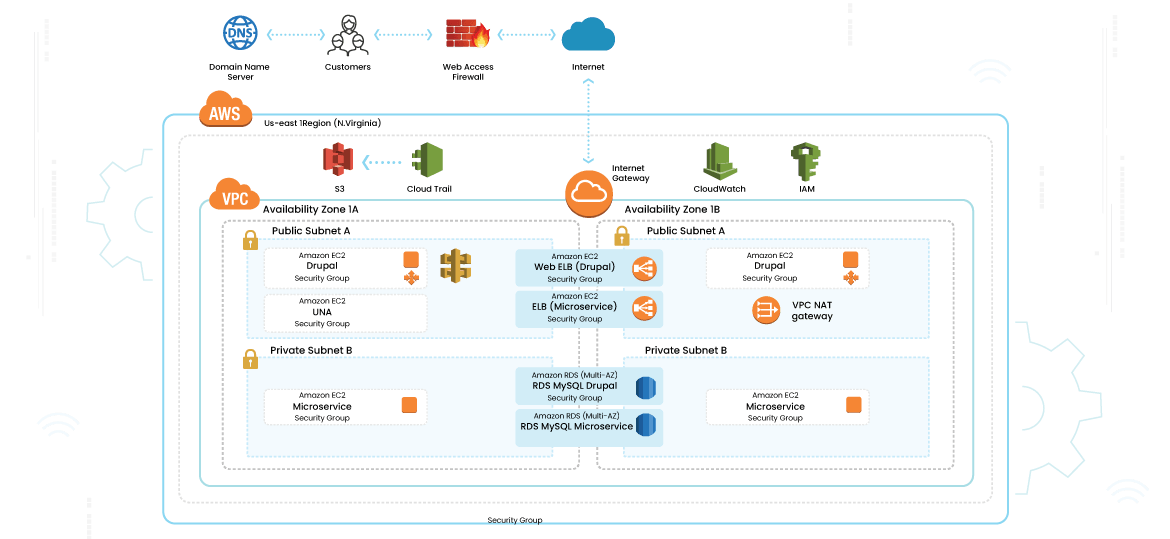 How Trianz Helped Trasers Realize Their Business Goals
Trasers' engagement with Trianz enabled them to leverage an intuitive, user-friendly, and smooth report reading experience. With advanced search functionalities, clients were provided with faster insights into multiple industries and business functions on a digitally immersive platform. They also achieved their key goal of enabling users to interact securely with their reporting services through an AI chatbot and connect with the Trasers user community to get responses from fellow community users.
As Trasers also engaged with Trianz and AWS as a managed service provider, the team delivered a platform that allowed users to interact with reports and perform multiple functions in real-time. In addition, users can now access interactive reports in online and offline modes where their actions are synced up the moment they establish connectivity.
The Transformational Effects and Impact
With the new microservices-based architecture, the client realized a spike in productivity due to the inherent features like content negotiation, authentication, scaffolding code, and other methods to provide more efficient connections. This enabled Trasers to prioritize accelerating its search for new ways to serve customers better, focusing on continuous improvement.
Thanks to the omnichannel access and streamlined checkout process, user experience improved, interactions became seamless and secure, and Trasers general audience and user base increased.
×