Real Estate Firm Seeks IT Infrastructure Modernization
Trianz was approached by a US-based tier 1 real estate debt and equity investment client that needed assistance with its digital transformation initiative. The company had a dependence on physical documentation and manual workflows, which was leading to duplicated efforts for employees and data inconsistencies during data entry.
Business Challenges for the Real Estate Client with Manual Processes and Paper Documents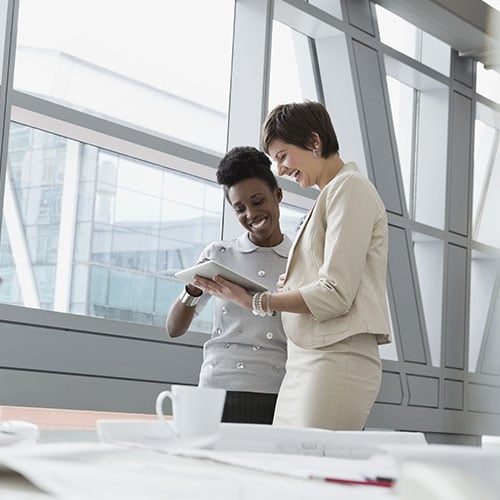 The firm was struggling to communicate with external clients due to its aging email system not being fit for its purpose. Employees similarly could not collaborate on client work, as emails went to individual inboxes rather than shared inboxes accessible by the entire department.
Paper documentation was leading to knowledge access problems, and the client lacked a content management system (CMS) to host any converted documents. Inconsistent datasets meant that business intelligence workflows were outputting inaccurate insights.
This reduced visibility into the deal lifecycle for the client and led to misinformed investment decisions based on poor insight.
Technology Components Suggested by Trianz for the Real Estate Firm
After consultation, Trianz identified the following technology components for the client:
ASP.NET was chosen as an open-source framework for creating web applications and services using .NET and C# programming languages.

SharePoint was chosen as an internal CMS to host files, documents, and facilitate collaboration between team members using intranet services.

Custom Controls were also established and implemented due to the sensitive nature of real estate communications and sales processes.
How Did Trianz Streamline IT Operations for the Real Estate Client?
Trianz started by implementing a centralized business process management system. This new system captured pertinent data across deal submissions, deal funding, and other sales workflows to streamline the deal lifecycle.
Next, digitalized workflows were introduced as a framework for administration teams. This assisted with real estate loan management workflows from inception through to completion.
SharePoint hosted a new documentation repository. This involved the conversion of paper documents to digital formats. Then, employees could use search functions to find policy documents and similar, with extended sharing capabilities to communicate digital documents with external parties.
Digitalized calculators were introduced using ASP.NET, helping the client to accurately estimate costs and revenues when working with external parties. This assisted with deal lifecycle management and improved accuracy when calculating yields. Employees could also access this calculator easily thanks to a web application architecture that is compatible with all devices.
Finally, an online self-service portal was created to assist borrowers. The client's customers could now access historical and current financial statements. Similarly, stakeholders had a centralized view of all statements, improving risk management and chase-up procedures.
Transformational Effects for the Real Estate Client After Digital Transformation
After Trianz completed the project, manual processes were eliminated, improving accuracy during data entry and overall process efficiency.
Stakeholders and employees had greater visibility into the status of each transaction throughout the deal lifecycle. This allowed for proactive measures such as follow-ups, chasing payments, and nurturing prospective customers to drive up sales numbers.
Similarly, the capacity to handle deals increased for the client. It could handle more transactions at once without additional human resources, and new deals could be acquired and processed more quickly in the new system.
Stakeholders had a new centralized and unified view of all real estate operations, leading to more predictive action and risk mitigation thanks to greater insight and awareness. This also improved the quality of decisions relating to investments.
Finally, new collaboration features enabled the client to share documents and communicate with external parties in a digital-first manner. This streamlined communications and improved response rates, expediting deal closures.