Transforming Business and IT Operations
Trianz was approached by a Fortune 500 global insurance company that sought to migrate the majority of its business applications and infrastructure workloads to the public cloud.
Business Challenges for the Fortune 500 Insurer in Process and Data Orchestration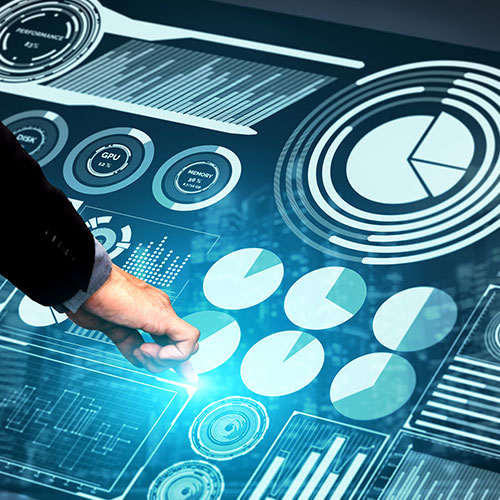 The client was using inconsistent manual processes to input data, and this data was spread across numerous siloed data repositories at the department-level, and more widely across country borders.
With data spread across multiple platforms and geographies, manual collation and reconciliation led to inconsistency in datasets, reducing the accuracy and validity of real-time revenue and profitability insights.
Technology Components Selected by Trianz for the Fortune 500 Insurance Company
After close collaboration with stakeholders and business departments, Trianz decided on the following technology components:
Informatica PowerCenter was chosen as a scalable, high-performance solution for data integration and data lifecycle management.

IBM PureData System for Analytics (PDA) was chosen as an advanced data warehousing and analytics operations solution.

Qlik was chosen as a visualized data analytics solution to enable the creation of interactive, visually represented reports and dashboards.

Aginity works as a data catalog for analytics workflows, enabling the reuse of SQL code to return tried-and-tested query results faster.

IBM Cognos Framework Manager was chosen to create collective business models using metadata derived from various singular data sources.

Cognos Active Reports was chosen to supplement business intelligence workflows with interactive reports containing data insights.
How Trianz Helped the Fortune 500 Insurer to Eliminate Manual Processes and Transform Visibility
Trianz started by identifying business use cases, as well as assessing the complexity and value of migration to the cloud for each use case. Next, our data experts defined a conceptual cloud architecture that would meet business and IT objectives on the AWS cloud.
Then, migration prioritization took place, ensuring low-effort and high-value migration milestones were prioritized first for a faster return on investment.
After this, data analysis took place to generate profiles for each geographic area and line of business. During this process, workshops took place to facilitate decisions and agreements on common definitions between business department stakeholders and select digital champions.
Finally, a proof of concept was developed for two specific, high-priority countries. After validating the concept, it was then expanded to ten other countries.
Transformational Effects After Eliminating Manual Processes and Improving Data Visibility
Trianz finalized the project with a roadmap established around business use-cases and incremental development work on AWS. The client would use this as guidance to maintain and upgrade the platform in the future. A return-on-investment model was also created for the global enterprise data warehouse in IBM PDA.
By eliminating manual processes, the client mitigated data quality risks proactively to improve the value of its datasets. Business definitions established in Aginity guided operations across countries and departments, promoting analytical consistency.
Finally, business users were now able to analyze and unearth insights on revenue and profitability in congruence, regardless of country or department—a critical milestone in the project.