Exceeding Digital Expectations
---
It is no surprise the high tech industry is a leader when it comes to vision-driven digital transformation. However, our data highlights stark vulnerabilities in the majority of high tech companies who fall outside the vision-driven quadrant.
There is little room for error during the digitalization process, and this is especially true for players in high tech. For companies that execute their digital transformation sub-optimally, they risk falling behind the pack or even dissolution. High tech CEOs must be quick to engage, developing and applying a digital transformation plan to remain relevant and competitive.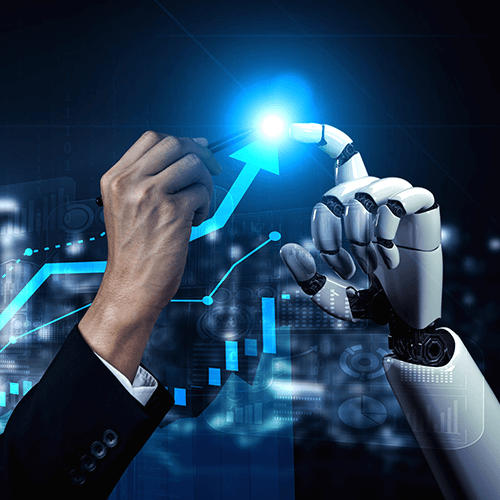 ---
Top Concerns for CEOs in the High Tech Industry
---
The high tech industry is an exceptionally competitive environment, and this presents a range of concerns for CEOs. Here are the top seven concerns that will need to be addressed by high tech CEOs in the digital era.

Improving the Customer Experience
Customer-centricity is a pillar of the high tech industry. For players who fail to center their operations around the customer experience (CX), they risk falling behind intense external competition. Likewise, high tech companies who prioritize the customer experience (CX) are set to reap immense rewards.

Dynamic Product Environment
Non-linear progress around technologies and software is constantly "rocking the boat" in terms of product- service portfolios. A breakthrough from a few months ago can be quickly forgotten as product-service development lifecycles are so short in this industry. High Tech industry players must invest heavily in research and development to innovate in parallel with leaders in the space.

Short Product Lifecycles
The reality of short product lifecycles means significant investments in research and development can go to waste, especially when other companies can execute a faster go-to-market, and with equivalent or better products. Copycat product-service development is commonplace among disruptors, meaning "new" innovations do not remain new for long. This presents a dilemma around research and development priorities, as well as securing a return on investment in the long term.

Migrating Legacy Systems
The cloud and digital transformation have resulted in the decay of long-standing business models. Powerful computing hardware is more accessible than ever, and this enables digital disruptors to start quickly with minimal upfront costs. For incumbents, migrating their legacy systems can be a mammoth task that reduces business agility in the face of intense competition from agile startups.

Cybersecurity Threats
Cybersecurity has never been more important for businesses and their customers. A brand's image and reputation can be shattered by a single cyber-attack, mandating strict and comprehensive security monitoring frameworks. High Tech digital disruptors benefit from native security controls in the cloud, whereas incumbents who use on-premises data centers must build ample defenses using their talent and expertise. This presents two dilemmas: retaining on-premises infrastructure while upholding security, or "jumping ship" to the cloud to benefit from native security features.

Talent Acquisition
There is a massive skills shortage in the high tech industry, and this prevents companies from finding and leveraging the necessary expertise. Furthermore, head-hunting strategies from high tech giants enable talent acquisition through incentivized contracts. This combination of 1) a shortage of talent and 2) buying out talent with financial capital makes it difficult for most high tech companies to build a forward-thinking workforce.
Disruptors
Incumbents are no longer innovating internally. Instead, new disruptors deliver products and services to the market, before being consolidated into larger firms. This is creating a paradigm where companies can buy innovation rather than undergoing the traditional product or service development cycle, centralizing the market around a small number of large players.
The High Tech Industry is Full of Born-Digital Disruptors
---
The high tech industry is synonymous with being born-digital. Incumbents must keep pace with newcomers who have no legacy systems or processes to anchor their success—or else risk falling behind. The ecosystem of venture capital (VC) and private equity investment results in a constant influx of new digital disruptors who deliver new and innovative products or services. This creates a Darwinian environment of adapt or die, forcing continuous research, development, and reinvention of product-service portfolios.
Overall, the high tech industry is a hotbed for innovation and digital transformation success in the digital era. All industry players should maintain a high awareness and sensitivity to changing industry norms, while pushing to integrate new technology-driven business models and processes into their operations.
---
The Most Successful Digital Transformations Are Powered by Analytics Capabilities
---
Our benchmarking services are powered by over 1.5 million data points in addition to our primary research and data collection capabilities. With access to leaders across more than 40,000 companies in various size segments, industries, and geographic locations, we can quickly gather additional data to address how your business is performing against the competition.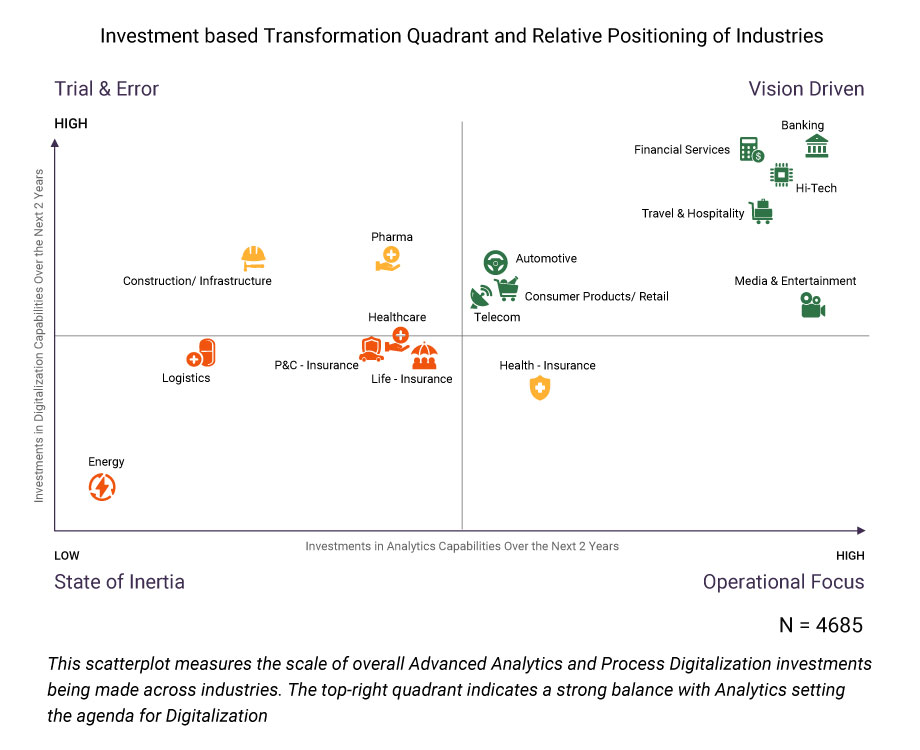 Source: Trasers
---
Data analyzed in this report comes from 4,000+ responses. For the high tech industry, data from 348 companies have been used.
---
Our high tech industry experts can offer insights into the following sectors:
Hardware and Equipment Manufacturers

Software and Service Providers

Semiconductor and Equipment Manufacturers

E-Solutions Providers

And More
×