Manufacturing a Future-Proofed Organization
---
The manufacturing industry has made tremendous progress in moving its infrastructure, applications, and analytics to the cloud. However, the industry is only average in terms of its current state of analytics and above average in the current state of digitalization when it comes to digital and business transformation. This indicates that the industry must look to increase analytics spending and build a clear roadmap for creating a future-proofed transformation strategy.
To catch up with its biggest potential disruptor, the tech industry, manufacturers must continue to accelerate their analytics capabilities. Our data shows that future encroachment by the tech industry has potential to disrupt the value propositions of the industry as these companies are among the highest investors in analytics.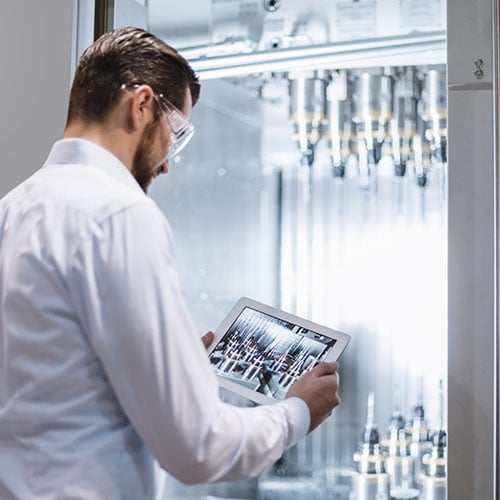 ---
Top Concerns for CEOs in the Manufacturing Industry
---
While transformation through analytics will help the manufacturing industry mitigate the risks of encroachment by tech, CEOs will first need to address these top 5 concerns to keep momentum moving forward.

Regulatory and Compliance Issues
For manufacturing CEOs operating in multiple countries and jurisdictions, it is increasingly important to be compliant across international markets. If CEOs fail to ensure their organization is meeting compliance requirements, it can be held accountable for compliance breaches, often resulting in a hefty fine. Compliance must be woven into business operations at every level to ensure regulatory requirements are meeting the guidelines set forth by the FDA, EPA, SEC, and others.

Mergers and Acquisitions
The manufacturing industry is reassessing their strategies and are looking to mergers and acquisition to realign their portfolios in order to create value. While the prospects of mergers and acquisitions may seem exciting to provide faster returns and expansion into new sectors, CEOs will have to remain disciplined to ensure the deal works out in their favor.

Talent Acquisition
Companies are breaking from traditional learning methods as they explore innovative approaches to address the increasing talent and skill gaps. While automation is helping to fill many roles in the manufacturing industry, CEOs will need to adopt new education models if they are to recruit and upskill a more technology-savvy workforce.

Changing Business Models
Evolving customer experience and new entrants have intensified competition in the manufacturing sector as they threaten to disrupt existing business models. CEOs will need to adopt a data-driven culture to create new product and service offerings and improve customer relationships by reinventing their direct-to-consumer models.

New Supply Chains
The pandemic has presented significant challenges for manufacturing supply chains globally. Staff shortages, increased product demands, and skyrocketing commodity prices have led many organizations to seek out autonomizing their operations to increase supply chain resiliency. CEOs will have to seek out investments in supply chain technologies like AI and robotic process automation — while retraining and reskilling employees — if they are to meet up with consumer demand.
---
Pace of Digitalization in the Manufacturing Industry
---
The manufacturing industry is moving at average speed in all aspects of digital transformation. High Tech, in addition to leveraging the speed of cloud in provisioning, has dramatically altered its new product development cycles through Agile, CICD, and DevOps. This gives tech a disproportionate acceleration in launching new products and services. It also influences the customer-focused and the disruptive nature of these companies.
While the manufacturing industry is realizing product/service launch acceleration as benefits from the initial cloud infrastructure investments, the industry must continue to increase their infrastructure investments to reduce related costs at an enterprise level.
CIOs in the manufacturing industry must aggressively accelerate their spending on digital technologies, especially cloud and analytics to lower costs, better understand customers, products/services, and loss/damage patterns by segment and geography.
CIOs strategies should revolve around forecasting demand, improving product development through customer-generated inputs, supply chain improvement, stock keeping, and customer awareness. Collaborating with partners like suppliers, transporters, digital media, and sales partners are equally important to provide customers the connected experience they require.
---
The Most Successful Digital Transformations Are Powered by Analytics Capabilities
---
Our benchmarking services are powered by over 1.5 million data points in addition to our primary research and data collection capabilities. With access to leaders across more than 40,000 companies in various size segments, industries, and geographic locations, we can quickly gather additional data to address how your business is performing against the competition.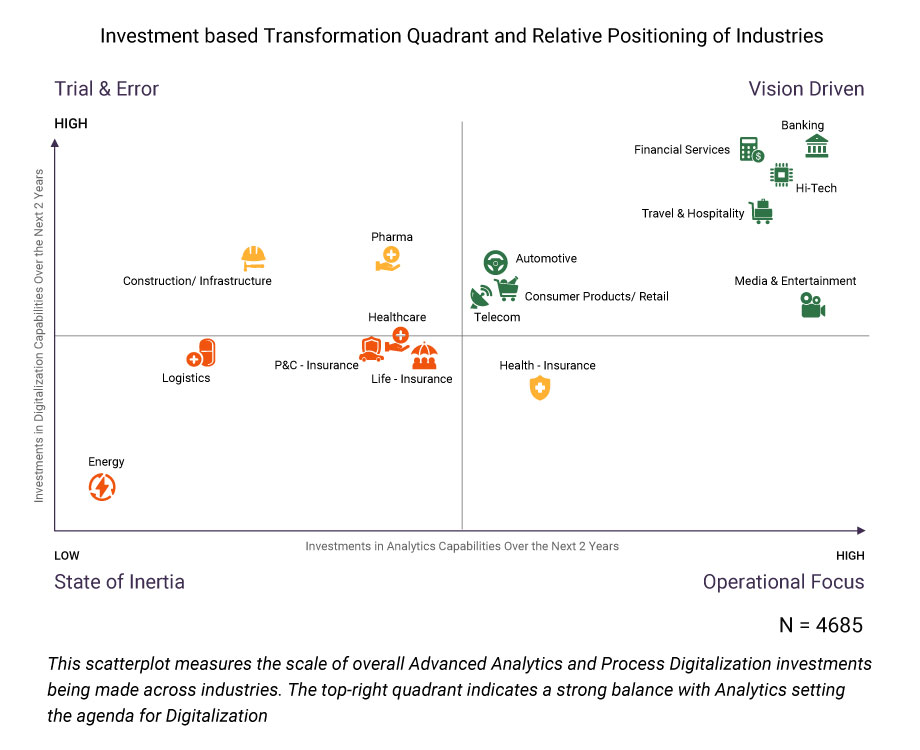 Source: Trasers
---
Data analyzed in this report comes from 4,000+ responses. For the manufacturing industry, data from 505 companies have been used.
---
Our manufacturing industry experts can offer insights into the following sectors:
Paper, Rubber, Wood and Textile Equipment Manufacturing

Plastics, Chemicals, and Mineral Products and Equipment Manufacturing

Machinery And Industrial Equipment Manufacturing

Electrical And Electronics Equipment Manufacturing

Transportation Equipment Manufacturing

Metal Equipment and Mining Manufacturing

And More
×