Transforming the Product-Service Portfolio
---
The property and casualty insurance industry has been slow to adopt new technologies and business models. This is despite increasing competition from tech-enabled startups, who outcompete them thanks to digitalization.
Overall, only one-third of property and casualty insurance firms are using advanced analytics to guide their digital transformations. And as of 2019, less than 10% of firms find themselves in the vision-driven quadrant. This makes these companies extremely vulnerable to rapidly changing consumer sentiment and competition across the property and casualty insurance landscape. Long-term relationships and exclusive contracts are no longer a reliable safety net. This leaves little room for incumbents as digital transformations unfold across the industry.
There is massive room for improvement and a growing sense of urgency for property and casualty insurance companies to develop an end-to-end digitalization roadmap. Such efforts would help them transform their product-service portfolio and reinvent the value-chain to remain relevant and competitive.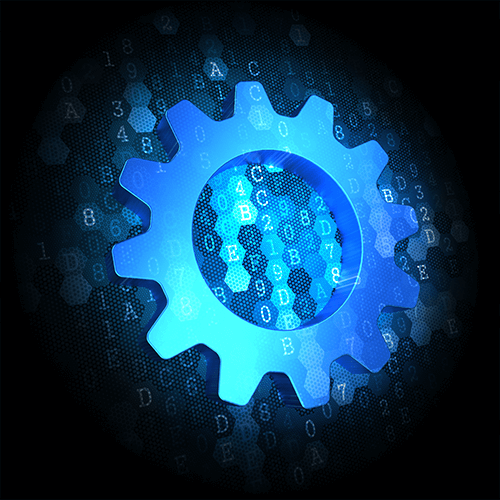 ---
Top Concerns for CEOs in the P&C Industry
---
Property and casualty insurance CEOs have numerous concerns around the future of their industry. Here are the top six concerns that will need to be addressed by CEOs in the digital era:

Defining Alternative Business Models
Digitalization is redefining property and casualty insurance itself, with digital disruptors introducing new and lean business models to outcompete incumbents. This includes the InsurTech paradigm — i.e., leveraging real-world data when calculating premiums — and other alternative business models that augment the product-service portfolio value proposition.

Reevaluating Risk Models
Property and casualty insurance premiums are calculated based on risk modelling. As climate change and other natural disasters become more prevalent, risk models will need to change to more accurately and fairly calculate premiums for both consumers and companies.

Meeting Customer Demand
As direct-to-consumer (D2C) business models gain traction, incumbents are at risk of losing market share. The "middle person" in the sales pipeline offers little added value and cutting these entities out can drive down costs. With basic insurance coverage plans, the only differentiating factor in the eyes of consumers is price, making D2C incredibly attractive thanks to its lower cost to the consumer.

Shifting Product-Service Portfolio
Insurance is shifting from a product-service delivery focus to an experience-driven focus. Integrating new value add-ins to the product-service portfolio will attract new customers who seek more comprehensive packages with benefits and rewards. For incumbents, this means traditional insurance models are falling out of fashion, putting them at risk if they fail to digitalize and transform their services.

Obsolete Insurance Models
Disruptive technologies are making legacy insurance models obsolete. Digitalization is resulting in data-driven and highly personalized insurance services that cater better to specific customer needs. The "one-size-fits-all" approach of property and casualty insurance incumbents must change to adapt to shifting consumer expectations.

Acquiring New Talent
Property and casualty insurance talent is increasingly difficult to attract for incumbents. Traditional skillsets have lost importance, with digital skills in cloud service delivery, data analytics, and customer experience (CX) management becoming more important. Companies must educate and upskill their existing workforce or increase their focus on acquiring new talent to acquire the necessary digital skillsets for the digital era.
---
Opportunities and Challenges in Property and Casualty Insurance
---
The property and casualty industry is seeing a range of opportunities and challenges resulting from the rise of new digital disruptors. A combination of major capital investment, industry partnerships, and business consolidations are transforming the competitive landscape with tech-enabled business models and digital insurance services. This is redefining the way in which consumers manage their insurance coverage.
Born-digital property and casualty insurance competitors are free of legacy systems and workflows. This enables the adoption of telematics, cloud computing, artificial intelligence (AI) or machine learning (ML), blockchain, application programming interfaces (APIs), drones, and robotic process automation (RPA) technologies. This leads to significant cost-reductions, data-driven service delivery, and better customer experiences (CX).
Incumbents need to reinvent their product-service portfolio and continuously innovate to remain relevant and competitive. By digitalizing their operations, legacy insurance companies can leverage their existing customer base to sell new digital-first products and services, as well as to create new long-term revenue generation opportunities.
---
The Most Successful Digital Transformations Are Powered by Analytics Capabilities
---
Our benchmarking services are powered by over 1.5 million data points in addition to our primary research and data collection capabilities. With access to leaders across more than 40,000 companies in various size segments, industries, and geographic locations, we can quickly gather additional data to address how your business is performing against the competition.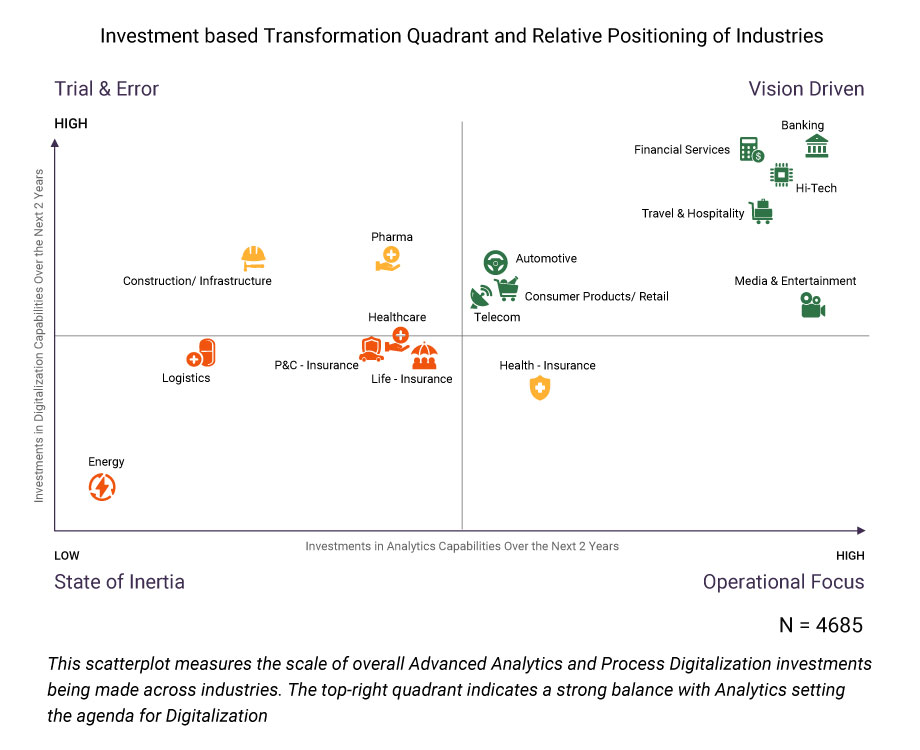 Source: Trasers
---
Data analyzed in this report comes from 4,000+ responses. For the property and casualty insurance industry, data from 297 companies have been used.
---
Our property and casualty insurance industry experts can offer insights into the following sectors:
Vehicle Insurance Providers

Property Insurance Providers

General Liability Insurance Providers

Reinsurers

Third Party Administrators (TPAs)

Agencies and Brokerage Firms

Service Partners

And More
×